Imagine if you will, a colony of salt-eating yeast, bobbing in the brine of the primordial soup, debating whether or not to embark on their first tentative steps on the evolutionary ladder 3.5billion years ago. All future life hinges on whether the ideas proposed by the youthful, yeasty, upstart element, will gain the approval of Jan-the-Elder. Billed as part Greek drama, part bio-historical comedy musical (and given that it explores hunger, greed, love and sustainability), it's one of the more idiosyncratic productions you'll potentially witness this year. The aforementioned elements are contained within an absurdist creation myth and driven by a score which includes numbers like "Stasis is the Membrane" and "You're Not the Yeast You Used to Be", but is the end result worthy of the enormous effort expended by the cast and more importantly, worth the price of a ticket?
In short, the combined elements on show, (including the witty and amusing lyrics, worthy subjects shoe-horned into the evolutionary context and Lucie Pankhurst's marvellously considered movement direction) have been unfairly diminished in this small performance space by chronic over-amplification of the musicians, requiring screaming and shouting by the actors in virtually every number. It is entirely unnecessary, begins to grate early on, and will leave most of the cast with rasping vocal chords by the end of the run. It's a huge pity, as the piece has a lot to say in a world which (if our politicians, TV celebrities and media influencers continue to hold sway) has clearly begun its inexorable 3.5billion year return journey to the gloop.
In Benji Sperrings' directed production, set and costume designs are by Diego Pitarch and they relay the required simplicity of life and environment on a stage illuminated with greens and purples reminiscent of its infinitely superior sister production Urinetown.
The cacophonous and ultimately compromised end result does not diminish the phenomenal energy, talent and commitment displayed by the entire cast (Christopher Howell, Shane Convery, Stephen Lewis-Johnston, Hannah Nuttall, Mari McGinlay, Sarah Slimani, Marisa Harris and James Gulliford), who literally work their socks off from the get go, to deliver humour and pathos from their hostile, Pre-Cambrian, Southwark home.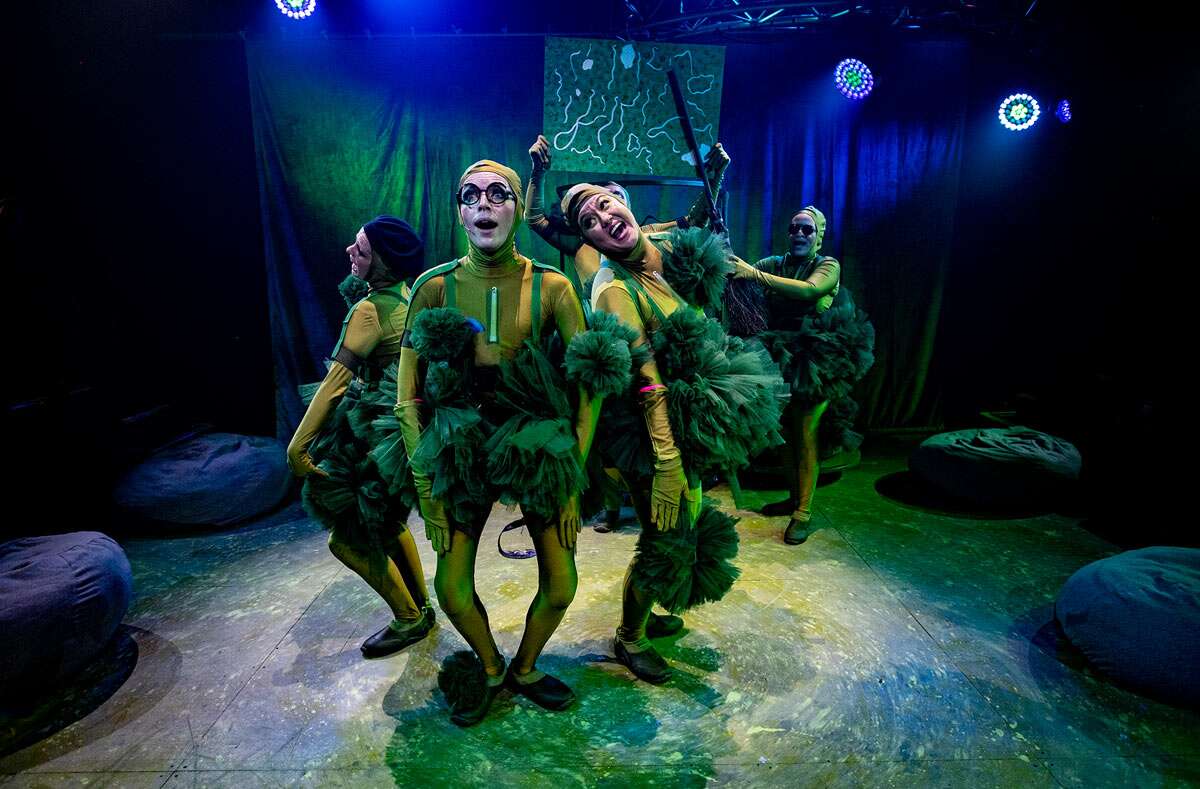 Yeast Nation: The Triumph of Life at Southwark Playhouse. Photo by Claire Bilyard.