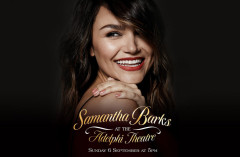 It makes a lovely change to receive an industry email announcing a live performance that's happening rather than closing down, or from a beleaguered theatre appealing for funds.
Are they being optimistic? Who knows. But Lambert Jackson productions have announced that they'll present Samantha Barks in concert at the Adelphi Theatre on September 6th. it'd part of a series of concerts at this major West End venue that will include the previously announced John-Owen Jones.
Samantha Barks, you may remember, is scheduled to play Elsa in the stage musical FROZEN, if/when it transfers from Broadway.
She's already enjoyed an amazing career which began when she appeared on a TV talent show that led to her playing Eponine in the movie of LES MISÉRABLES for which she recurved the Empire Award for Best Female Newcomer; and a nomination for the Screen Actors Guild Award for Outstanding Performance by a Cast in a Motion Picture.
Aside from this she's also played a number of major roles including:
The lead in PRETTY WOMAN (Chicago and Broadway), THE LAST FIVE YEARS (St James Theatre), CITY OF ANGELS (Donmar Warehouse), CHICAGO (Hollywood Bowl), OLIVER! (UK tour) and reprising her performance as Eponine for LES MISÉRABLES IN CONCERT: THE 25TH ANNIVERSARY. And that's just the highlights of her career!
Lambert Jackson Productions are worth celebrating too. They're a production company who's simple aim is "producing musical theatre shows and stunning performances"
Before the lock down, in August 2018 they started by presenting a series of concerts including THERE'S NOTHIN' LIKE A DAME – 100 YEARS OF WOMEN IN MUSICAL THEATRE, MAIN MEN OF MUSICALS, WEST END WOMEN, LOVE AT THE MUSICALS, & DOCTOR ZHIVAGO.
Since the lock-down they've been pretty busy too keeping the West End singing by creating "the UK's biggest online concert series" LEAVE A LIGHT ON, designed to provide income for actors during the Covid-19 crisis.
They are currently planning a full production of musical, THE SECRET GARDEN for us all to enjoy once we're allowed back in the theatre. Alas, many producers may have gone out of business by then but I think these guys will have the tenacity to survive.