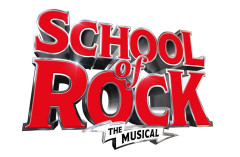 The musicals of Andrew Lloyd Webber go in and out of fashion like double breasted suits. He's currently King of Broadway again with three shows on the Great White Way: PHANTOM, SCHOOL OF ROCK and an imminent revival of CATS with new choreography.
Although Phantom's remained steadily popular with tourists in London his recent new shows in the West End, THE WOMAN IN WHITE, LOVE NEVER DIES, BEAUTIFUL GAME and especially STEPHEN WARD haven't generated enough enthusiasm amongst audiences as critics to sustain long runs.
He must be crossing his fingers that SCHOOL OF ROCK will be as popular with UK critics as it has been in the USA where it's been a lucrative, critically acclaimed hit. Certainly there's a lot more good will towards him since the recent, glorious London revival of SUNSET BOULEVARD starring Glenn Close, rumoured to be heading to New York too.
It's been announced that SCHOOL OF ROCK will open in London with previews from 24 October 2016 with opening night on 14 November 2016.
You may recall the 2003 Jack Black film of the same title on which it's based in which luckless wannabe rock star Dewey Finn takes a job as a high school teacher and forms a rock group with his fifth-graders. Black who played the role of Dewey in the original film School of Rock, has declared the show "a Broadway masterpiece."
It's been adapted by Julian Fellowes and ALW's lyricist this time is Glenn Slater with whom he also wrote LOVE NEVER DIES the PHANTOM OF THE OPERA sequel. Slater co-created Disney's 2010 worldwide smash Tangled (2011 Grammy Winner, 2010 Oscar and Golden Globe nominee), as well as the Broadway and international hit musicals Sister Act (2011 Tony nominee – Best Score) and The Little Mermaid (2008 Tony nominee – Best Score, Grammy nominee – Best Cast Album).
Director Lawrence Connor's job begins with a nationwide search to find the three teams of thirteen young performers who will play the school kids.