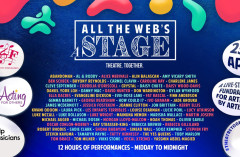 In honour of the birthday bard a small army of artists are broadcasting their work today as part of All The Web's A Stage.
The organisers are calling it -
"12 marvellous jam-packed hours of all your favourite performers from the West End and theatre to comedy, drag and magic – doing what they do best, but swapping big stages and bright lights for their homes.
These live performances will be streamed from midday to midnight today Shakespeare Day, 23 April via a live steam on the Theatre Together Website.
Here's the full programme. Take a look through. There's so much on offer something's bound to appeal.
Log in, enjoy, and then follow the links to make a donation to the theatre related charities they support.
CURTAIN UP - 12pm - 2pm
Hosted by Al & Roddy (12pm – 1pm) and Yassmin Abdel-Magied (1pm – 2pm)
Don Warrington reads All the World's a Stage monologue from Shakespeare's As You Like It
Joanne Clifton sings Nobody Does it Like Me from Seesaw
Jess Fostekew performs stand up
Oliver Lansley (Les Enfants Terribles) reads extract from The Terrible Infants
Rebecca Gilliland sings Fly Me to the Moon by Frank Sinatra and Viva La Vida by Coldplay
Robert Rhodes reads an original poem
Cleve September sings Words Fail from Dear Evan Hansen and All I Ever Wanted from The Prince of Egypt
Shona Babayemi reads extract from her original play Blue Zone
Tamaryn Payne reads extract from Letters To The Earth
MATINEE - 2pm - 4pm
Hosted by Toby Marlow (2pm - 3pm) and Jon Brittain (3pm - 4pm)
Noah Thomas sings You Don't Even Know It and The Wall in My Head from Everybody's Talking About Jamie, and Ordinary People by John Legend and will.i.am.
Luke McCall sings Music of the Night from The Phantom of the Opera, Bring Him Home from Les Miserables and Anthem from Chess.
Evie Rose-Lane sings Defying Gravity from Wicked, Holding out for a Hero from Footloose and Tomorrow from Annie.
Abandoman perform original improvised comedy with audience participation.
Gemma Barnett reprises her Offie Award winning role from A Hundred Words for Snow a new monologue, A message from Rory, written specially for the event by Tatty Hennessy.
The Yes Queens perform improvised comedy based on audience suggestions.
Kerry Ellis sings Your Song by Elton John.
THE HALF - 4pm - 6pm
Hosted by Danny Mac - with Live Q&A (4pm - 5pm) and Ivo Graham (5pm - 6pm)
Vocal Xtr3m3 performs You're the Voice by John Farnham, a TOTO medley and a Journey medley
Daisy Wood-Davis sings Natural Woman, Will You Still Love Me Tomorrow and Beautiful from Beautiful: The Carole King Musical
Oliver Savile sings What Say You Meg from The Last Ship and Larger than Life from My Favourite Year
Ella Dacres performs This Sunday, written by Jade Anouka
Jade Anouka performs her original poem Herstory
How Could I?, a multi-location dance choreographed by Chris Whittaker
Kwami Odoom performs an extract from Anton Chekhov's The Bear
Louise Dearman sings Songbird by Eva Cassidy
George Readshaw performs Shakespeare's sonnets 29 and 30
Cast of Fat Rascal Theatre's Unfortunate: The Untold Story of Ursula The Sea Witch perform a medley from the show.
Tom Brace performs isolation themed magic show.
TWO SHOW DAY - 6pm - 8pm
Hosted by Oscar Conlon-Morrey (6pm - 7pm) and Crystal (7pm - 8pm)
David Hunter sings She Used to be Mine from Waitress and original songs The Farm Song and Hurt.
Marisha Wallace sings And I am Telling You from Dreamgirls, I Know Where I've Been from Hairspray and a Whitney Houston Medley.
Sadie Clark performs an extract from her play Algorithms.
Alice Merivale sings Hard to Be the Bard from Something Rotten! and an original monologue To Wee or Not to Wee.
Tom Milner sings Waving through a Window from Dear Evan Hansen and Wake Me Up When September Ends from American Idiot.
Laura Pick sings a musical theatre medley including songs from Wicked, Hairspray, Billy Elliot, The Lion King and Les Miserables.
Daniel York-Loh performs an extract from Shakespeare's Richard II and an original poem, Wuhan.
Amy Vicary Smith performs an extract from Belonging by Morgan Lloyd Malcolm.
Stephen Fry reads Michael Rosen's These are the Hands, as the nation turns to #ClapForCarers
THIRD ACT - 8pm - 10pm
Hosted by Michael Auger and Sooz Kempner (9pm - 10pm)
Caroline Kay performs original music Can't Get My Love and Always You and Smile by Charlie Chaplin.
Dylan Wynford performs original music Hopeless, Sweat Patches and Cigars
Vikki Stone performs original music Zoological Society and Southbound
Luke Wright performs a new original poem, Boxing Baroness
Bryony Reynolds performs an abridged version of Reclaim the Night by Charlene James
Maimuna Memon performs original music Angry Song, Sitting in my Bed and Wild Lion, and Samson by Regina Spektor
Ray Strasser-King reads Mercutio's Queen Mab speech from Shakespeare's Romeo and Juliet
Luke Rollason performs a clowning routine
Ben Scheck performs monologue Go Back Home by Steven Kavuma
CURTAIN CALL - 10pm - 12am
Hosted by Martin Joseph (10pm – 11pm) and Sinead Wall (11pm – 12am)
Cordelia O'Driscoll performs original music Invisible and Robot Called Robert and Me
Alin Balascan reads Shakespeare's sonnets 27 and 28
James McDermott performs poetry from his book, Manatomy
Finn Anderson performs original songs The Wee Hours, A Dancer Stole My Heart and The Garden
Carmel Clavin performs an extract from her show The Marvellous Mechanical Musical Maiden
Daisy Chute and Rebecca Brewer perform extract from Coven - The Musical
Lucie Pohl performs Stand Up Quarantine: How to be Funny When No One's Laughing
Evangeline Dickson reads All the Web's a Stage, a new monologue to close the event.