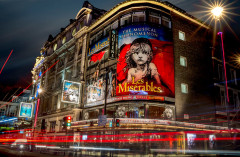 It's good news and bad news at the West End's Queens Theatre.
Good news; Cameron Mackintosh has announced that in honour of Stephen Sondheim's 90th birthday next March, the Queen's Theatre will be renamed the Sondheim Theatre. Hooray!
It sounds like it's about time too. The PR's tell us "The Queen's Theatre originally opened on 8 October 1907 and was designed by architect W.G.R. Sprague as a pair with the adjoining corner of Shaftesbury Avenue. On 13 July 2019 the theatre will close for four months of rebuilding work both backstage and in the auditorium. This work will also restore the entire front of house, which destroyed by a bomb in 1940 and caused the theatre to be closed for 20 years. The restored theatre will be returned to its pre-war splendour, reopening on 18 December 2019"
Bad news: The newly named Sondheim Theatre will continue as the home of world's longest running musical Les Misérables as it enters its 35th year. Boo!
Not that I've anything against Les Mis. I love it. More every time I see it. But the trouble is Macintosh isn't moving in the original production we all know and love. He'll be replacing it with a successful touring version presumably because it's much cheaper to operate with fewer royalties to pay to the powerful original creative team. I've seen it. It's very good but it wasn't just the musical itself which blew us all away when it first opened, it was the startlingly new way it was directed and designed which made it flow so seamlessly around its revolving stage.
Anyway back to Stephen Sondheim who you probably know wrote the music and lyrics for Saturday Night, A Funny Thing Happened on the Way to the Forum, Anyone Can Whistle, Company, A Little Night Music, The Frogs, Pacific Overtures, Sweeney Todd, Merrily We Roll Along, Sunday in the Park With George, Into the Woods, Assassins, Passion (which played the Queen's Theatre in 1996) and Road Show, as well as lyrics for West Side Story, Gypsy, Do I Hear a Waltz? and additional lyrics for Candide.
Having a West End theatre named after him (he already has one on Broadway) marks the first time any living artist has had a venue named in his honour in both theatre capitals.
Cameron Mackintosh said: As an innovative voice in musical theatre, his influence has no equal. Sondheim's work will undoubtedly be performed as long as audiences want to see live theatre, so I feel honoured that he has agreed to have his name on one of my Shaftesbury Avenue theatres to salute his upcoming 90th birthday. Over the decades his work has become increasingly appreciated and performed by all, both as part of the popular theatre and classical repertoires and in spaces that range from a pie shop to the Royal Opera House. His love of theatre is unquenchable and throughout his career he has been an exceptional champion of so many young creatives as well as supporting numerous productions worldwide, especially here in London.
Stephen Sondheim said: "I have loved British Theatre since I saw my first play here in 1958. I have treasured Cameron Mackintosh's support and friendship ever since he produced Side by Side by Sondheim in 1976. Cameron is synonymous with British Theatre, so the confluence on this occasion is truly exhilarating. I am chuffed, as you say in British English, to a degree I wouldn't have imagined. Or as we say in American English, it's awesome."