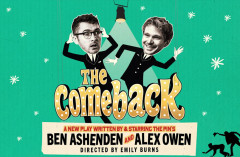 Update for The Comeback at the Noël Coward Theatre
Being billed as both hilarious and heart-warming, The Comeback is a dazzling new comedy by Ben Ashenden and Alex Owen, the talented duo known as 'The Pin'. The play reveals the backstage war between a couple of rival comedy duos and the result is a brilliant contemporary farce. No wonder it attracted critical acclaim and five-star reviews before the second lockdown. Now it's back.
The story? Alex and Ben have been booked to warm up the audience for a well-loved but old fashioned comedy double act. The town is sleepy and the audiences small. But there's a Hollywood director in the audience – could this be their big break? Both duos do everything they can to sabotage each other's acts, and the battle for the limelight becomes desperate. Lots of warm-hearted, joyful comedy awaits you!
Ashenden and Owen are joined by a different celeb each time, who plays a cameo role. They've included Sir Ian McKellen, Joanna Lumley, Graham Norton and Danny Dyer. Who will be the surprise guest at the performance you see when it returns to the stage from 7th – 25th July?
Who's involved in The Comeback?
Ben Ashenden and Alex Owen are loved for their wonderfully funny 'The Pin' on BBC Radio 4, a multiple award winner of a show. They've just completed their work on Judd Apatow's Netflix film The Bubble. They're responsible for the BBC3 animated series Oi, Leonardo! and Audible's The Special Relationship, and have been involved in writing BBC1's Walliams and Friend, Tracey Ullman's Show, and a whole lot more contemporary comedy magic.
Produced by Sonia Friedman Productions and Tulchin Bartner Productions in association with Playing Field, Eilene Davidson Productions, Rupert Gavin/Mallory Factor, and David Mirvish
Written by and starring Ben Ashenden and Alex Owen
Directed by Emily Burns
Set and Costume Design by Rosanna Vize
Lighting Design by Prema Mehta
Sound Design by Giles Thomas
Buy The Comeback Tickets
Book your The Comeback tickets online on our site and you're in the hands of experts. You can even choose your ideal seats thanks to our handy Noel Coward Theatre seating plan. We'll simply send your E-tickets by email for you to present on the day of the performance.
About the Noel Coward Theatre
The Noël Coward Theatre was previously called the Albery Theatre. You'll find it on St. Martin's Lane in the City of Westminster, and it's been delighting audiences since 1903 when it first opened as the New Theatre, built by Sir Charles Wyndham. Past shows at the Noel Coward Theatre include The Inheritance, All About Eve, The Night of the Iguana and Dear Evan Hansen.