85-88 St Martin's Lane, London, WC2N 4AU GB
Quick Facts
Largest Ticket Inventory
in the West End
Real time
seat availability
Choose
your seats
Your booking is processed directly into the box office reservation system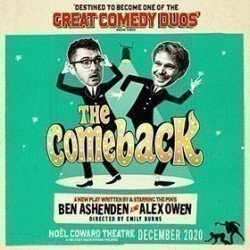 The Comeback
Tickets
Booking from: Tuesday, 8 December 2020
Booking until: Sunday, 3 January 2021
Running time: 1 hour 25 minutes (no interval)
Tickets from £11.90
Book tickets
COVID secure venue
This venue will utilise social-distancing, increased health and safety measures, temperature checks and more to ensure your visit is safe and enjoyable.
Buy with confidence
Grab the best seats today, in the knowledge that all bookings can be exchanged.
About The Comeback
Important Information
Covid secure measures within the theatre and social distancing seating are in operation. All seats have been organised into socially distanced groups of 1 to 6. All seats within each group must be purchased in full by one customer at the time of booking. In accordance with government guidelines, the auditorium has been organised into socially distant groups that are 1 metre apart in all directions. These must be purchased in full at the time of booking and can only comprise of single households, or a support bubble.
Performance Times
Booking from: Tuesday, 8 December 2020
Booking until: Sunday, 3 January 2021
Running time: 1 hour 25 minutes (no interval)
The Comeback description
The Comeback – A comedy treat from an award winning duo
Isn't it heavenly to see the West End gradually opening its doors to drama-starved audiences once more? We're genuinely thrilled to be able to introduce a brand new comedy, The Comeback, described as 'brilliantly original and hilarious', and perfect for comedy-lovers of every age. The Noel Coward Theatre is your venue for a performance that will, of course, take place under social distancing rules. The play is crafted beautifully by The Pin's award-winning team Ben Ashenden and Alex Owen, and it's being billed as side-splittingly funny.
What's the plot?
We could all do with a good dollop of escapism at the moment, and this lovely show delivers plenty of that. It has a good, warm heart, as well as an extra bit of fun on the cards for audiences each night. There's even a different celebrity guest on stage nightly, tasked with turning to fun dial up to eleven and beyond.
The Comeback reveals the tale of two double acts, each battling to gain control of the most vitally important gig of their lives. It's tipped to have audiences doubled over with laughter, and the humour is wonderfully heart-warming. Enjoy this quirky exploration of bittersweet nostalgia, and learn all over again about the remarkable power of friendship.
When Alex and Ben are booked as the warm-up act for a well-loved but old fashioned double act's comeback tour, nobody is particularly happy about the situation. The crowds are tiny and the seaside town they're playing in is half asleep, hardly a buzzing metropolis. When the comedians discover there's going to be a Hollywood director in the audience, both duos scent their big break on the wind. But a series of unexpected goings-on spoils everything. Expect sabotage, mistaken identity and endless mayhem, and you won't be disappointed. An hilarious fight for the limelight ensues, with on and off-stage arguments, and the results really are madly funny.
Who's on the creative team?
As Sonia Friedman herself said, "I am absolutely thrilled to be announcing The Comeback as SFP's return to the West End. I was excited about The Pin's debut play long before lockdown, but after the year we've had, it feels like the perfect tonic." The fun is directed by Emily Burns. It is written by and stars Ben Ashenden and Alex Owen, AKA The Pin. Set and Costume Design is by Rosanna Vize, Lighting Design by Prema Mehta, and Sound Design and Music comes from Giles Thomas.
What are the critics saying?
The Times says The Comeback is "Exquisitely silly and very funny... makes you feel as though you might be hearing the next Mitchell and Webb". The Guardian calls it, "One of the most dazzling comedy shows in Edinburgh" and The Times reviewer says "I had a knot in my stomach from laughing so much." According to The Telegraph it's a "very classy, very funny show indeed", and the Evening Standard says it will "simply make you laugh your socks off".
Who is this show for?
The Comeback's age restrictions are not released yet, so keep your eyes open for news.
Next Performances for The Comeback at the Noel Coward Theatre
Tuesday
8th Dec 2020
7:30pm
Wednesday
9th Dec 2020
7:30pm
Thursday
10th Dec 2020
7:30pm
Friday
11th Dec 2020
7:30pm
Saturday
12th Dec 2020
2:30pm
Saturday
12th Dec 2020
7:30pm