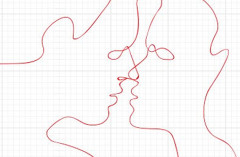 The Menier Chocolate Factory is a little hit-producing theatre near London Bridge station.
Against the odds they've originated some of the West End and Broadway's most acclaimed productions in recent years.
Sometimes they take risks but with their latest production safe hands will be in charge of The Lie by Florian Zeller, in a translation by Christopher Hampton.
We're told Zeller is a household name in France but perhaps he's best known in the UK for The Truth (Olivier nomination for Best New Comedy) and The Father (which won the 2014 Molière Award for Best Play) which starred Kenneth Cranham and gave us a fascinating, if sanitised, glimpse into dementia.
His plot of The Lie, getting it's English Language World Première at the Menier between 14 September – 18 November, is described as follows –
"Alice spots her friend's husband with another woman. Should she tell her friend the truth…or lie? Her husband Paul is convinced that it is better to lie. But in doing so, who is being protected and who suffers? Both find out that in matters of the heart, the line between the truth and a lie can be a dangerous one to cross"
It'll be directed by the dependable, if workmanlike, Lindsay Posner and will star Samantha Bond as Alice.
The press release reminds us that – "Her theatre credits include Dirty Rotten Scoundrels (Savoy Theatre), Passion Play, Arcadia (Duke of York's Theatre), Amy's View (National Theatre, Aldwych Theatre and Broadway - Tony Award nomination for Best Featured Actress in a Play), Three Tall Women (Wyndham's Theatre), What the Butler Saw, An Ideal Husband (Vaudeville Theatre), The Cid – Olivier Award nomination for Best Supporting Actress in a Play, The Ends Of The Earth (National Theatre), A Woman Of No Importance (Haymarket Theatre), Macbeth (Albery Theatre), The Vagina Monologues (Ambassadors Theatre), A Winter's Tale, As You Like It (RSC) and Man Of The Moment (The Globe Theatre). For television, her credits include Election Spy, Home Fires, Outnumbered, Downton Abbey, London's Burning, New Tricks, The Queen – 1974, Larkrise To Candleford, Hotel Babylon, Consenting Adults, Inspector Lynley Mysteries, Mobile, Distant Shores, Murder Rooms, Wife Of Bath's Tale, Donovan, The Bombmaker, Kavanagh QC, The Hunt, Return To Blood River, Madly In Love, The Ginger Tree, Trelawney Of The Wells, A Murder Is Announced, Mansfield Park; and for film, her credits include A Winter Prince, Bunch Of Amateurs, Yes, Blinded, Die Another Day, The World Is Not Enough, What Rats Won't Do, Tomorrow Never Dies, Golden Eye and Eric The Viking"
The rest of the cast will be announced shortly.
Given the pedigree of everyone involved this will probably transfer to the West End but I'd advise booking as soon as you can to experience the production first in this unique and intimate Off-West End avenue.