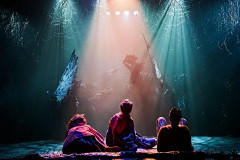 Following a highly acclaimed tour across the UK and Ireland, the National Theatre's smash-hit production of THE OCEAN AT THE END OF THE LANE will return to London's West End for a strictly 7-week run this autumn. Based on a best-selling novel by Neil Gaiman, adapted by Joel Horwood and Katy Rudd, this thrilling adventure of fantasy, myth and friendship, will play at the Noel Coward Theatre from 11 October until 25 November 2023.
This first major stage adaptation of Neil Gaiman's work blends magic with memory in a tour-de-force of storytelling that takes audience on an epic journey to a childhood once forgotten and the darkness that lurks at the very edge of it. This year marks 10 years since the novel was first published.
"Audiences are instantly immersed in this beautiful exploration through both the past and present with innovative use of the stage that keeps you on the edge of your seat!" - Theatre and Tonic
"A spectacular, imaginative and well-crafted piece of theatre!" - The Scotsman
The 17-strong ensemble cast are Charlie Brooks (Ursula), Daniel Cornish (alternate Boy), Trevor Fox (Dad), Emma-Jane Goodwin (understudy), Paolo Guidi (ensemble), Millie Hikasa (Lettie Hempstock), Lewis Howard (understudy), Kemi-Bo Jacobs (Ginnie Hempstock), Jasmeen James (understudy), Ronnie Lee (ensemble), Aimee McGoldrick (ensemble), Laurie Ogden (Sis), Keir Ogilvy (Boy), Domonic Ramsden (ensemble), Jow Rawlinson-Hunt (understudy), Risha Silvera (understudy) and Finty Williams (Old Mrs Hempstock).
THE OCEAN AT THE LANE OF THE LANE is currently on a 39-week UK and Ireland tour until 7 October before it transfers to the Noel Coward Theatre.