Charlie Josephine's rollicking queer western is transferring to London, following a critically acclaimed run at The RSC recently.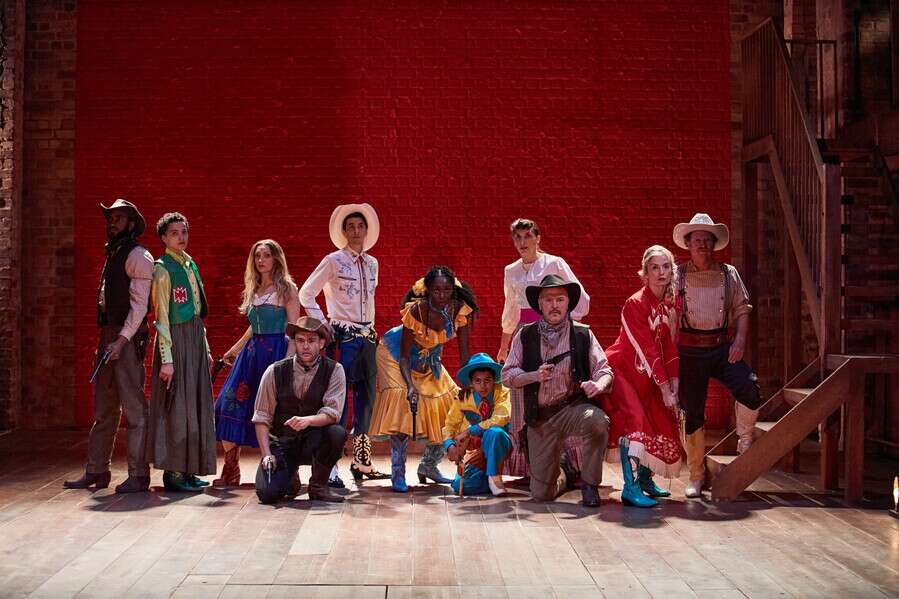 COWBOIS production image. Photo by Henri T (c) RSC
COWBOIS will run at the Royal Court's Jerwood Theatre Downstairs between 11 January - 10 February 2024.
Co-directed by Charlie Josephine and Sean Holmes, the full RSC cast will return to their roles in the London run.
The cast and creative team of COWBOIS
Reprising their roles from the RSC the cast includes: Bridgette Amofah (A Christmas Carol, The Old Vic) plays Mary; Lee Braithwaite (professional debut) plays Lucy/Lou; Shaun Dingwall (Death of a Comedian, Soho Theatre) plays Frank/Tommy; Michael Elcock (The Comedy of Errors, Shakespeare's Globe) plays George; Colm Gormley (Warhorse, National Theatre) plays John; Vinnie Heaven (A Midsummer Night's Dream, Shakespeare's Globe) plays Jack; Paul Hunter (Robin Hood: The Legend. Re-written, Regent's Park Open Air Theatre) plays Sheriff Roger Jones; Lucy McCormick (Wuthering Heights, National Theatre) plays Jayne; Sophie Melville (Sorter, Swansea Grand) plays Miss Lillian; Julian Moore-Cook (The False Servant, Orange Tree Theatre) plays James; Emma Pallant (A Christmas Carol, The RSC) plays Sally-Ann; and LJ Parkinson (Death Drop: Back in the Habit; Death Drop, Trafalgar Theatre) plays Charley Parkhurst.
Joining Charlie and Sean on the creative team are: Designer Grace Smart, Lighting by Simeon Miller, Music by Jim Fortune, Sound and Soundscape from Mwen, Movement by Jennifer Jackson, Fights and Intimacy from Bethan Clark, Dramaturg Rebecca Latham, Casting byMartin Poile, and Children's Casting by Charlie Metcalf.
What is COWBOIS about?
Set in a sleepy town in the Wild West, the women there drift through their days like tumbleweed. Their husbands, who have been swept up in the goldrush, have been missing for almost a year and they show no sign of returning. In fact, their town is almost cut off from outsiders entirely, with their only protection being a drunken sheriff. That is until the handsome bandit Jack Cannon, a trans masc cowboy, swaggers up to the town's saloon, inspiring a gender revolution!
Reviewed by the critics as "Hilarious, heartwarming, and downright cheeky" (Theatre and Tonic), "A celebratory queer western with a dream cast" (The Guardian), "RSC strikes gold with queer western" (Warwickshire World) - you really don't want to miss out on this London transfer!
Book COWBOIS tickets
COWBOIS is performing at the Royal Court's Jerwood Theatre Downstairs between 11 January - 10 February 2024.