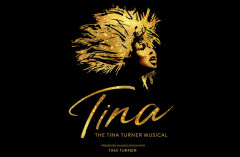 Yesterday, on 17 October 2017, Adrienne Warren was announced by Rock 'n' Roll legend Tina Turner herself as the lead actor in the new musical TINA. Directed by Phyllida Lloyd, the musical will open at the Aldwych Theatre in 2018, with tickets currently selling from 21 March – 16 June.
Written by Katori Hall with Frank Ketelaar and Kees Prins, the musical will tell of Turner's humble upbringing in Nutbush, Tennessee and her subsequent transformation to a global Queen of Rock 'N' Roll. While the list of musical numbers is yet to be announced, you can guarantee that hits such as 'River Deep, Mountain High', 'Proud Mary' and 'What's Love Got To Do With It' will be among those featured.
Warren said of the announcement:
"I am so grateful to our creative team and producers for entrusting me with this responsibility. I say responsibility, because I am a Tina Turner fan first. Growing up watching Tina, I knew how to shake my hips before I could tie my shoes!"
Turner herself commented:
"We are thrilled to have found Adrienne, from the moment I met her at our last workshop I saw her exceptional talent. Playing this role will require immense physical and emotional commitment, and bravery too. I very much look forward to developing a special friendship I know will grow even stronger as we prepare the production for the Aldwych Theatre."
Previous theatre credits for Warren include Shuffle Along at the Music Box Theatre on Broadway, for which she received a Tony nomination. She also appeared in Bring It On the Musical at the St. James Theatre, Dreamgirls at the Apollo Theater and The Wiz at Encores City Center.