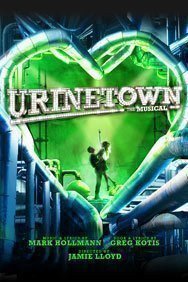 When Urinetown first opened at the St James's Theatre to rave reviews, many of the critics hugely praised Richard Fleeshman's performance as leading man Bobby Strong. But on the announcement of the West End cast, Mr Fleeshman was nowhere to be seen… However, bright young thing Matthew Seadon-Young has now been announced as the new Bobby Strong.
Matthew Seadon-Young was in the original cast of Urinetown at the St James's Theatre alongside Richard Fleeshman and has also appeared in Les Miserables and The Architects.
Joining the previously announced leading cast members of Jenna Russell (Penelope Pennywise) and Jonathan Slinger (Officer Lockstock) will also be Nathan Amzi, who takes on the role of Officer Barrel.
Making up the rest of the ensemble cast is Chris Bennett, Kane Oliver Parry. Katie Bernstein, Rosanna Hyland, Jeff Nicholson, Karis Jack, Julie Jupp, Vicky Lee Taylor, Aaron Lee Lambert, Cory English, Madeleine Harland Mark Meadows, Christina Modestou, Joel Montague and Alasdair Buchan.
Directed by Jamie Lloyd and written by Mark Hollmann and Greg Kotis, the musical is a dark tale of corporate greed set in a world where you have to pay in order to pee! The production 'sends up' the musical theatre genre to great comic effect, and with an incredible stage design by Soutra Gilmour and frenetic choreography by Ann Yee, Urinetown is a must for any fans of West End theatre.
Urinetown begins previews at the Apollo Theatre from 29 September 2014.