Quick Facts
Largest Ticket Inventory
in the West End
Real time
seat availability
Choose
your seats
Your booking is processed directly into the box office reservation system
This show is now closed.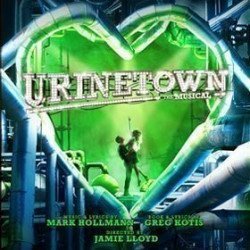 Urinetown
Tickets
4.4/5
-

based on

17

reviews
About Urinetown
Performance Times
Urinetown description
Urinetown – Grimly satirical, horribly funny
Urinetown was an instant hit in the USA. Now it's over here, moving to the West End after a successful sell-out run at the St James theatre.
This musical is a big hitter, a firm favourite with audiences, nominated for ten Drama Desk awards and nine Tony awards. It won three Tonys: Best Book of a Musical, Best Musical Score and Best Direction of a Musical. And it scooped a coveted Theatre World award, too.
Urinetown - The story
The show opens with a scene between the grim policeman Officer Lockstock and a street kid called Little Sally. As they reveal, a terrible two-decade drought has resulted in an acute shortage of water, which has in turn made public toilets a thing of the past, a distant dream.
So what do you do if you're caught short in the street? It's a dreadful dilemma. A corrupt, evil mega-corporation runs the city's sewerage system, and they control the public loos with an iron fist. You have to pay if you want to go, and it's an expensive business.
If you don't follow the 'pay to pee' system, you're in real trouble. Offenders are sent to a horrible penal colony called Urinetown, and nobody has ever been known to return.
Playing at the beautifully refurbished Apollo Theatre with the award-winning director Jamie Lloyd at the helm, it's a sharp, witty, rampant romp of a musical with revolution at its heart. It'll have you laughing out loud as the young hero Bobby Strong takes on the mighty, all-powerful corporation and its greedy owner the tycoon Caldwell B. Cladwell, but the serious message behind the show shines through: we need to conserve water, as well as all our essential resources, and when big business is allowed to monopolise them things can soon go hideously wrong.
It's both hilarious and critically acclaimed, a huge favourite with audiences and due to set the stage alight with great tunes, great acting and a story so eccentric and odd you'll never forget it.
Urinetown theatre tickets – An entire city caught short by drought
Want premium, full price or discount Urinetown tickets? We provide excellent availability on every seat and ticket type. Click this way to grab a highly entertaining theatreland bargain!
Urinetown reviews
4.4 out of 5
based on

17

reviews
What to expect:
Acting
Music
Costumes
Story
Lighting
Recommended for:
Anyone (53%)
Families (53%)
Teenagers (76%)
Couples (88%)
Theatregoers (94%)
Latest customer reviews

Great Unknown Show
Stumbled across this show when made a last minute booking. Everything about this is excellent, brilliant story, great music, terrific dancing, top notch singing, great stage and Phil Jupitus was a revelation in his role, Why is everyone not talking about this show.
Reviewed on 07 January 2015 by Anonymous

Great Show Urinetown
Great storyline, both my husband and I found it very funny. The only thing which was not so good were seated at the top circle as it was a little tight on the knees. Also there was only two toilets which left a bit of a queue at half time and a few crossed legs.
Reviewed on 31 December 2014 by Anonymous

Brilliant fun
A great show, wasn't sure what to expect but it was brilliant - very funny with great catchy tunes. Some bits of dark humour. But it doesn't take itself seriously and is very silly. Would happily recommend to anyone.
Reviewed on 21 December 2014 by Anonymous

You will cry, you may laugh.
The musical was far heavier than the marketing would lead you to believe. The cast alluded to this throughout the first act so it wasn't a complete shock. It was very symbolic and had multiple, very deep themes, slavery, the cost of freedom , the injustice of justice and many more. It is a musical which sees the antagonist as an unlikely hero and the hero as a dreamy-eyed but unrealistic boy. Overall , the musical was good just not the light hearted fun you may be expecting.
Reviewed on 12 December 2014 by Anonymous

Brilliant!!
Reviewed on 09 November 2014 by Anonymous

Not what I expected
There was some good songs, good acting, there were funny bits and there was a lot of hidden meanings within the storyline. However, it gave a scarier vibe than I expected it to had. I felt scared but wasn't scared enough to make it un-enjoyable to watch. It was described as a musical comedy which I don't think it was. It was like a musical thriller with some funny points. There was a lot of blood and death within the show. In parts there was water and fake blood being spat by the actors. The boyfriend and myself were in the front row which caused some issues - We were in the fireing line of the water and blood that was going everywhere and some of the show was on a higher level than the stage floor which meant our necks got a little achy after a while. Sitting further back in the seating would be beneficial for this show. If you are one that is easily scared, I would not recommend it. However, If you like the feeling of being slightly scared and curious and enjoy the atmosphere the theatre gives all at the same time, then I would suggest it to you.
Reviewed on 02 November 2014 by Anonymous

Urine Town Jas
Reviewed on 02 November 2014 by Anonymous

excellent show .
Reviewed on 28 October 2014 by Anonymous

Loved it!
Not what I expected at all, very funny but thought provoking also.
Reviewed on 15 October 2014 by Anonymous

Great show!
Reviewed on 09 April 2014 by Anonymous

Urine town the musical
This show was brilliant! Refreshing to see good character acting. The stage set was great. I would advise to book seats a few rows from front otherwise you may be just too close to the performers! Really enjoyed it as it was different and loved the intimate atmosphere. Well worth going to see :-)
Reviewed on 06 April 2014 by Anonymous