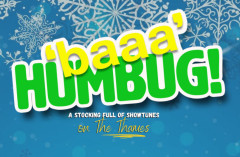 Two separate Christmas cabarets have been announced both promising West End talent performing songs from musicals.
Firstly you can combine this with dinner and a river cruise. There'll be a three course meal and between each you'll be regaled by Craig Mather, Toby Miles and Paul Wilkins, three young leading men who've all played Marius in Les Miserables at some point.
It's called Baaa Humbug! A Stocking Full of Show Tunes (suggesting no one could settle on one title) and it's described as "an all new three-act performance served alongside a three-course dining cruise experience on the River Thames".
The press release continues -
Packed with musical anecdotes and an abundance of Christmas merriment... 'Baaa Humbug!' is an extraordinarily joyful and festive performance featuring songs from Les Miserables, The Phantom of the Opera and Miss Saigon and many more alongside stunning views of some of London's most iconic landmarks including Royal Festival Hall, The London Eye and The Houses of Parliament.
It's quite pricy with tickets (including the three course meal and river cruise) costing £89pp. And presumably you'll need to also pay for drinks on top of that. But you do get 3.5 hours of entertainment and fine dining.
For more information, Covid regulations and to book tickets visit opportunetheatre.co.uk
Meanwhile and more conventionally another recent press release encourages us to "Deck the halls with holly and get out those jingle bells as the biggest stars from West End musicals celebrate the festive season in West End Musical Christmas – Live at the Palace Theatre".
You can enjoy it at one of six performances from 17 – 20 December, 2020 at the Palace Theatre.
Apparently it'll be a celebration of musical theatre and all things Christmas and the line up of West End performers will include Alice Fearn (Beverly in 'Come From Away' and Elphaba in 'Wicked') Sophie Evans (Glinda in 'Wicked') Ben Forster (The Phantom in 'The Phantom Of The Opera', Jesus in 'Jesus Christ Superstar) Shanay Holmes (Rachel in 'The Bodyguard' & Joanne in 'Rent', who was recently nominated for a Black British Theatre Award, and hosts the evening) Rachel John (Angelica Schuyler in 'Hamilton', Mimi in 'Rent') Jamie Muscato (Jason Dean in 'Heathers', Tony in 'West Side Story) Trevor Dion Nicholas (the Genie in 'Aladdin' and George Washington in 'Hamilton) and Layton Williams (Jamie New in 'Everybody's Talking About Jamie', Angel in 'Rent')
We're promised that "More special guests will be unwrapped during this all-singing, all-dancing extravaganza of a concert!" and, slightly more worryingly, that "As with all West End Musical productions the audience will become the cast and will be immersed in the wonderful world of musicals from the moment they enter the theatre."
I've no idea what that means either but at least the Covid regulations mean the singers won't get too in our faces!
A percentage of profits will be donated to Acting For Others.
Tickets from nimaxtheatres.com