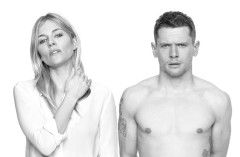 Full casting has been announced for Benedict Andrews' production of Tennessee Williams' steamy American drama Cat on a Hot Tin Roof which opens at Opening at the Apollo Theatre in July.
The central characters are a young married couple whose relationship is under considerable strain due to his latent homosexuality and the alcoholism which he develops whilst trying to hide it.
Jack O'Connell will play the troubled hard drinking Brick, an ex sports star, and Sienna Miller will play his anxious wife Maggie. Her flighty nature is described as being like "A cat on a hot tin roof" which gives the play its title.
The action takes place at as a family gathering presided over by the bullying patriarch Big Daddy who must try to make sense of his son's destructive behaviour and who brings a life time of narrow-minded experience to the task. He'll be played by Colm Meaney with Lisa Palfry as his subservient Big Mama.
Brian Gleeson plays Brick's irritating brother, Gooper, and Hayley Squires is his shrill wife who's constantly marshalling their obnoxious children which Maggie describes as "no-neck monsters"
The kids who'll play the little monsters are yet to be announced but I'm always intrigued by the kind of real-life parents who'll suggest their own children are ugly enough for those roles!
Smaller roles are to be played by Richard Hansel (Doctor) and Michael J Shannon (Reverend)
The twelve-week run in the West End at the Apollo Theatre begins previews on 13 July 2017 with press night on 24 July.
Set designs are by Magda Willi with costume designs by Alice Babidge, lighting by Jon Clark and sound design by Gareth Fry. Music is by the award-wining composer and musician Jed Kurzel.
It's a powerful piece about marriage, secrets and inter-generational conflict which I've always enjoyed although it's long and weighty, requiring exceptional performances. However Andrew's is an avant garde director so expect an unusual look to the production. I suspect his approach will be the focus of most of the reviews.
The press release describes the play tantalisingly, as follows "The truth hurts. On a steamy night in Mississippi, a Southern family gather at their cotton plantation to celebrate Big Daddy's birthday. The scorching heat is almost as oppressive as the lies they tell. Brick and Maggie dance round the secrets and sexual tensions that threaten to destroy their marriage. With the future of the family at stake, which version of the truth is real – and which will win out?"