103 The Cut, London, SE1 8NB GB
Quick Facts
Largest Ticket Inventory
in the West End
Real time
seat availability
Choose
your seats
Your booking is processed directly into the box office reservation system
A Christmas Carol
Tickets
4.8/5
-

based on

21

reviews
Booking until: Saturday, 18 January 2020
Tickets from £47.50
Book tickets
About A Christmas Carol
Age restrictions
Age suitability: 8+
Important Information
Please note that due to the staging of this production, there is a strict no latecomers policy. Additionally, if you leave the auditorium during the performance there is no re-admittance. You will only be able to retake your seat at the interval. 
Performance Times
Booking until: Saturday, 18 January 2020
A Christmas Carol description
Matthew Warchus' big-hearted, smash hit production of Charles Dickens' immortal classic returns to The Old Vic, joyously adapted for the stage by Jack Thorne (Harry Potter and the Cursed Child).
The Old Vic's A Christmas Carol fills the auditorium to the brim with mince pies, music and merriment. A unique staging immerses the audience in this uplifting story.
Next Performances for A Christmas Carol at the Old Vic Theatre
today
18th Jan 2020
7:00pm
A Christmas Carol reviews
4.8 out of 5
based on

21

reviews
What to expect:
Acting
Music
Costumes
Story
Lighting
Recommended for:
Anyone (95%)
Families (95%)
Teenagers (95%)
Couples (100%)
Theatregoers (100%)
Latest customer reviews

Amazing performance
Reviewed on 13 January 2020 by Mohamed, Riyadh, United Kingdom

Brilliant
Reviewed on 15 December 2019 by Stephen, Willerby, United Kingdom

Fabulously brilliant
This is the best play version I have ever seen
Reviewed on 14 December 2019 by Gary, Reading, United Kingdom

Brilliant! Magical !
Everything that the Christmas Holidays should be. The magic of Christmas comes to life on stage and in the theater. It left me with a smile on my face all the way home.
Reviewed on 11 December 2019 by Lloyd, Santa Rosa, United States Of America

Most Enjoyable
Most enjoyable music was great and a caring giving spirit was evident.
Reviewed on 09 December 2019 by Linda, Perth, Western Australia, Australia

Must see!
This show is outstanding, enjoyable from the start. Captures the spirit of Christmas perfectly. The acting and singing is wonderful.
Reviewed on 06 December 2019 by Elaine, New Malden, Surrey, United Kingdom

A heartwarming show
A good story and very well performance
Reviewed on 03 December 2019 by Christina, Nyköping, Sweden

Emotional, great story
Reviewed on 03 December 2019 by Elena, London, United Kingdom

Imaginative interpretation of Dickens classic
Reviewed on 03 December 2019 by Diane, Kelowna, Canada

Wonderful and immersive
Reviewed on 30 November 2019 by Claire, Geneva, Switzerland

A beautiful performance
Reviewed on 20 January 2019 by Jude, Cambridge, United Kingdom

magical
Reviewed on 19 January 2019 by Lorraine, Alresford, United Kingdom

Good show.well acted.Chill factor was rather compromised by a tendency towards panto at times.Very atmospheric,but I would have preferred a set that was not minimilist.
Reviewed on 09 January 2019 by Richard, London, United Kingdom

Wonderful way of making Christmas Alive
Brought tears to my eyes, warmth our hearts and what a wonderful way to get ready for Christmas spirit- Sharing, Caring and Loving. Enjoy every minute.
Reviewed on 15 December 2018 by Anthony, Singapore, Singapore

Christmas Carol
Reviewed on 13 December 2018 by Judith, Childers, Australia

incredible, absolutely loved it
Reviewed on 12 December 2018 by Manuela, Ringgenberg, Switzerland

Creative spectacular show
Great show, loved the original interpretation of the story and the use of props as the lighting above the stage and the boxes incorporated in the floor. With a small cast and little use of props a truly amazing show!
Reviewed on 12 December 2018 by Marjoleine, Malden, Netherlands

The fabulous Christmas catol
loved the show in every way Thank you
Reviewed on 13 December 2017 by Lisa, Wallington, United Kingdom
11

Dec
2019

Spot The Scrooge - why Charles Dickens' iconic character is more relevant than ever
by Josephine Balfour-Oatts | Wednesday, December 11 2019, 20:44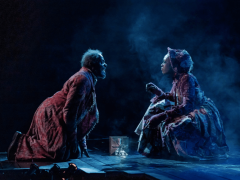 How being more Scrooge can inspire you to do good this winter, plus a selection of our favourite adaptations of A Christmas Carol - arguably, the nation's most beloved seasonal story.
Spot The Scrooge - why Charles Dickens' iconic character is more relevant than ever