Apollo Theatre
31 Shaftesbury Avenue, London, W1D 7ES GB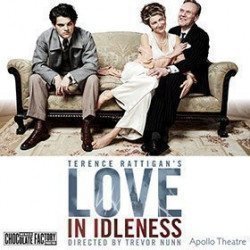 Love in Idleness
Tickets
Apollo Theatre
Booking from: Thursday, 11 May 2017
Booking until: Saturday, 1 July 2017
Running time: 2 hours 45 minutes
Was £39.50 Now £20.00
Book

tickets
Performance Times
Mon
Tue
Wed
Thu
Fri
Sat
Sun
14:00
14:00
14:00
19:30
19:30
19:30
19:30
19:30
19:30
Booking from:
Thursday, 11 May 2017
Booking until:
Saturday, 1 July 2017
Running time:
2 hours 45 minutes
You adore quality theatre. Here's a classic for you in the shape of Trevor Nunn's exceptional production of Love In Idleness. Nunn directs an all-star cast including Eve Best as Olivia Brown, star of TV's Stan Lee's Lucky Man and an extremely talented actress. Edward Bluemel plays Michael Brown and Anthony Head Sir John Fletcher, the set and costumes are by Stephen Brimson Lewis, the lighting design comes from Paul Pyant and the sound from Gregory Clarke. It's a Chocolate Factory Productions and Nica Burns production, and it's designed to delight.
What's the plot? When a young man with radical left wing political views returns home from Canada, he's horrified to discover that his mother is seeing a rich married businessman, Sir John Fletcher, serving as government Minister for Tank Production and playing a starring role in Churchill's War Cabinet. She is understandably torn between her lover and her son, who is furious about the relationship. The result is funny, absurd, breathtakingly cynical and wonderfully complex.
So far, so simple. But this production comes with a cool quirk – it's actually a blend of Love In Idleness and Less Than Kind, which was the play's original iteration. Why? It's a fascinating story. Less Than Kind was revised several times by the playwright through the latter half of 1944, eventually renaming it Love in Idleness, a version that was watered down thanks to demands by the starring husband and wife actors Alfred Lunt and Lynn Fontanne. Trevor Nunn has merged the two versions to brilliant effect, revealing the playwright's famously divided personality.
Eve Best has already enjoyed huge praise for her role as the devoted mother Olivia, played with a remarkably creative blend of passion and snobbery, and the results are often very funny indeed. Edward Bluemel is a sulky, moody and magnificent. Anthony Head plays the iron-willed Sir John perfectly, and Helen George's portrayal of Sir John's flighty wife is a delight.
The play makes highly creative use of old newsreel footage, revealing the deprivations of wartime but also showcasing the optimism that fell out of the Beveridge report's idealistic vision of social security for every member of the nation. If you enjoy a potent combination of pleasure, laughter and pain, this one is tailor made for you: intelligent, perceptive, and absolutely beautifully done.
We have a great selection of cheap Love in Idleness tickets. We can help you save up to 70% on Love in Idleness tickets! If you're looking for discount theatre tickets have a look below for our latest offers for Love in Idleness at the Apollo Theatre.
1
Was £57.50
Now £35.00

-39%

Valid Monday - Friday performances between 1 - 30 June 2017.
2
Was £39.50
Now £20.00

-49%

Valid Monday - Friday performances between 1 - 30 June 2017.
Press Reviews
"Witty... Marvellous... Perfection!" The Independent
Customer Reviews
What to expect:
Acting:
Music:
Costumes:
Story:
Lighting:
Recommended for:
Anyone:
Families:
Teenagers:
Couples:
Theatregoers:
based on 8 reviews
Vibrant and very well performed play
The play was lively and witty throughout and although set in the 40's during a period of turmoil and austerity there were echos of similar issues today. The acting was superb and anyone who has experienced living with a teenager will empathise with the principal characters. Perhaps the last scene could have been slightly shortened but overall a very enjoyable experience
Mary London Box Office customer
A gentle, witty, enjoyable play
We really enjoyed this play, though I admit I didn't expect to. It was not a highbrow, challenging high-drama, more a gentle and amusing love story, with a great script and fabulous acting from Eve Best and Anthony Head. A thoroughly enjoyable evening, highly recommended.
Samantha London Box Office customer
Feel good
Pat London Box Office customer
Engaging
Wilma London Box Office customer
22 May 2017 in Reviews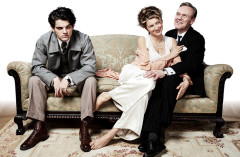 Watching Trevor Nunn's funny and fleet-of-foot production of Love in Idleness, a "new" play forged by combining two drafts of an old play written by Terrence Rattigan that's been barely performed, is like a blast from the past.
Until the emergence of angry, radical drama in the 1960s every theatre in the West End would offer variations on its formula - posh people chattering away in posh drawing rooms, with a quick dip into melodramatic peril before leisured wit and privileged are restored. The overarching philosophy of most of this repertoire is summed up when a character quips that there's nothing that can't be overcome with "small talk".
Read more
Use the search box at the top left of this page to search for Love in Idleness tickets availability.
Quick Facts
Largest Ticket Inventory in the West End
Real time seat availability
Your booking is processed directly into the box office reservation system
Collect your tickets from the theatre for free or get them posted to your address.

Theatre Address
Apollo Theatre
31 Shaftesbury Avenue, London, W1D 7ES GB
Facilities
Air conditioned
Bar
Disabled toilets
Infrared hearing loop
Member of Q-Park scheme
Toilets
Wheelchair/scooter access
Theatre Info
Capacity: 775
Year built: 1901
Next Performances