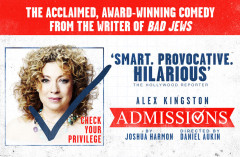 It's always interesting when theatre raises provocative questions so I'm delighted to learn that the play ADMISSIONS, which I saw at the Lincoln Centre in New York, will transfer to the Trafalgar studios in London from 28 February – 25 May.
It's a slight piece, just 1 act of people talking in a kitchen, but it packs a powerful punch and as a result it won the author, Joshua Harmon, the Drama Desk and Outer Critics Circle Awards for Best Play.
As explained in advance publicity the play explores what it's like when liberal sensibilities and aspirations clash with the sacrifices those principals will entail -
"the Head of Admissions at a private school is fighting to diversify the student intake but when her son is deferred from his university of choice, and his best friend - who 'ticks more boxes' - is accepted, her personal ambition collides with her progressive values".
London will see it with a mostly new cast but Ben Edelman who'll play the moody and temperamental son is reprisisng the role having first performed it in the Lincoln Centre Theater.
He was terrific! I also happened to see him being very gratuitous to admirers at the stage door and he seems a very nice guy too!
New cast members include "Miranda favourite" Sarah Hadland who'll star opposite Alex Kingston (ER, Doctor Who)
Both women are also experienced stage actors and should really be able to make the sparks fly in this ninety minute debate about who in our society is most deserving of privilege.