Quick Facts
Largest Ticket Inventory
in the West End
Real time
seat availability
Choose
your seats
Your booking is processed directly into the box office reservation system
This show is now closed.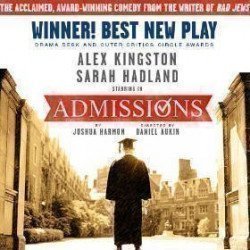 Admissions
Tickets
4.8/5
-

based on

6

reviews
Starring: Alex Kingston, Sarah Hadland
About Admissions
Performance Times
Starring:
Alex Kingston, Sarah Hadland
Admissions description
Admissions – A cracking new comedy
Admissions is a brand new play, a comedy with teeth. Sharp teeth. It stars Alex Kingston, who has wowed audiences with her roles in TV's Dr Who and ER. It's already an award-winner, and it comes fresh from the USA where it's had a dazzling run at New York's Lincoln Center.
What's the story? Sherri is the Head of Admissions at a smart private school which is very keen on diversity, in control of who gets in and who doesn't. Her husband is the headmaster. She's dedicated to making sure the student intake is properly diversified, and she's proud of her work. When her own son Charlie fails to get into his university of choice – Yale - but his best mate, who just happens to score more points and 'tick more boxes' as regards diversity, succeeds, she finds her ambitions for her child clashing with a lifetime of strong progressive values.
The media are calling it 'Astonishing and daring', 'Smart, hilarious and provocative', and it's thought-provoking stuff. If you have children and have tried to get them into the school of your choice, you'll know how tricky it can be. The US college admissions scene is a whole lot more intense.
The playwright Joshua Harmon actually combined two stories to create Admissions. One deals with the feelings of a clever prep-school student who fails to get into Yale, the other examines the way his parents tear themselves apart in an effort to do the best they can for him, meddling far too deeply in his life. The boy, being young and resilient, ends up fine, of course, but the same can't be said for his parents.
Admissions premiered in 2018 on Broadway. Its theatreland venue is Trafalgar Studios One and it runs from 28th February 2019. In the USA it won the Outer Critics Circle Award for Outstanding New Off-Broadway Play and a Drama Desk Award for Outstanding Play. New York Theatre Guide awarded it four stars and called it, "an interesting discourse on the perils of white male privilege".
Alex Kingston might be best known for her TV roles but also happens to be a fine stage actor, amongst others appearing in One Flew Over the Cuckoo's Nest at the Garrick theatre and starring with Kenneth Branagh in Macbeth at the Manchester International Festival.
Who is this show for?
The subject matter means this isn't suitable for small children – it's a grown-up story written for adults.
Admissions reviews
4.8 out of 5
based on

6

reviews
What to expect:
Acting
Music
Costumes
Story
Lighting
Recommended for:
Anyone (83%)
Families (83%)
Teenagers (83%)
Couples (83%)
Theatregoers (100%)
Latest customer reviews

Sharp, keeps your attention totally- excellent
Script was tight - not once did I look at my watch. Subject was intelligently portrayed and acting was subtle for the most part. Location was just right - recommend for any age group ... works on all levels. Alex Kingston nailed it.
Reviewed on 15 May 2019 by Michael, Bray, Ireland

Thoughtful
Reviewed on 06 May 2019 by Karon, London, United Kingdom

Alex Kingston is stunning and moving and Ben Edelman gives one of the most powerful and impressive performances I've ever seen. The play itself is also exquisite -- a balance of humor and tension with powerful lines I will never forget.
Reviewed on 26 April 2019 by Sarah, London, United Kingdom

Thought Provoking
An intimate, yet brutally honest, exploration of racial politics in education and beyond. A strong sense of naturalism, with subtle comedic elements, that allowed the audience to empathise with a range of characters and their views. Surprisingly enjoyable.
Reviewed on 13 April 2019 by Joanne, Rayleigh, United Kingdom
04

Feb
2019

Kitchen Table Debate Play set to Make Sparks in the West End
by Phil Willmott | Monday, February 4 2019, 09:23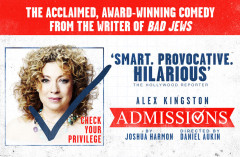 It's always interesting when theatre raises provocative questions so I'm delighted to learn that the play ADMISSIONS, which I saw at the Lincoln Centre in New York, will transfer to the Trafalgar studios in London from 28 February – 25 May.
It's a slight piece, just 1 act of people talking in a kitchen, but it packs a powerful punch and as a result it won the author, Joshua Harmon, the Drama Desk and Outer Critics Circle Awards for Best Play.
Kitchen Table Debate Play set to Make Sparks in the West End