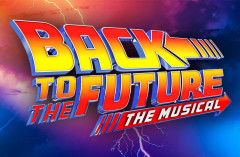 Update for Back to the Future The Musical at the Adelphi Theatre
It's one of the best-loved movies of all time, even though the 1980s special effects are a bit rubbish. The new stage version of the story is brilliant in every way. This is Back To The Future as you've never known it before, and it's going to be mind-blowing. The producer Colin Ingram plus Robert Zemeckis and Bob Gale, the creators of the Back To The Future film trilogy, are thrilled to present rehearsal photos of the show. The magic kicks off at the Adelphi Theatre from 20th August 2021.
Who's involved in BACK TO THE FUTURE The Musical?
BACK TO THE FUTURE The Musical is a long-awaited treat and these marvellous rehearsal images are designed to whet your appetite. What's the plot? When Marty McFly gets accidentally transported back to 1955 in a time-travelling DeLorean car invented by his friend, Dr Emmett Brown, he runs across his own parents, before they got together. Chaos ensues as Marty tries to make his parents fall in love.
Directed by Tony Award-winning director John Rando
Starring Roger Bart as Doctor Emmett Brown and Olly Dobson plays as Marty
Hugh Coles plays George McFly
Rosanna Hyland plays Lorraine Baines
Cedric Neal is Goldie Wilson
The book is by Bob Gale
There are 16 new songs with music and lyrics by Emmy and Grammy Award-winning Alan Silvestri and six-time Grammy Award-winning Glen Ballard to enjoy
Plus additional songs from the film including The Power of Love and Johnny B. Goode
Aidan Cutler is Biff Tannen
Courtney-Mae Briggs is Jennifer Parker
Will Haswell plays Dave McFly
Emma Lloyd is Linda McFly
Mark Oxtoby plays Strickland
The rest of the cast comprises the talented Rhianne Alleyne, Amy Barker, Matt Barrow, Joshua Clemetson, Jamal Crawford, Bessy Ewa, Ryan Heenan, Cameron McAllister, Alessia McDermott, Laura Mullowney, Nic Myers, Shane O'Riordan, Katharine Pearson, Oliver Tester and Justin Thomas
Buy BACK TO THE FUTURE The Musical Tickets
Book your BACK TO THE FUTURE The Musical tickets online with us and choose the very best seats with our Adelphi Theatre seating plan. We'll send your E-tickets to your email address for you to show at the door on the day. Simple!
About the Adelphi Theatre
You'll find the Adelphi Theatre on the Strand, in the City of Westminster. Founded way back in 1806, it has been putting on marvellous entertainment for more than 200 years. Past shows at the Adelphi Theatre include Made in Dagenham, Kinky Boots, Bumblescratch, and Waitress.