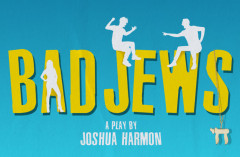 A talented young company is due to make their West End debut in Joshua Harmon's hugely popular comedy, Bad Jews. It returns to the Arts Theatre in London for an 11 week run from Thursday 14th July. Daphna Feygenbaum is a 'real' Jew with an Israeli boyfriend to prove it. When her cousin Liam brings home his non-Jewish girlfriend Melody, and announced he now owns his granddad's necklace, the massive row that ensues quickly becomes hilarious.
Who's involved in BAD JEWS?
Bad Jews premiered in New York in 2012, then transferred to the UK where it toured nationally beforetwo record-breaking seasons in the West End. The original production of Bad Jews described the play as a 'blisteringly funny' (Sunday Times), 'ferociously clever' (Evening Standard) comedy about family, legacy and what we decide to believe in. Here's who's involved.
Charlie Beaven plays Jonah
Olivia Le Anderson plays Melody
Ashley Margolis plays Liam
Rosie Yadid plays Daphne, with Danny Becker and Ellie Sager
The playwright is Joshua Harmon. He's the winner of Drama Desk and Outer Critics Circle Awards with stage credits for the excellent Significant Other, Admissions, Skintight, and Ivanka: A Medea For Right Now
The original production was directed by Michael Longhurst. It was designed by Richard Kent, with lighting design by Richard Howell and sound design by Adrienne Quartly
This is a revival of the original, directed by Jon Pashley
Bad Jews is presented by Simon Friend, Gavin Kalin, and Keren Misgav
Buy BAD JEWS Tickets
Buy cheap BAD JEWS tickets online via our site for exceptional service. Pick the seats you love best using our Arts Theatre seating plan. Then simply show your etickets at the door on the day and you're in for a treat.
About the Arts Theatre
The Arts Theatre is the West End's smallest commercial receiving house. Their wonderfully eclectic programme is chosen by Executive Director Louis Hartshorn. It's a great all-rounder with two rehearsal rooms, two floors or creative office space, the Arts Theatre Cafe and the Covent Garden Social Club, a cocktail bar, social space with live music in the evenings plus, in the basement, the famous Covent Garden Cocktail Club. Past shows at the Arts Theatre include The Wipers Times, The Toxic Avenger, Oleanna, and The Choir of Man.