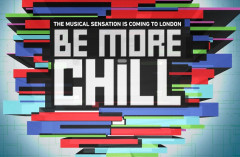 It's been announced that cult New York musical BE MORE CHILL will receive its UK Premiere at The Other Palace from 12 February – 3 May 2020.
The London venue, near to Victoria Station, has recently carved a niche for itself as a home for Broadway and Off-Broadway shows which perhaps don't quite have the mass audience appeal to sustain a commercial run in a bigger West End Theatre, giving Londoners the chance to see the more niche and alternative US musicals we've been missing out on. On the whole it's been a success story with recent UK premiere's of WILD PARTY, BIG FISH & currently FALSETTOS.
Next up to get the "Other Palace Treatment" is BE MORE CHILL.
I must confess I know virtually nothing about it, so let's pull together 10 claims from today's press release in an attempt to get a better picture of the kind of musical it is.
1. BE MORE CHILL is "the atypical love story of a boy, a girl....and the supercomputer inside the boy's head guiding him every step of the way. The boy is desperately trying to fit in. The girl's longing to be noticed. And the supercomputer just wants to take over the world"
2. We're told the "Cast album recordings are an international sensation" with songs from the Tony Award-nominated score streamed "more than 300 million times online" Including the "hugely popular" number Michael in the Bathroom
It's based based on "the groundbreaking novel by the acclaimed writer Ned Vizzini" with original music and lyrics by Joe Iconis and a book by Joe Tracz.
The show was commissioned by and premiered at Two River Theater in Red Bank, New Jersey in 2015, had a limited run, and released an original cast recording. In 2017, the number of online listeners to the recording started growing, with fans creating animated YouTube videos, art fiction, blogs and vlogs.
When the 2015 Original Cast Recording was released, millions of people streamed the album and formed a passionate community of BE MORE CHILL fans. As a result the show's creators thought it was time to bring it back – resulting in an 'off-Broadway production' and this year's Broadway run at the Lyceum Theatre.
When the 2019 Broadway Cast Recording was subsequently released, it debuted at #2 on the Top Cast Albums Chart.
Songs from the musical have accumulatively garnered over 318 million streams, with the breakout track MICHAEL IN THE BATHROOM amassing over 31 million streams and 8 million YouTube views alone.
Tumblr has ranked BE MORE CHILL as the #2 most talked-about musical on their platform, behind only HAMILTON.
Joining Joe Iconis and Joe Tracz on the creative team are director Stephen Brackett, choreographer Chase Brock, set designer Beowulf Boritt, costume designer Bobby Frederick Tilley, lighting designer Tyler Micoleau, sound designer Ryan Rumery and projection designer Alex Basco Koch. Musical supervision and orchestrations are by Charlie Rosen, music vocal arrangements by Emily Marshall and UK casting is by Will Burton.
Casting for the UK production will be announced at a later date.
When you read as many theatre press releases as I do you learn to approach their hyperbole with caution. Certainly if BE MORE CHILL is that good and that loved you'd have expected it to last longer than three months on Broadway and it's never had great reviews from mainstream critics.
But there's no arguing with those stats. Maybe this is a musical genuinely powered by fans. I'm very intrigued!