12 Palace Street, London, SW1E 5JA GB
Quick Facts
Largest Ticket Inventory
in the West End
Real time
seat availability
Choose
your seats
Your booking is processed directly into the box office reservation system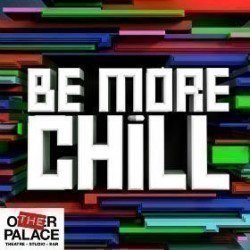 Be More Chill
Tickets
Booking until: Sunday, 14 June 2020
Tickets from £23.25
Book tickets
About Be More Chill
Age restrictions
Recommended for ages 12+. The musical has mature themes and mature language.
Important Information
Recommended for ages 12+. The musical has mature themes and mature language.
Performance Times
Booking until: Sunday, 14 June 2020
Be More Chill description
Be More Chill – The cult sensation is here!
The Other Palace is your venue if you'd like to join the crowds for a proper musical theatre sensation. Welcome to Be More Chill, the smash hit musical that's taking over the world! Music and lyrics by Joe Iconis join a book by Joe Tracz to portray a story based on by the 2004 best-selling novel by Ned Vizzini. Originally a small, regional theatre production it soon moved Off-Broadway then onto Broadway itself earlier this year. Now it's on its way to theatreland, and we're thrilled.
No wonder the excitement has been building so fast! Be More Chill is poised to take London by storm. Stephen Brackett has the director's chair and Chase Brock is the choreographer. Bobby Frederick Tilley the Second is the costume designer and Tyler Micoleau does the lighting. Emily Marshall is the vocal arranger and Will Burton the UK casting director. Beowulf Boritt has designed the sets and Ryan Rumery the sound. Charlie Rosen supervises the music and Alex Basco Koch has created the projection design.
What's the story? Be More Chill is all about the sad high school loser Jeremy, who is a social outcast. He is tormented daily by the awful Rich Goranski, the school bully and most popular boy. All poor Jeremy wants is to be part of the scene, at one with the crowd. And he has a massive crush on the lovely but troubled Christine.
When Christine auditions for the new school play, a zombie-fest loosely based on Shakespeare and called A Midsummer Nightmare, and gets the part, Jeremy is jealous of Jake Dillinger's flirting. When Rich eventually tells Jeremy the secret to his success, an amazing a SQUIP pill that implants a supercomputer into the brain which tells you how to become instantly popular, Jeremy gives it a go. But is SQUIP a mere get-popular-quick scheme or are the effects real? What a story - no wonder there's a film version in the pipeline.
Expect a load of superb show tunes and you won't be disappointed. You'll be rocking in your seat to Jeremy's Theme, More Than Survive, I Love Play Rehearsal, The SQUIP Song, Two-Player Game, The Squip Enters and of course Be More Chill itself. And that's just the tip of the iceberg.
Who is this show for?
Be More Chill is recommended for people aged 12 or more, and those under four won't be admitted.
Next Performances for Be More Chill at The Other Palace
Tuesday
31st Mar 2020
7:30pm
Wednesday
1st Apr 2020
7:30pm
Thursday
2nd Apr 2020
2:30pm
Thursday
2nd Apr 2020
7:30pm
Friday
3rd Apr 2020
7:30pm
Saturday
4th Apr 2020
2:30pm
02

Mar
2020

BE MORE CHILL Becomes The Longest-Running Musical Ever To Run At The Other Palace
by Josephine Balfour-Oatts | Monday, March 2 2020, 10:32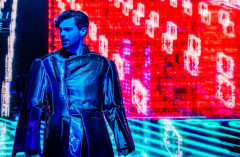 Booking tickets for the hit musical Be More Chill demands the opposite temperament to that of its title. Get excited and get yours now - having just become the longest-running musical in the history of The Other Palace Theatre, seats are selling like hot cakes.
BE MORE CHILL Becomes The Longest-Running Musical Ever To Run At The Other Palace
30

Sep
2019

10 Things we Know About Musical, BE MORE CHILL
by Phil Willmott | Monday, September 30 2019, 12:12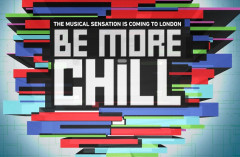 It's been announced that cult New York musical BE MORE CHILL will receive its UK Premiere at The Other Palace from 12 February – 3 May 2020.
10 Things we Know About Musical, BE MORE CHILL