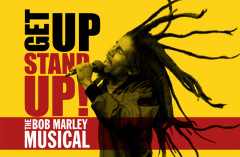 Update for Get Up Stand Up! at the Lyric Theatre
The show's producers are thrilled to announce the glittering full cast for Get Up, Stand Up! The Bob Marley Musical. They join the brilliant Arinzé Kene who plays Marley himself. The singer's beautiful revolutionary songs are brought to life thanks to a book by the award-winning Lee Hall, and the equally talented director Clint Dyer. The actors are joined by some of the nation's best reggae musicians to bring the great man's story to life.
Who's involved in Get Up Stand Up?
Billed as an 'explosive new production', this fabulous musical celebrates the life and times of the world's best-loved Jamaican soul rebel. Born into poverty, Bob Marley became an international superstar. Fellow soul rebels Rita Marley and the I Three, Peter Tosh, Bunny Wailer and Lee Scratch Perry also get a look-in. The fun kicks off on 1st October 2021 and the run ends on 3rd April 2022. Here's the full cast:
Arinzé Kene plays Bob Marley
Gabrielle Brooks is Rita Marley
Shanay Holmes plays Cindy Breakspeare
Sophia Mackay is Judy Mowatt
Melissa Brown-Taylor plays Marcia Griffiths
Jacade Simpson is Bunny Wailer
Natey Jones is Peter Tosh
The rest of the dazzling cast? We have Daniel Bailey, Craig Blake, Charles Blyth, Maxwell Cole, Athena Collins, Michael Duke, Kimmy Edwards, Raphael Estavia, Henry Faber, Cannon Hay, Savanna Jeffrey, Rohan Pinnock-Hamilton, Cleopatra Rey, Julene Robinson, Nate Simpson, Archie Smith, Declan Spaine, Jaime Tait, and last but not least Teddy Wills
Buy Get Up Stand Up! Tickets
Book your Get Up Stand Up! tickets online with us and choose the best seats with our Lyric Theatre seating plan. We'll send your E-tickets to your email address. All you do is present them at the door on the day and you're in!
About the Lyric Theatre
The Lyric Theatre is on Shaftesbury Avenue in the West End, built especially for the producer Henry Leslie. He paid for the building with money earned from his light opera hit, Dorothy, which transferred to the new venue in 1888. It must've been a massive success! Past shows at the Lyric Theatre include Night of the Iguana with Woody Harrelson, Smaller, Cabaret with Julian Clary and James Dreyfus, and the Michael Jackson tribute musical Thriller Live.