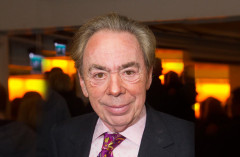 The UK's Greatest living theatre composer shows no signs of slowing down after five decades at the top.
In a recent interview his regular lyricist, Don Black, has revealed plans are afoot to revamp ALW's latest flop STEPHEN WARD with the addition of new songs and there are still hope that a newly conceived Australian production of the PHANTOM OF THE OPERA sequel, LOVE NEVER DIES, will come to the UK.
On top of all this Glenn Close stars in a concert staging of SUNSET BOULEVARD this month in conjunction with English National Opera at the London Coliseum and he has announced auditions to find child performers for his new musical SCHOOL OF ROCK, currently a hit on Broadway and expected in the West End in 2017.
He describes the move as "a big fishing expedition" explaining "We need brilliantly talented children who can act, sing and play rock instruments. In the USA, more than 22,000 kids auditioned and we ended up with a band who can rock out with the best. We have to discover that band in Britain, not just kids who act and sing. Our show depends on it."
To audition for the UK production, children must be eight years old (nine when rehearsals begin) and under 5ft tall. https://uk.schoolofrockthemusical.com/auditions/