Quick Facts
Largest Ticket Inventory
in the West End
Real time
seat availability
Choose
your seats
Your booking is processed directly into the box office reservation system
This show is now closed.
Sunset Boulevard
Tickets
4.8/5
-

based on

62

reviews
About Sunset Boulevard
Performance Times
Starring:
Glenn Close
Sunset Boulevard description
With Glenn Close in the starring role, audiences are in for a very special experience. The original movie was a huge hit and it's still loved to this day. It was nominated for an impressive eleven Academy Awards and won three. Some say it's one of the finest examples of American cinema. And it's yours, playing at the London Coliseum from April 2016.
You're looking at a classic story so good that the film is considered one of USA's most "culturally, historically or aesthetically significant", included in the National Film Registry's 100 best American 20th Century films. The stage production is just as powerful, an unforgettable black comedy of a plot full of violence, madness and death.
Glenn Close is no stranger to the stage. Her debut was the Harold Prince revival of Love for Love, on Broadway. She also wowed audiences in The Crucifer of Blood and The Singular Life of Albert Nobbs, for which she won an Obie.
Close is also the winner of Tonys for The Real Thing and Death and the Maiden, and she lit up Trevor Nunn's National Theatre revival of A Streetcar Named Desire. As far as Hollywood goes, she's been in 35 films including a suite of particularly big hitters: The World According to Garp, The Big Chill, Fatal Attraction and Dangerous Liaisons.
Andrew Lloyd Webber's lovely music sits at the heart of the world's best known musicals: Cats, Evita, Joseph and the Amazing Technicolor Dreamcoat and The Phantom of the Opera amongst many others. He's a great British institution in the flesh, and theatregoers are dying to experience the show. But there's more. The entire English National opera orchestra provides the music. Wow.
Sunset Boulevard – The story
Norma Desmond is a reclusive ex-silent movie star. She can feel her stardom slipping away as her reputation fades along with her looks. Joe Gillis is a dodgy screenwriter on the run from debtors. When they collide, sparks fly.
Norma hires Joe to work on a screenplay she's written, something she believes will shoot her back to stardom in the talkies. Joe has different ideas – he thinks it's a fantasy. But he smells money, and he wants it. At first they get on... very well. But they're soon at loggerheads as they both refuse to let go of their desires, Joe falls in love with someone else and he and Norma clash violently in an effort to protect their ambitions.
It sounds like a hoot. And it is. But it's also as black as it gets, a thrilling combination audiences love whatever the format, film or stage. Don't miss it!
As Andrew Lloyd Webber said: "I am thrilled that London audiences will at last get a chance to see Glenn's performance in the role of Norma Desmond which was so hugely acclaimed in the USA." And so are we, Sir Andrew. Thank you!
Sunset Boulevard tickets
Want premium, full price or discount Sunset Boulevard tickets? We always have great availability and you'll enjoy excellent value for money on the complete range of ticket types and seats, cheap to posh.
Sunset Boulevard reviews
4.8 out of 5
based on

62

reviews
What to expect:
Acting
Music
Costumes
Story
Lighting
Recommended for:
Anyone (55%)
Families (56%)
Teenagers (65%)
Couples (87%)
Theatregoers (97%)
Latest customer reviews

amazing!
Reviewed on 09 May 2016 by Jane, Watford, United Kingdom

Fabulous and charismatic
A wonderful experience, funny, emotional , great performances especially Glenn Close, who was delightfully vulnerable and wicked in her portrayal of the faded star. Has taken the top spot in my favourite musicals.
Reviewed on 08 May 2016 by Charles, Southwell, United Kingdom

A real big theme
The show has full impact from start to finish. Good if you saw the film, but even if not a great story. Glenn Close and the magnificent cast made it a huge night with standing ovations.
Reviewed on 07 May 2016 by Colm, Solihull, United Kingdom

You can'ty miss this gem
This is the second time I saw Sunset Boulevard. The first one was 22 years ago in Broadway and this time in London. I can't describe my emotions for seeing Glenn Close again performing at the highest possible level as she did 22 years ago. The story is amazing, the music is fantastic, the lyrics are just so right, and the whole thing is just perfect. This time I went with my husband which is not a particularly musical fan and I told him that if he didn't like this one he would never like musicals. To summarise, he said to me the day after the performance that he woke up in the morning thinking about Glenn Close's fantastic performance and thanking me for having taken him as he literally loved Sunset Boulevard, and he posted it in Facebook!!! Anyway, I am not sure if I will have another chance to see it again somewhere in the world but I am so happy life gave me this chance!!!
Reviewed on 05 May 2016 by Marcelo, London, United Kingdom

old story reviewed, must see
Book well in advance. Try to find out what is the facial price. For 2 tickets of £210,00 we payed £285,00. Too much IMHO. The show is excellent, excellent performances and the voice of Fred Johanson is nothing less than extraordinary. A show for itself.
Reviewed on 04 May 2016 by Antonio, Lisboa, Portugal

Glen close delivers the best norma desmond yet better than her first time around her actual age matches with the caracter,she really gives the perfomance of her great carrer,what it la ks in the production is the barroc sets that is part of the atmosphere very important in the story looks like a cocert more than a play but she is incrdible.
Reviewed on 04 May 2016 by Roberto, South Hampton, United Kingdom

Moving!
Reviewed on 03 May 2016 by Louie, Brighton, United Kingdom

fantastic
Reviewed on 02 May 2016 by Caroline, Addlestone, United Kingdom

Must see
Reviewed on 02 May 2016 by Lynn, Braintree, United Kingdom

Brilliant show
GLenn CLose was amazing and so were the whole cast it a must see....
Reviewed on 01 May 2016 by Glenn, Benfleet, United Kingdom

Amazing fabulous
Absolutely amazing show with wonderful orchestra.
Reviewed on 01 May 2016 by Stephen, Leeds, United Kingdom

Excellent
Reviewed on 01 May 2016 by David, Barnstaple, United Kingdom

Glenn Close is great!
Reviewed on 28 April 2016 by Oliver, Elkhart, United States

A moment in one's life!
The whole cast were stunning and Glenn Close was breathtaking. The end of her performance of 'With One Look' was almost a spiritual experience!
Reviewed on 28 April 2016 by Neal, Edinburgh, United Kingdom

Disgusted and unimpressed
Less about the show and more about the experience. Will forever be disillusioned and disgusted with London theatre following the no refund or exchange decision on the Glenn Close no show debacle. Considering the advertising campaign relying on her name and the consequent hiking of prices, sales of these tickets were reliant on people wanting to see this Hollywood actress in this role and being left high and dry. What a lack of Integrity to take people's money whilst someone clearly lines their own pockets. I felt thoroughly conned. Would I have paid £200 to see just anybody....No.
Reviewed on 27 April 2016 by Diane, Wickham, United Kingdom

Impressive
Glenn close was amazing the music was brilliant. Clever set and very watchable.
Reviewed on 27 April 2016 by Nicola, Malvern, United Kingdom

Absolutely must see ,music and cast spectacular.
Loved everything about the show but really thrilled seeing Miss Ria Jones at last getting the praise for her amazing voice and acting ability. If you want a great evening out go to the amazing Coliseum and enjoy a fine production of Sunset Boulevard.
Reviewed on 24 April 2016 by Sheila, Havant, United Kingdom

Rhia was amazing
This was amazing I booked my tickets to see glen but was not disappointed at all
Reviewed on 24 April 2016 by Danny, London, United Kingdom

Worth going!
Reviewed on 24 April 2016 by Steven, Bristol, United Kingdom

Painful as Glen Close didn't appear
Reviewed on 24 April 2016 by Daniel, Hove, United Kingdom

Sunset (Glen) Boulevard
Truly excellent show, wonderful music and fabulous star
Reviewed on 24 April 2016 by Brenda, Upminster, United Kingdom

Well worth going!
Reviewed on 23 April 2016 by Susan, Leighton Buzzard, United Kingdom

Great show, wonderful music
Reviewed on 22 April 2016 by Joanna, Farnborough, United Kingdom

Great show
We didn't see Glenn Close tonight (21 April) due to illness. But we did see someone come on stage with big shoes to fill... And she nailed it. Congratulations to understudy Ria Jones who was utterly superb! Fantastic performance, truly moving. A great night!
Reviewed on 22 April 2016 by Dave, Rochester, United Kingdom

a musical delight
Reviewed on 21 April 2016 by Helen, Coulsdon, United Kingdom

Unbelievable!
A fantadtic show. We had worried about the minimalist set, but it works fantastically and actually accentuates the acting. Which is brilliant, not a weak link in the entire ensemble and Glenn Close's stage presence is jaw dropping.
Reviewed on 21 April 2016 by Neil, Emsworth, United Kingdom

Respectful musical version of one of the jewels in the Hollywood tiara
Coliseum sightlines are unifomlly excellent so dont be dettered if the top price tkts are sold out- grab a last minute deal and sit in the Balcony. Admire the magnificent ceiling in detail between acts!
Reviewed on 19 April 2016 by Peter, London, United Kingdom

Marvellous
The orchestra was absolutely superb and Glen Close as always was fabulous.
Reviewed on 19 April 2016 by David, Enfield, United Kingdom

unforgettable
Reviewed on 18 April 2016 by Maria, Brussels, Belgium

Just about perfect
Great story. Great Music. Genuine Superstar. What more could one want?
Reviewed on 16 April 2016 by Andrew, Southwell, United Kingdom

The hottest ticket in town
Sensational. The dark and over the top story was made entirely believeable by the superb musicality and acting of Glenn Close. The ovation at the end was the loudest and longest I've ever heard in all my years of going to the theatre.
Reviewed on 15 April 2016 by Alan, Eastham, United Kingdom

Miss this at your peril
This was an emotional experience for actors and audience alike. It was a production I will never forget for the sheer brilliance of the main characters, particularly Glenn Close. It was poignant to the degree almost of pain. I will never see the like again.
Reviewed on 14 April 2016 by Dianne, Bridgnorth, United Kingdom

Essential you see this
Take the chance to see a great star at the top of her game with an equally good supporting cast and orchestra, in one of Lloyd Webber's most lavish works. The best all encompassing experience I've had in ages.
Reviewed on 14 April 2016 by Graham, Brighton, United Kingdom

Close is class
Not a big fan of andrew lloyd Webber but loved the story and glenn close was brilliant in the title role . definitely worth seeing.
Reviewed on 13 April 2016 by Carol, London, United Kingdom

Great show!
Reviewed on 11 April 2016 by Ewa, Newport, United Kingdom

Amazing show, definitely recommend.
One of the best shows I've seen so far. Glenn Close, all the performers and orchestra were fantastic. The applause kept going.
Reviewed on 10 April 2016 by Nichola, Norwich, United Kingdom

Reviewed on 10 April 2016 by Nicholas, West Wickham, United Kingdom

Outstanding production, Bravo
I saw the original production in LA before it moved to Briadway; Glenn Close was born to play Norma Desmond and all of the support were top notch! Run, don't walk to see this production.
Reviewed on 10 April 2016 by Craig, Philadelphia, United States

Fantastic Glenn Close
Perfect and very professionel Show with great actors and Singers. And Glenn Close is outstanding in her Tony-awarded Role! The orchestra was very impressive as well, georgous and perfect too. Seats at the Dress Circle Slips were ok! Thank you for the unforgettable audience!
Reviewed on 09 April 2016 by Nicola, Poecking, Germany

Must see-if you can get a seat!!
I went to see Glenn Close 20 years ago on Broadway but she was sick and saw the understudy ! She was Amazing this time round and maybe even more suited to the role age wise too now !
Reviewed on 09 April 2016 by Jackie, Shepperton, United Kingdom

Impressive show
Great view from the dress circle, we sat in row H and had no trouble seeing despite tall people in front as the sears have a great pitch on them. Lovely venue. Show was amazing, Glenn Close had the portrayal of Norma Desmond off to a fine art and had a fantastic stage presence. Show was extremely well received by the audience.
Reviewed on 07 April 2016 by Hannah, Stockport, United Kingdom

Fabulous show
Really enjoyed the show but thought the stage was a bit dark and sparse
Reviewed on 03 April 2016 by Sally, Luton, United Kingdom

Amazing show not to be missed
This was an awesome show - I could not be believe how lucky I was to get seats searching for either a Friday or Saturday and getting opening night made this extra special. All of the cast can be commended on the their vocal performances & the ENO were just amazing making this a special performance at the Coliseum. Siobhan/Betty & Michael/ Joe were wonderful supporting actors and Fred/Max beautiful operatic voice had me in tears - however you simply cannot top Glenn Close she was born for this role - everyone deserved the standing ovation including the orchestra. I have waited so long to see this performance and to be able to see Glenn deliver an outstanding performance of a life time making me and most of the audience cry will never be forgotten - nor easily topped by anything quite as stunning visually and vocally. If I could go to see every performance I would ...but then I would take some one else's well deserved seat to miss this show. Thank you for a truly unforgettable evening.
Reviewed on 02 April 2016 by Helen, Rushden, United Kingdom
11

Apr
2016

Review: SUNSET BOULEVARD at the London Coliseum
by Phil Willmott | Monday, April 11 2016, 09:32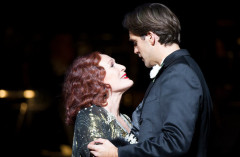 Two words: treat yourself!
This sumptuous, Rolls Royce presentation of one of Andrew Lloyd Webber's more popular musicals of recent decades is the 2nd in a series of concert presentations from the GradeLinnit Company in Association with English National Opera.
Review: SUNSET BOULEVARD at the London Coliseum
25

Mar
2016

Full Cast Announced for SUNSET BOULEVARD
by Phil Willmott | Friday, March 25 2016, 11:53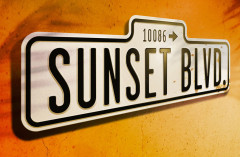 At London's Coliseum theatre the beleaguered, cash strapped English National Opera are mounting a staged concert of Andrew Lloyd Webber's SUNSET BOULEVARD, a sure fire box office hit.
We've known for some time that it will star Hollywood's Glenn Close reprising the role she played in the US. Full casting has now been announced along with the release of extra tickets.
Full Cast Announced for SUNSET BOULEVARD
22

Sep
2015

Glenn Close is back on The Boulevard!
by Phil Willmott | Tuesday, September 22 2015, 22:32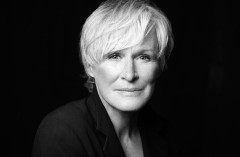 If there's one thing better than enjoying the score of a classic musical it's hearing it played live by a big orchestra. Throw a major star into the mix and the combination is irresistible.
That's what happened last year when Emma Thompson and Bryn Terfel dazzled London in a semi-staged production of Sondheim's SWEENEY TODD for English National Opera (ENO) at the London Coliseum on St Martin's Lane.
Glenn Close is back on The Boulevard!