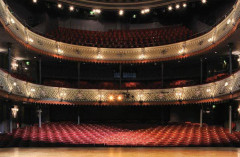 Like most theatre Directors I've spend most of lock down rehearsing a show. Don't worry, bizarrely government regulations allow for this as long as no members of the public are admitted. However it's been surreal not knowing when that will be as no one has been able to guarantee that audiences will actually be able to watch from December 2nd as previously announced.
In the last few days, leaks from Downing Street suggested we could still plan for performances from that date, and this was followed by official confirmation.
However although that takes us one step further towards our shows opening we're not entirely out of the woods yet because when lock-down does lift every area of the country will be designated a tier of Covid regulations within which to operate. As I write London seems set to be in Tier 2 which will allow for socially distanced performances.
Unfortunately, as there are varying rates of infection in different parts of London, there are calls for different boroughs to be placed in different tiers.
Most of the West End falls within the Borough of Westminster and only the Government has information on how the pandemic is affecting the area. My guess is that because a large part of it is predominantly business orientated cases of infection will be quite low allowing plucky producers to benefit from the relatively relaxed rules of Tier 1.
Having said that there are significant pockets of social housing in the area and we know that the wretched Corona takes its firmest hold in low-income communities so there is some risk, if boroughs are assigned individual tier status, that theatreland could find itself in a more restrictive grouping. In the unlikely event this means tier 3 then theatres will still not be allowed to open.
Time will tell and in the meantime we keep anxiously learning the lines, practicing the songs, sewing the costumes, painting the sets and honing our productions while we wait.