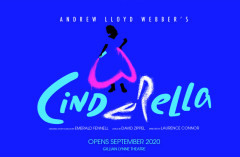 The BAD CINDERELLA team are obviously keeping busy during lock down. If the intention is to install breathless anticipation in us, it's working! Well for me at least.
BAD CINDERELLA is of course Andrew Lloyd Webber's new musical. The production has been much postponed due to the current health crisis and now yet another opening date has been announced. The show, running at the Gillian Lynne Theatre, is now scheduled to have its first preview on 30 April 2021 with an opening night on 19 May.
But we also have news that a cast the album was recorded from March 2020 via remote collaboration and socially distanced studio sessions. We don't have an exact release date yet but we're promised Spring 2021.
We're also promised cast announcement at a later date. We know it will star Carrie Hope Fletcher in the title role with Victoria Hamilton-Barrett as the Stepmother but Wikipedia lists the full principal cast as follows –
Cinderella: Carrie Hope Fletcher
Sebastian: Tyrone Huntley
Jean: Gary Wilmot
Queen: Ruthie Henshall
Stepmother: Victoria Hamilton-Barritt
Adèle: Sophie Isaacs
Marie: Rebecca Trehearn
Prince Charming: Jonny Fines
Duke: Ronan Burns
Dorian: Oliver Ormso
The title song has now been released as a single and the tune's stuck in my head. Although it's actually the melody line of the chorus that's going round and around by brain, and, as previously reported that's a direct copy of the main tune from a song called In My Own Little Corner from Rodger's and Hammerstein's musical of CINDERELLA.
What is going on with that? I mean surely his Lordship must be aware that he's ripped off this chorus. Maybe not. I've been asking around but no one seems to know the answer.
You can watch Carrie Hope Fletcher performing it, and very well, in the clip below from the BBC's Children in Need fundraiser. There's plenty to unpack. I love the sight of Lloyd Webber at his keyboard (no fuddy-duddy old-school piano you'll notice) nodding along to the rap-style verse sections like granddad at your 18th birthday party.
But the main take away from hearing the full lyrics is that the elderly composer and lyricist (David Zippel) are obviously going for full throttle geek-teenage-girl empowerment in the style of WICKED and every Disney cartoon from the past 20 years. Good move, those gals buy a lot of tickets and download a lot of music. They've kept WICKED going for years.
But what I really approve of is that Carrie is so genuine looking, not for her the emaciated zero body fat of Little Mix, she's serving vintage Adele realness with added nerdy glasses. And we know of ALW past preference for pre-Raphaelite waifs so it's a big step for him too. To continue with the RuPaul phraseology – you go girl!