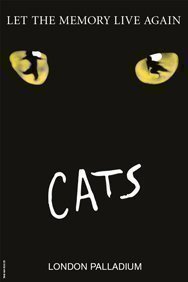 Cats, the multi Tony and Olivier award-winning musical by Andrew Lloyd Webber is due to return to the West End this year for a very limited run at the London Palladium.
Directed by Trevor Nunn and choreographed by Gillian Lynne, Cats is based on T.S. Eliot's collection of poems titled Old Possum's Book of Practical Cats and tells the story of a group of magical cats called the Jellicles, each with a very special talent, but once a year they must choose one of their number to ascended to the Heaviside Layer and be reborn into a new life.
The original production opened in the West End back in 1981 and then on Broadway in 1982, going on to scoop both the Olivier and Tony award for Best Musical. The London production ran for a record-breaking twenty-one years, and the Broadway version closed after an astonishing eighteen years. Cats has so far been produced in over 26 different countries across the globe since its creation and translated into over 10 languages.
The twelve-week run at the London Palladium will feature two new songs by Andrew Lloyd Webber for the roles of Growl Tiger and Rum Tum Tugger. The production is based on the current touring version and will also reunite the original creative team of director Trevor Nunn, set designer John Napier and choreographer Gillian Lynne, with associate director Chrissie Cartwright re-directing the show for its London outing.
The greatly anticipated return of Cats to West End is due to go on sale on 7 July 2014.