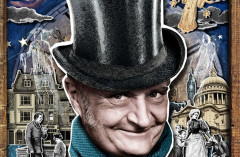 If a seasonal theatre trip is one of your Christmas traditions you'll be thrilled to hear that the rumours are true, movie star and national treasure Jim Broadbent is to star as Scrooge in a new production of A Christmas Carol.
Intriguingly it's to be adapted by his former comedy partner, Patrick Barlow.
Before Broadbent shot into the big time the two formed a very popular double act, The National Theatre of Brent. Barlow played a pompous director and Broadbent an inept actor and together they would absurdly act out all the parts in popular stories. Including A Christmas Carol. I wonder if this version will be a rehash of their old script, sometimes revived by cash strapped American theatres, or whether Barlow will expand things to include a bigger cast.
Whichever approach they take it's likely to be a spoof as this is Barlow's speciality. His big hit has been the 39 STEPS still playing after years at the Criterion Theatre and in successful productions across the globe.
In case you're an alien newly arrived on the planet and have therefore never heard of Scrooge and A Christmas Carol, it's the story of how a miser in Victorian is visited by ghosts who show him visions of Christmas, past, present and future, inspiring him to be kinder and more generous.
Broadbent's film credits include Topsy-Turvy (1999), Iris (2001) for which he won the Academy Award for Best Supporting Actor, Moulin Rouge! (2001) for which he received the BAFTA Award for Best Actor in a Supporting Role, Bridget Jones' Diary (2001), Hot Fuzz (2007), Indiana Jones and the Kingdom of the Crystal Skull (2008), The Iron Lady (2011), Cloud Atlas (2012) and Le Week-End (2013). He also appeared in Harry Potter films as Horace Slughorn.
A Christmas Carol will be directed by Phelim McDermott and will run at the Noel Coward Theatre from November 30 to January 30, with press night on December 9.
Tom Pye will design the production, which will have movement by Toby Sedgwick, lighting by Peter Mumford and sound by Gareth Fry.
A Christmas Carol is produced by Sonia Friedman Productions.