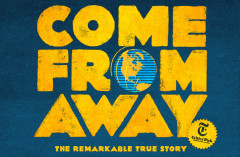 As the multi-award-winning musical Come From Away enters its second year on London's West End, new cast members are announced along with other exciting developments.
Now entering its second year on London's West End, award-winning musical Come From Away is set to welcome new cast members from the 10th of February. The Phoenix Theatre has played host to its success – a widespread acclaim that saw its securing of four Olivier awards in 2019, most notably for Best New Musical, along with Best Sound Design and Outstanding Achievement in Music. Its story too, is something of a riptide. Based on true events, the musical travels back to the time of 9/11 – specifically the 11th of September 2001 – when the U.S was forced to shut down its airspace. This meant that some 6,579 air passengers on 38 inbound European flights were diverted to and grounded in Gander International Airport, Canada.
It was the kindness displayed by the residents of neighbouring communities that makes this story so significant. All welcomed those stranded (who soon became known, affectionately, as "Come From Aways") into their homes – a moving act that saw an initial unease transform into unending gratitude. Come From Away continues its record-breaking journey across America with a 60-city tour in the North, as well as engagements on Broadway and in Canada. It also played to audiences in Australia during the Summer of last year, with whispers of a film adaptation said to be in the works as well.
The new cast of Come From Away in the West End will include Tarinn Callender, James Doherty, Alice Fearn, Kate Graham, Alasdair Harvey, with Ricardo Castro, Stuart Hickey, Sorelle Marsh, Micha Richardson and Matthew Whennell-Clark. They join Jenna Boyd, Mary Doherty, Mark Dugdale, Jonathan Andrew Hume, Harry Morrison, Emma Salvo, Cat Simmons, Chiara Baronti, Alexander McMorran and Jennifer Tierney. It is a company of the highest caliber, with tickets available to book until May this year (though that, in all likelihood, will be extended).
The Phoenix also champions access performances, as well as educational opportunities for students (aged 10+) studying PSHE, English, Drama and History. The theatre too, is wheelchair accessible (users can access the venue via Flitcroft Street), with handrails throughout the space on all levels. More information regarding access can be found via the ATG Website, with booking lines pertaining to access and Typetalk available as well.
Come From Away has rightly made its name as a global phenomenon and is not an experience to be missed. So, if you've yet to catch this stellar production, be sure to book your tickets now.