Quick Facts
Largest Ticket Inventory
in the West End
Real time
seat availability
Choose
your seats
Your booking is processed directly into the box office reservation system
This show is now closed.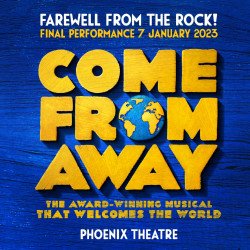 Come From Away
Tickets
4.9/5
-

based on

448

reviews

from

448

verified reviews
Tickets refunded if your event is cancelled
Real time seat availability
Largest ticket inventory in the West End
Secure online booking
This show is now closed.
Keep me informed
Let me know when tickets for Come From Away are on sale!
Information
Cheap Tickets
Reviews
News
About Come From Away Tickets
Come From Away description
Come From Away is a brand new musical, fresh from Broadway. It has already caused a stir. Now this epic multi-award-winner of a musical theatre masterpiece is transferring to the glittering West End, a show that has gathered so much critical acclaim on Broadway that it is fast achieving legendary status. This is a truly thrilling, uplifting story that sheds new light on one of the most terrifying events of the century, 9/11.
Welcome to a totally brilliant Canadian musical that's – bravely – based on the events of September 11th, when the World Trade Center's two towers were destroyed by terrorist attacks. The piece goes deep to the heart of a small community that was completely blown off its feet by the shocking events that took place.
The plot? Come From Away takes you far, far away to the little northern town of Gander, in Newfoundland, where the local people prepare to welcome seven thousand stranded air flight passengers. As the sense of threat and unease grows and the tension increases, new friendships are created, ultimately revealing the light behind the darkness. Nerves might be as tense as a wire, but as the people's gratitude for survival grows, new relationships are forged. And as the music soars, all the culture clashes and differences of opinion are finally set aside. We're all humans. And it feels magical.
The book, music and lyrics are by Irene Sankoff and David Hein, with songs including Welcome to the Rock, Me and the Sky and Something's Missing, as well as a host more gorgeous Canadian folk songs. Tony Award-winner Christopher Ashley directs, a man with plenty of previous Broadway credits under his belt including Memphis, Xanadu and The Rocky Horror Show. Set design comes from Beowulf Boritt, costume design from Toni-Leslie James, lighting design by Howell Binkley and sound design by Gareth Owen.
The musical has been awarded multiple Drama Desk Awards, including the award for Outstanding Musical. No wonder when it's such an extraordinary, breath-taking story. The entertainment kicks off in February 2019, when the production plays at the magnificent Phoenix Theatre following a run at the Abbey Theatre in Dublin between December 2018 and January 2019.
Who is this show for?
As long as you're aged ten or more, you'll find this exceptional musical absolutely fascinating.
Come From Away cheap tickets
We have a great selection of cheap Come From Away tickets. We can help you save up to 70% on Come From Away tickets! If you're looking for discount theatre tickets have a look below for our latest offers for Come From Away at the Phoenix Theatre.
There are no special offers available at the moment but we still have great ticket prices for Come From Away at the Phoenix Theatre.
Come From Away reviews
4.9 out of 5
based on

448

reviews
What to expect:
Acting
Music
Costumes
Story
Lighting
Recommended for:

Anyone (84%)

Families (86%)

Teenagers (90%)

Couples (94%)

Theatregoers (97%)
Latest customer reviews
A must see in the West End!
This is one of the best shows that I have been to in a long time. It was POWERFUL, EMOTIONAL, SAD , HAPPY and HEARTFELT all at the same time. Totally immersed in the story with an immense sense of pride for these actors who portrayed a story of true human kindness in a worldwide tragedy . Don't miss it!!
Reviewed on 08 January 2023 by Karen, Belfast, United Kingdom
An engaging story and lively music
I went with my grown daughters. We all loved it.
Reviewed on 04 January 2023 by Paula, Warrington, United Kingdom
Heartwarming
When the world seems so rubbish it was lovely to see a show that highlighted human goodness. The performance was first class and very clever as each actor played two characters. There were some very funny parts and some very touching parts. The songs were catchy and the band brilliant.
Reviewed on 30 December 2022 by Michelle, Bristol, United Kingdom
Inspiring
Good fun with a show of goodness
Reviewed on 28 December 2022 by Peter, Woodford Green, United Kingdom
Amazing show. Wish we'd gone sooner
Reviewed on 22 December 2022 by Simon, London, United Kingdom
One of the best shows I've ever seen
Fantastic script, even better knowing that the stories are true. Engaged throughout. Absolutely loved it. Can't understand why it's coming off.
Reviewed on 20 December 2022 by Colin, Ruislip, United Kingdom
Very well executed performance.
Reviewed on 19 December 2022 by Kenneth, Thirsk, United Kingdom
Outstanding show
Amazing story that makes you think about it from all perspectives.
Reviewed on 07 December 2022 by Lynne, Stonehaven, United Kingdom
Emotional and Uplifting
This show was a true story from a difficult time. However it captured the truth, emotions and camaraderie at the time. Excellent
Reviewed on 07 December 2022 by Muriel, Dundee, United Kingdom
Must see before it ends in West End
Not a fancy musical but has super clever settings. Love how they put passions into telling such a great show. It is really my favorite, watching it in this theatre would always remain a best experience in London.
Reviewed on 30 November 2022 by Yi-syuan, Amsterdam, Netherlands
One of the best, if not the best, musicals I have ever seen
I was on the edge of my seat throughout. Mesmerised by the acting and the story. Couldn't take my eyes of the stage.
Reviewed on 26 November 2022 by Ellen, Rathfarnham, Ireland
It' fun, it' emotional and it's something that really happened.
Reviewed on 22 November 2022 by Maria, Barcelona, Spain
A joy to watch
Loved the show, many different stories inside the big story kept your attention. No big characters, excellent ensemble.
Reviewed on 17 November 2022 by Susan, Eye, United Kingdom
Most enjoyable
A really enjoyable show.
Reviewed on 16 November 2022 by Susan, Braintree, United Kingdom
Just wonderful
This is one of the best shows I have ever seen. Gripping from the start. The cast all play several roles and the transition between parts is seamless and totally credible. The musicians are wonderful too. We sat in the dress circle and the view from our seats was excellent.
Reviewed on 13 November 2022 by Jane, Solihull, United Kingdom
Great true story
It was a true story. Told by actors and actresses. They would change clothes, to be different people. Very cleaver. Enjoyed it. Sad at times. A feel good show. The time went very quickly. Really enjoyed it. Would recommend this show.
Reviewed on 10 November 2022 by Celia, Maidenhead, United Kingdom
Thought provoking
Excellent heart warming account of events that we would not have known about nor imagined could have happened yet makes so much sense under the tragic circumstances happening in New York.
Reviewed on 09 November 2022 by Sharon, Southend-on-sea, United Kingdom
Joyous
Reviewed on 01 November 2022 by Hayley, Bristol, United Kingdom
I Laughed and I cried!!!
The theatre is very nice. Good size for a show. The show took me back to Sept 11,2001 and made me cry and some of the stories made me laugh. Don't miss this play it is AMAZING study of humanity at its finest!!
Reviewed on 29 October 2022 by John, White Rock, Canada
Fabulous show
Come From Away was highly recommended to us by our 22 y/o daughter. All of us found it deeply moving, emotional, funny and wonderfully performed. It's a creative show that draws you in from the starting notes. It will touch your heart and you'll leave wanting to be a better person.
Reviewed on 28 October 2022 by Jackie, Bardstown, United States Of America
Best show ever
1hr 40 mins of pure joy, music, laughter. So cleverly put together.
Reviewed on 27 October 2022 by Susan, Grampound, Truro, United Kingdom
Awesome show
Reviewed on 27 October 2022 by Karen, Cirencester, United Kingdom
The best show I've seen!
Come From Away is poignant, creative, funny, heartbreaking, and inspiring. The performance was outstanding. The theatre was beautiful. I can't imagine a better ending to a fantastic London trip.
Reviewed on 25 October 2022 by Joyce, Austin, United States Of America
Beautifully presented so moving
The show was so wonderfully put together. It had joy, laughter, humour, sadness and showed the feelings of how people cope with an unexpected disaster.
Reviewed on 24 October 2022 by Paul, Kings Lynn, United Kingdom
Awesome, feel good show. Must see!!!
This show was amazing. The talented singers and actors were out of this world. It was funny, thought provoking but overall reminded you about the good humanity can do when people come together. The music was epic. Seats we had at the back of the Dress circle were perfect even though we booked them last minute. Great value. Would see this show again and again!
Reviewed on 20 October 2022 by Julie, Lisburn, United Kingdom
Fast paced, energetic, mesmerizing
From the moment it started, you were fully immersed in a myriad of human stories, which you watched evolving before your eyes. I'm sure if I watched the show again, I'd pick up new bits I'd missed the first time. Loved it.
Reviewed on 16 October 2022 by Karolina, Cirencester, United Kingdom
warm and thoughtful
Reviewed on 06 October 2022 by Diorizza, Taguig, United Kingdom
Colourful, creative, imaginative,great treatment of a truly inspirational story of people coming together under difficult circumstances
Humor, inspirational, fast moving, appealing to all
Reviewed on 05 October 2022 by Jane, Victoria, Canada
A must see
Reviewed on 05 October 2022 by Joady, Coolangatta, Australia
What a show
The show was recommended to us by our daughter and we are do thankful she did. 1 hour 40 minutes of excellence. The music, singing, acting, comedy and tinges of sadness for the real event. Excellent script. Recommend letting yourself relax and enjoy the show. The end for me as an amateur musician was pure class and no one, repeat no one remained seated. Would watch it again anyway. Well done everyone for this brilliant show and the entertainment.
Reviewed on 01 October 2022 by Robert, Hartlepool, United Kingdom
loved it
Reviewed on 28 September 2022 by Darren, Lindsay, Canada
Lively
A fun, lively, informative and also poignant show. Any show that you come away from, wanting to google to learn more about the events depicted, has been a worthy show to go to
Reviewed on 23 September 2022 by Nicola, Auckland, New Zealand
Amazing, heartwarming
Reviewed on 22 September 2022 by Carole, Derby, United Kingdom
A must see!
Fast moving, funny and emotional.Music gets your foot tapping and the singing was superb.
Reviewed on 18 September 2022 by Christopher, Chigwell Row, Essex, United Kingdom
perfect
Reviewed on 17 September 2022 by Vivian, Leipzig, Germany
Thought provoking
What an amazing show, laughter and tears. Very talented cast and musicians. Beautiful theatre and think seats anywhere would work well for this show.
Reviewed on 15 September 2022 by Karen, Rochester, United Kingdom
Illuminating, real and so moving
Focuses on things that were happening because of the catastrophic and dreadful actions on 9/11 in the USA, that I was unaware of, which highlights the best and worst of human nature. The simplicity of the set and the absolute intensity of the actors was so moving. Can't recommend it highly enough!
Reviewed on 13 September 2022 by Paula, Sydney, Australia
must see
this had been recommended by several people - from the start to the finish the show was excellent - the actors and actresses really seemed to be enjoying it too - or maybe they were just acting!!!
Reviewed on 13 September 2022 by Jacqueline, Bennettsbridge, Ireland
Brilliantly Canadian!
A most uplifting heartwarming show. Newfoundlanders at their very best. Not many shows receive spontaneous 100% standing ovations Ona Monday night.
Reviewed on 13 September 2022 by Ian, London, United Kingdom
Uplifting!
The music in this show was amazing! Acting was wonderful, and excellent performance.
Reviewed on 12 September 2022 by Louise, Kincardine, Canada
Amazing!
This is the sixth time I have seen this show and every time I am reduced to tears by its story and laughed out loud at its humour. It is a beautiful, inspiring story fantastically told.
Reviewed on 07 September 2022 by Natalie, Hitchin, United Kingdom
Fabulous show.
What a show, what a story. One of the best shows we've seen. One got forty minutes with no break. Early finish, meal afterwards. Ends January 23. If you're in London, it's a must see and is a triumph if the face of adversity.
Reviewed on 30 August 2022 by David, Huddersfield, United Kingdom
Must See
Reviewed on 27 August 2022 by Sharon, Leeds, United Kingdom
A must see!
Such a powerful story of how a group of islanders came together to help hundreds of stranded passengers caught up in the 9/11 tragedy. Twelve brilliant actors, 12 chairs and 2 tables told this very moving story with a great group of musicians. The singing was amazing as was the choreography. We laughed and we cried. Fabulous show. Can't recommend enough.
Reviewed on 24 August 2022 by Judy, Berkhamsted, United Kingdom
Don't miss this extravaganza
Absolutely brilliant show, full of joy, pathos and fantastic music. First rate acting with seamless transition between scenes and individual roles. Flawless performances.
Reviewed on 18 August 2022 by Patrick, Feilding, New Zealand
A Great, Clever, Entertaining and Informative show
Reviewed on 18 August 2022 by Annabel, Finchley, United Kingdom
Lovely gem of a show!
The show is based on a true story so had lots of poignant moments but was very cleverly done. Not one for younger children as there's a lot of story telling going on that's quite tricky to keep up with. The cast were amazing, they worked together so well. They all played a variety of characters. Really great show, would highly recommend!
Reviewed on 15 August 2022 by Jo, Gloucester, United Kingdom
Entertaining ❣️
Reviewed on 13 August 2022 by Van Chi, Paris, France
SUPERB!
Been to three shows this week, this was BRILLIANT! (And the best)
Reviewed on 13 August 2022 by Ethna, Abbeyleix Laois, Ireland
Just as great the second time. Bring kleenex
Reviewed on 12 August 2022 by Ceil, Las Cruces, United Kingdom
Lively, immersive and uplifting play
This was a compelling story of true events told simpathetically and with humour. The music was rousing and well played by the musicians who were also integrated into the story. Very enjoyable and definitely a must see!
Reviewed on 11 August 2022 by Corinne, Cambridge, United Kingdom
Surprised!
I went to this musical not knowing what to expect. I found myself engorged in the story and sitting on the edge of my seat thirsty for more. The setting, cast, music and story are amazing in their own ways. Together there is only one word: EXCELLENT!
Reviewed on 10 August 2022 by Sara, Berlin, Germany
Absolutely blown away by the performers , the energy was infectious, I along with most of the audience was reduced to pieces, thank you so much we thoroughly enjoyed the show
Reviewed on 03 August 2022 by Huw, Coventry, United Kingdom
Absorbing, up-lifting story
My main criticism is of the delay in being admitted to my seat. I printed a copy of the e-mail confirmation and a friend also put a copy on her smart phone for me. There was nothing in any correspondence to say anything more had to be done than show both on reaching the theatre. Instead, I was directed to the Box Office and almost missed the beginning of the show whilst I waited for them to sort it out. Something must be done to improve the mechanics of this.
Reviewed on 29 July 2022 by Anne, Westcliff On Sea, United Kingdom
Have Fun
Reviewed on 26 July 2022 by Stephen, Beckenham, United Kingdom
Amazing! Life-affirming!
The upbeat nature of the show, based on the true story, just highlighted the better side of human nature. It was poignant, funny and very positive. The tempo was non-stop, the music was easy to follow - I loved that the musicians were on stage & became part of a couple of scenes - the staging was simple, but very effective - clever use of the revolve, the lyrics were clever, there was pathos and understanding and mis-understanding, all brilliantly interwoven into a seamless whole. REALLY ENJOYED IT!
Reviewed on 25 July 2022 by Chris, Stockport, United Kingdom
Show was very good
Reviewed on 22 July 2022 by Eric, Chaska, United States Of America
Entertaining and educational. A perfect storm
Sit back, fasten your seat belts and enjoy the adventure about the gracious Newfoundlers in a time of crisis
Reviewed on 21 July 2022 by Henry, Portland, United States Of America
Great show
I have heard great things about this show and it did not disappoint, Great show
Reviewed on 17 July 2022 by Darrel, Quispamsis, Canada
Very emotional
Revived the memories of those days. And as a Canadian makes me proud of the way the Newfies came to the rescue with enormous generosity. The music was authentic Newfoundlander. The small cast (12) filled so many roles, shifted seamlessly among the various characters' accents, and even caught the essence of the Newfie accent and dialects.
Reviewed on 09 July 2022 by Donald, Sarasota, United States Of America
Powerful, emotional and quite simply breathtaking!
An event that shook the world told so powerfully through the eyes of those who helped the "plane people" in Gander. We could not take our eyes off the stage. We laughed, we cried and we felt every bit of it! Superb performances from everyone involved on and off the stage.
Reviewed on 09 July 2022 by Charlotte, Bridgend, United Kingdom
MUST SEE
Reviewed on 09 July 2022 by Lola, Abbeywood, United Kingdom
What an unexpected find!
What a fabulous show! Funny, energetic, emotive, and all round entertaining! Highly recommend.
Reviewed on 07 July 2022 by Jenny, New Plymouth, New Zealand
Excellent we saw this in Australia
We saw this in Melbourne but this was much better excellent acting.
Reviewed on 05 July 2022 by Susan, Trenton, United States Of America
Get ready to fly away with a smile on your smile!
Reviewed on 02 July 2022 by Linn, Hemel Hempstead, United Kingdom
heart rendering joyous experience
The show was wonderful,each character a story that you needed to find out the ending.Heart warming and thought provoking.
Reviewed on 30 June 2022 by Jennifer, Thirsk, United Kingdom
Outstanding in Every Way
This show is incredible, the story is original (and based on true events), it's breath-taking, emotional and thought-provoking. You couldn't ask for more. I've now seen it twice, once from the Circle and last night from in the Stalls. The acting is outstanding, with all of the cast playing two contrasting parts, with minimal costume tweaks. Both times there has been a standing ovation, and I've heard, from the folks at the Phoenix Theatre Arts Club (situated below the the Phoenix Theatre where the show is hosted), that there is a standing ovation every night and I totally believe it. See it for yourself and you'll see why.
Reviewed on 28 June 2022 by Joanna, Walton On Thames, United Kingdom
Possibly one of best shows I have seen .
The show is very moving , but kept lighthearted .
Reviewed on 24 June 2022 by Denise, Castleford, United Kingdom
Outstanding Play About a Tough Event in History
This show was an emotional roller-coaster for me yet I would go see it again in a heartbeat. My secretary lost a nephew in Tower 2 and I have seen his name at the recessed pond there now; my wife and I were in NYC 4 weeks after the towers collapsed and saw the smoldering clouds of smoke still rising. This play told such a poignant story of what the people of Gander, Newfoundland did and how they impacted 7,000 lives for those four days. When the one actress playing a pilot role thanked people for flying we had many United employees do the same thing when we flew to Australia the first week of November 2001. I laughed, I cried, and had such a wonderful evening. Thank you, Thank you, Thank you. I hope more people will take the opportunity to see this show. At the end everyone, and I mean everyone, in the theater were on their feet right up until the band stopped playing. BRAVO! and much success!
Reviewed on 23 June 2022 by Sue &, Crossville, United States Of America
Slabe
Reviewed on 18 June 2022 by Justyna, London, United Kingdom
Amazing!
Great show. Would highly recommend.
Reviewed on 04 June 2022 by Paul, Bromsgrove, United Kingdom
Awesome production
Absolutely brilliant show highly reccomend .A real bonus friendly theatre staff.
Reviewed on 01 June 2022 by David, London, United Kingdom
A must see story
Brilliant ? great story music was superb
Reviewed on 01 June 2022 by David, Jindabyne, Australia
Awesome
Reviewed on 31 May 2022 by Keith, Brookfield, United States Of America
Fantastic, emotive, funny and fast moving
Reviewed on 31 May 2022 by Jo, Darlington, United Kingdom
Absolute must see
Fabulously put together. Great upbeat rendition based on a true story. Actors were phenomenal, portraying different characters in fast moving scenes/set-ups that changed before your eyes. Highly recommended
Reviewed on 31 May 2022 by Janina, Lynsted, United Kingdom
So much fun
Such a talented group of performers, switching between emotions with ease, great songs, made us laugh so much. Would definitely watch again
Reviewed on 28 May 2022 by Ella, Ross On Wye, United Kingdom
Brilliant ensemble playing.
Reviewed on 25 May 2022 by Robert, Southgate, United Kingdom
Joyous
Nothing to dislike. It's one of the best feel good shows ever. A real case of true humanity at work.
Reviewed on 25 May 2022 by Bernice, Liskeard, United Kingdom
Ordinary
Reviewed on 23 May 2022 by Osman, Knightsbridge, United Kingdom
Most I've cried and laughed in a musical
Reviewed on 22 May 2022 by Angelica, London, United Kingdom
Greatest cast ever
Flabbergasted by the cast of singers and musicians! Great singing, dancing, playing and perfect staging. No killer songs or 'hits' in the music but by the end you'll be so mesmerized by all that's happening on stage that it doesn't matter anymore. Five star performance!
Reviewed on 19 May 2022 by Frank, Maastricht, Netherlands
Fantastic show that takes you through all the human emotions.
What a great show!!! Laughter & tears but ultimately a very clever story about a true display of human togetherness.
Reviewed on 13 May 2022 by Damian, Dartford, United Kingdom
The best show I have ever seen.
Reviewed on 13 May 2022 by Marguerite, Essex Junction, United States Of America
Highly Creative
Loved how creators of this show could make a musical about such an event. The musical score was brilliant as were the musicians. Musical finale was quite spectacular. Well done to all creators and performers.
Reviewed on 12 May 2022 by Glenn, James Creek, Australia
Heart warming
Reviewed on 12 May 2022 by Rita, Surrey, Canada
Must see!
Reviewed on 10 May 2022 by Ian, Toronto, Canada
Unreal !!!
Reviewed on 09 May 2022 by Emma, Rochdale, United Kingdom
Fabulous must see!
Creative staging, great music, acting, singing. This is a one act show, no intermission. Absolutely outstanding!!
Reviewed on 06 May 2022 by Nancy, Greenbrae, United States Of America
Amazing show
Very fast moving - need to concentrate on changes of characters . Not many longer numbers that you can relax and enjoy. Didn't go away humming one of the tunes like I often would. Having said these negative sounding things I really did enjoy it - good to have such a definite story and thought provoking too.
Reviewed on 03 May 2022 by Ann, Cockermouth, United Kingdom
A truly amazing and wonderful story
Reviewed on 30 April 2022 by Sally, Chertsey, United Kingdom
Creative, imaginative, great show
This is an absorbing show, with great, versatile performances. A real ensemble piece, without massive show tunes but a great band playing largely Irish music
Reviewed on 22 April 2022 by Diana, London, United Kingdom
Amazing (Canadians Approve)
Reviewed on 21 April 2022 by Gillian, Saskatoon, Canada
Exciting production
Whitty, fast-paced, well-timed, great acting & music
Reviewed on 19 April 2022 by Ilia, Spierdijk, Netherlands
Wow, blown away by this show
Amazing performance and very thought provoking. Not the type of show I'd normally choose but soooo glad I did.
Reviewed on 16 April 2022 by Catherine, Glasgow, United Kingdom
Very enjoyable and uplifting
Second time in a few months and a treat to my friend birthday, and he loves it too.
Reviewed on 12 April 2022 by Albi, Stafford, United Kingdom
One of the Best!
Loved the music! The set worked well! One of the best show I have seen ! We want to go back and see it again.
Reviewed on 12 April 2022 by Susan, St Petersburg, Fl, United States Of America
A well told true story
Come from Away was not a show I would have chosen but for the fact our son lives in Canada and knew the Newfoundland story. It was so well produced and acted and we were amazed at how hard the actors worked. I have never seen a set of chairs move around a stage so effortlessly! It was brilliantly done. A must see show.
Reviewed on 03 April 2022 by Jill, Morecambe, United Kingdom
Energetic!!
Appreciated the artistic use of the revolving stage and chairs . Very simple yet so effective ! We loved it ! Singers are amazing.
Reviewed on 01 April 2022 by Paul, Hoddesdon, United Kingdom
An interesting subject with a thoughtful insight
This was a good show with an interesting insight into what happened to the people stranded following their planes being redirected to Newfoundland following 9/11. Things that affected airspace and people I would never have thought of. The ending made me 1. get a lump in my throat and 2. feel smiling and joyful.
Reviewed on 30 March 2022 by Rosina, West Molesey, United Kingdom