Charing Cross Road, London, WC2H 0JP GB
Quick Facts
Largest Ticket Inventory
in the West End
Real time
seat availability
Choose
your seats
Your booking is processed directly into the box office reservation system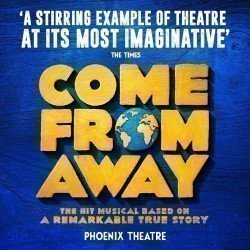 Come From Away
Tickets
4.9/5
-

based on

284

reviews
Booking until: Saturday, 15 October 2022
Tickets from £20.00
Book tickets
Information
Cheap Tickets
Reviews
News
About Come From Away
Important Information
We hope you enjoy your trip to the theatre, but need to make sure you, our staff and the rest of the audience are safe. Upon arrival, as well as your eTickets, all members of your party over the age of 18 must demonstrate their Covid-19 status to gain entry in ONE of the following ways:
Full vaccination (first and second dose), and with the second dose administered at least 14 days before your visit; or
A negative lateral flow test taken within 48 hours of your visit; or
Proof of natural immunity (positive PCR test within the last six months, after self-isolation has ended and up to 180 days after taking the test).
Performance Times
Booking until: Saturday, 15 October 2022
Come From Away description
Come From Away is a brand new musical, fresh from Broadway. It has already caused a stir. Now this epic multi-award-winner of a musical theatre masterpiece is transferring to the glittering West End, a show that has gathered so much critical acclaim on Broadway that it is fast achieving legendary status. This is a truly thrilling, uplifting story that sheds new light on one of the most terrifying events of the century, 9/11.
Welcome to a totally brilliant Canadian musical that's – bravely – based on the events of September 11th, when the World Trade Center's two towers were destroyed by terrorist attacks. The piece goes deep to the heart of a small community that was completely blown off its feet by the shocking events that took place.
The plot? Come From Away takes you far, far away to the little northern town of Gander, in Newfoundland, where the local people prepare to welcome seven thousand stranded air flight passengers. As the sense of threat and unease grows and the tension increases, new friendships are created, ultimately revealing the light behind the darkness. Nerves might be as tense as a wire, but as the people's gratitude for survival grows, new relationships are forged. And as the music soars, all the culture clashes and differences of opinion are finally set aside. We're all humans. And it feels magical.
The book, music and lyrics are by Irene Sankoff and David Hein, with songs including Welcome to the Rock, Me and the Sky and Something's Missing, as well as a host more gorgeous Canadian folk songs. Tony Award-winner Christopher Ashley directs, a man with plenty of previous Broadway credits under his belt including Memphis, Xanadu and The Rocky Horror Show. Set design comes from Beowulf Boritt, costume design from Toni-Leslie James, lighting design by Howell Binkley and sound design by Gareth Owen.
The musical has been awarded multiple Drama Desk Awards, including the award for Outstanding Musical. No wonder when it's such an extraordinary, breath-taking story. The entertainment kicks off in February 2019, when the production plays at the magnificent Phoenix Theatre following a run at the Abbey Theatre in Dublin between December 2018 and January 2019.
Who is this show for?
As long as you're aged ten or more, you'll find this exceptional musical absolutely fascinating.
Next Performances for Come From Away at the Phoenix Theatre
today
22nd Jan 2022
7:30pm
Monday
24th Jan 2022
7:30pm
Tuesday
25th Jan 2022
7:30pm
Wednesday
26th Jan 2022
2:30pm
Wednesday
26th Jan 2022
7:30pm
Thursday
27th Jan 2022
7:30pm
Come From Away cheap tickets
We have a great selection of cheap Come From Away tickets. We can help you save up to 70% on Come From Away tickets! If you're looking for discount theatre tickets have a look below for our latest offers for Come From Away at the Phoenix Theatre.
-25%
Was £32.50
Now £24.50
Valid Mon-Sat until 28 Feb 2022.
-32%
Was £99.50
Now £67.50
SAVE UP TO £51.90 ON BEST AVAILABLE TICKETS Valid Mon-Fri 12 January - 25 February 2022 and Mon-Sat 28 February - 9 April 2022 Book by 9 April 2022
Come From Away reviews
4.9 out of 5
based on

284

reviews
What to expect:
Acting
Music
Costumes
Story
Lighting
Recommended for:
Anyone (87%)
Families (89%)
Teenagers (91%)
Couples (94%)
Theatregoers (98%)
Latest customer reviews

A moving, masterful tribute
We loved the simple yet so creative set and that this tragic event is remembered as it should be in honour of those who lost their lives. The show beautifully spotlights individual stories of loss, love, courage and hope. And the all encompassing welcome we should all give to the one in front of us, without prejudice, following the example of the people of Gander. Loved every minute, cried several times and laughed a lot. Thank you.
Reviewed on 07 January 2022 by Paul, Marlow, United Kingdom

Brilliant show
Reviewed on 05 January 2022 by Margaret, London, United Kingdom

Amazing show - the singing was fantastic
Reviewed on 09 December 2021 by Chris, Ickenham, United Kingdom

Bad news turned good
Great heartwarming story based on real events. Most enjoyable for adults who recall 9/11 events but still enjoyed by my daughters aged 10 and 12 with a bit of story prep beforehand.
Reviewed on 05 December 2021 by Elspeth, Rainford, St Helens, United Kingdom

Feel good
Reviewed on 14 November 2021 by Miss., London, United Kingdom

JUST BRILLIANT!
Reviewed on 09 November 2021 by Sarah, Mallow, Ireland

Don't Miss
Fantastic! Really enjoyed it, very clever?
Reviewed on 05 November 2021 by Allison, Chatham, United Kingdom

Wondeful story
We laughed and cried and enjoyed the show. I was there with my 17 year old daughter and we both loved it. One of the best I've seen.
Reviewed on 03 November 2021 by Mia, Åkersberga, Sweden

Hilarious and emotional at the same time.
Reviewed on 28 October 2021 by Veronica, London, United Kingdom

Emotional fabulous
Reviewed on 27 October 2021 by Amanda, Durham, United Kingdom

A must see show.
Great show based on true event, cleverly put together. Fantastic performances from whole cast. A wonderful evening of entertainment.
Reviewed on 26 October 2021 by Fiona, London, United Kingdom

Brilliant
Brilliant. Do not see where the 1hr 45 went. Captivated all the way
Reviewed on 26 October 2021 by Andrew, Telford, United Kingdom

Fantastic show! You must see it.
Reviewed on 25 October 2021 by Sebastian, Peterhead, United Kingdom

Disgrace.
Disgrace. Sat in the theatre for over an hour being told there was a technical problem and show would strart in 10 mins, and then after an hour cancelled whole show leaving an entire theatre of people extremely dissapointed. We had travelled from abroad to see the show. Just not good enough.
Reviewed on 15 October 2021 by Brendan, Dublin, Ireland

Lovely story
Amazing performance of a lovely story told from a tragic period of time.
Reviewed on 15 October 2021 by Alex, London, United Kingdom

Great acting good show but just not my personal favourite
Reviewed on 14 October 2021 by Jamie, Codnor, United Kingdom

Highly entertaining.
Reviewed on 14 October 2021 by Rose, Cork, United Kingdom

Great performance and story!
Reviewed on 12 October 2021 by Anna, Prior Lake, United States Of America

Absolutely brilliant
Really good show ?
Reviewed on 08 October 2021 by Teresa, Leicester, United Kingdom

Great Story and would recommend
A very good show dont be put off by story line its superb
Reviewed on 06 October 2021 by Steve, Biggleswade, United Kingdom

Unexpectedly brilliant!!
Hadn't heard too much about this show until I was looking for tickets for a wet Saturday matinee… so glad I chose it … very entertaining lots of great songs and humour… thoroughly enjoyed it
Reviewed on 04 October 2021 by Amanda, Diss, United Kingdom

Bonding
The relationships were unbelievable. Wonderful company unisons. All cast have individual styles.
Reviewed on 01 October 2021 by Colin, Liverpool, United Kingdom

Absolutely phenomenal!!
I'd heard amazing things so was already excited to watch this show but I was still surprised by how good it actually was! The cast was fantastic and the musicians were insanely talented! An absolute must-see for everyone!
Reviewed on 01 October 2021 by Olivia, Ramsbotttom, United Kingdom

Creative a must see
Reviewed on 30 September 2021 by Julie, Darwen, United Kingdom

Musically magnificent
Fantastic musical. Great music, great entertainment and emotional. A must see this year.
Reviewed on 23 September 2021 by Philip, Southport, United Kingdom

Great night out
Reviewed on 23 September 2021 by Denise, Yealmpton, United Kingdom

The best musical out there
Cannot recommend this musical enough. I'm a frequent west end fan, and this show surpasses any other. I've seen it 3 times and have already booked to see it a 4th in a few months time. You will NOT be disappointed
Reviewed on 13 September 2021 by Grace, Hextable, United Kingdom

MUST SEE
My first time seeing "Come From Away" and it completely mesmerized me. Recommend it to anyone! Such a beautiful musical wihh great acting, music and dancing!
Reviewed on 03 September 2021 by Jessica, Hildesheim, Germany

Not to be missed a truly creative stunning show
Brilliant choreography singing and story a moving experience on some many levels
Reviewed on 29 August 2021 by Sue, Broadsatairs, United Kingdom

a must see
wasn't sure about it being based on 9/11 but was pleasently surprised
Reviewed on 17 August 2021 by Jason, Sevenoaks, United Kingdom

Amazing
We loved everything! The story, actors, music, staging were all just perfect. Thank you.
Reviewed on 13 March 2020 by Timothy, Lebanon, United States Of America

A great story of humanity of kindness and the collective spirit we can show when we chose !!!
Great show . Get there early as the theatre can be very busy if like ours, the show is a full house . Be warned there is NO intermission so be prepared to be sat for the full 100 minutes or so !!!!! This can be difficult with the normal restrictive size of theatre seats and the larger person. Songs and Music were electric and absorb the audience . Brilliant ......I would definitely see it again .
Reviewed on 08 March 2020 by Roland, Northolt, United Kingdom

Pace !!
Great pace, very well directed!!
Reviewed on 05 March 2020 by Robert, Chalfont St Giles, United Kingdom

Relentless tempo
Reviewed on 01 March 2020 by Robert, Belfast, United Kingdom

My top show, don't miss it!
Can't believe how good this production was. Seem-less momentum between roles, scenes and music. Fantastic musicianship, beautiful story sensitively portrayed. Highly recommended!
Reviewed on 29 February 2020 by Hayley, South Witham, United Kingdom

Funny, Moving, Uplifting.
Great show with super performances by everyone. It manages to take a horrific event and produce a funny and life affirming show while showing the sadness and horror of 9/11. A must see.
Reviewed on 27 February 2020 by John, Long Melford, United Kingdom

A must see!!
It is worth noting that this runs straight through without an interval. This works particularly well as the story does not lose its incredible pace. Superb performances from the hardworking cast who took on the many roles. The instant set changes , harmonious singing and well drawn characters really made it stand out. Such a heartbreaking and true story told with great understanding, well done!
Reviewed on 18 February 2020 by Alex, Farnham, United Kingdom

A poignant, uplifting story with very relevant humour
This was an amazing show based on the horrors of the 9/11 atrocity and it showed how acts of humanity can go some way to helping people in the face of adversity. The acting and music were superb
Reviewed on 16 February 2020 by Ellen Maria, Camberley, United Kingdom

A great evening's entertainment
Reviewed on 16 February 2020 by Christine, Droitwich, United Kingdom

Lively Performance
Excellent show. The storyline is a little thin but the performance by a talented cast brought the show to life in music song and voice.
Reviewed on 06 February 2020 by David, Mount Waverley, Australia

Must see
Good story telling. Slick. Fabulous what more can I say
Reviewed on 04 February 2020 by Maggie, Sidcuo, United Kingdom

What a great shiw
Fantastic story, great songs and music. As someone who was working at Heathrow airport on 9/11 it was very poignant for me but would love to go and see it again.
Reviewed on 25 January 2020 by Andrew, Staines Upon Thames, United Kingdom

A must see!
I would highly recommend to watch this show! It is entertaining and educational. You will learn in an entertaining way. Their acting and voices were great!
Reviewed on 14 January 2020 by Maria Cristina, Grand Saconnex, Switzerland

Must see!
Wonderful. So enjoyed this touching, humorous musical about a very tragic time. Acting was superb. I highly recommend that everyone given the opportunity see this show. I cannot say enough....fantastic!
Reviewed on 11 January 2020 by Jan, Coeur D Alene, United States Of America

Funny, well written and musically superb.
Reviewed on 08 January 2020 by Jamie, Greystanes, Australia

Don't miss this!
Fabulous show telling the story of human kindness in the face of adversity. And a true story not widely known. Great acting and great voices with an element of sadness & humour. There is no interval so get your drinks and toilet breaks in before the start.
Reviewed on 07 January 2020 by Donna, Sunninghill, United Kingdom

A must see!
If you have to go to one show I would recommend this one. It was an excellent performance which took me high and low.
Reviewed on 05 January 2020 by Marcus, Upplands Väsby, Sweden

Excellent, amazing, a must see musical - standing ovation
This was an amazing musical.
Reviewed on 02 January 2020 by Iain, Bromley, United Kingdom

Keeps you engaged throughout
Punchy songs with good singers throughout. Scenes mixed with hummer, personal stories and story telling, with just the right mix for a more mature audience. Over all a well directed cast with a continually moving story line with just the right mix of music, drama and comedy.
Reviewed on 02 January 2020 by Bernard, Whitstable, United Kingdom

See it
Funny, well acted and sung, very entertaining. A huge surprise. See it
Reviewed on 02 January 2020 by Russell, Shrewsbury, United Kingdom

Slow start good finish
Show was slow to start but ended more positively. A good story...
Reviewed on 28 December 2019 by Maureen, Wimbledon, United Kingdom

Heartwarming, emotional, beautiful human story.
A beautiful reminder of generosity and humanity in times of darkness. Engaging, entertaining, funny, emotional, inspiring, heartbreaking and heartwarming all at once. Cast did an amazing job switching between characters and telling the story in a creative and connected way. I laughed and cried and was on the edge of my seat the entire time. A beautiful tribute to everyone involved in Gander and those who came from Away.
Reviewed on 23 December 2019 by Helena, Ramat Gan, Israel

Loved it
Reviewed on 19 December 2019 by Nicola, London, United Kingdom

Uplifting
Brilliantly entertaining. I have booked again to take my son.
Reviewed on 19 December 2019 by Arnold, Pinner, United Kingdom

Emotional and joyful
Great story, funny, tear jerking and refreshing.
Reviewed on 17 December 2019 by Marilyn, Salford Quays, United Kingdom

Uplifting
Excellent show that sensitively tells an uplifting story out of the incredible sadness and devastation of 9/11
Reviewed on 14 December 2019 by Heather, Glen Forrest, Australia

Lovely ! Touching & funny .
Reviewed on 13 December 2019 by Abimbola, Wallington, United Kingdom

An enjoyable night out!
Reviewed on 12 December 2019 by Sid, Warranwood, Australia

Uplifting wonderful shiw
Laughed, cried, totally engaged (even from second to back row) theatre is small so back rows are still great view (&cheap) highly recommend- felt uplifted ! (no intermission which was nice too as no break in the story for full immersion)
Reviewed on 12 December 2019 by Candice, Streatham, United Kingdom

Creative and energetic
One act - no interval - with vetyively music kept the pace going adding to the business and upbeat attitude of the Newfoundland hosts, as they prepared for and welcomed their visitors. Very heart warming tale detailing the compassion and hospitality of theses people.
Reviewed on 12 December 2019 by Joan, Bournemouth, United Kingdom

Really good acting and songs, a bit too rethorical
Reviewed on 10 December 2019 by Marco, Martellago, Italy

Entertaining and poignant
Reviewed on 07 December 2019 by David, Cheltenham, United Kingdom

Ode to Hope and Love
Reviewed on 04 December 2019 by Charlotte, Swieqi, Malta

Just FANTASTIC
A high energy show, that will make you laugh, stamp your feet, clap your hands and even shed a few tears. Don't miss it. Would see it AGAIN.!!! All cast members and musicians are highly talented. A pleasure to be in the audience. Thanks for entertaining us.
Reviewed on 03 December 2019 by Thomas, Duncan, Canada

Amazing entertainment
I could not picture how you fill 2 hours with a story like this. But this was such a treat - a beautiful, funny and very moving story that had me a little bit in tears in the end. Time flew by so quickly and I can recommend this musical to anyone! Amazing cast, catchy music... I want to and will see it again, that's for sure!
Reviewed on 03 December 2019 by Karin, London, United Kingdom

Fantastic story told beautifully
Reviewed on 01 December 2019 by Graham, Freshwater, United Kingdom

Original
Reviewed on 29 November 2019 by Jackie, London, United Kingdom

Fantastic.. must see
An absolutely amazing show.
Reviewed on 23 November 2019 by Sarah, Tunbridge Wells, United Kingdom

Fabulous!!!
Brilliant depiction of events that we all need to be aware of. The goodness of humanity is to be celebrated!!
Reviewed on 23 November 2019 by Debra Ann, Avalon, United States Of America

Stunning
Reviewed on 19 November 2019 by Jennifer, Leeds, United Kingdom

The most uplifting story you will ever see
Reviewed on 18 November 2019 by Neil, Winnellie, Australia

A fantastic show!
We didn't know what to expect but it was brilliant! The story was told in a fantastic way with highs and lows as there only could be with a story based on these events. A fantastic production!
Reviewed on 03 November 2019 by Emer, London, United Kingdom

Excellent show, standing ovation.
We thoroughly enjoyed the show, we were in the Grand Circle and the seats were fine for comfort, view and sound. Standing ovation given.
Reviewed on 02 November 2019 by Gary, Lincoln, United Kingdom

Careful with your seats
The show was fabulous. Avoid sitting in the first 4 rows; you will literally be below the stage and half of the view is cut off. Very frustrating because the show itself was outstanding.
Reviewed on 31 October 2019 by Stephanie, Cenon, France

Wonderfully funny, poignant musical
Booked on recommendation of my daughter. Impressed by how excellent, polished, hilarious but also poignant and serious this show is. The actors are all excellent with beautiful voices and versatile acting skills. Musicianship of the band was also excellent. A very slick production and I think deserving of a long London run. My husband was a bit u sure about how good the show would be as we secured excellent seats in front stalls only 2 days before we watched it. He was blown away by how excellent it was. The company deserve a sell out audience every night. Will definitely watch it again!
Reviewed on 30 October 2019 by Gillian, Northwich, United Kingdom

Heartwarming yet sad story
Reviewed on 26 October 2019 by William E, Scottsdale, United States Of America

Thoughtful
In respect of the twin towers we tend to only see the live events and forget the planes that were still in the air and needed somewhere to go. This show exposed all the heart ache around and the kindness of people.
Reviewed on 23 October 2019 by Phyllis, London, United Kingdom

Must see
Reviewed on 17 October 2019 by Darren, Glasgow, United Kingdom

Great evening
Wonderfull, moving, funny, heartwarming, lovely, sad, mindblowing
Reviewed on 11 October 2019 by Vesna, Kriftel, United Kingdom

Brilliant
Enthusiastic cast delivered an excellent must see show. I will recommend it widely. Music was relevant and atmospheric to story. Cast did a wonderful job playing all the characters. Stage movement and set was well thought out and moved seemlessly into different settings. Very clever
Reviewed on 09 October 2019 by Elaine, Preston, United Kingdom

Marvelous Voices beautiful songs
Better than I though. Wonderful story told by a bunch of marvelous voices. Highly recommended.
Reviewed on 09 October 2019 by María Dolores, Valencia, Spain

Lots of fun, everyone wants to be a Newfoundlander!
Reviewed on 08 October 2019 by Sheehan, Carp, Canada

Really great show.
Reviewed on 07 October 2019 by Thomas, North Vancouver, Canada

Fantastic
Reviewed on 30 September 2019 by Liane, Victoria, Canada

Ture and Fabulos Story
This is a ture story set to music and finds goodness in a terrible and sad terrorsit attack. As a Canadian I was very proud watching this and the cast were wonderful especially getting the Newfoundland Accent down. This same story happended in Many Canadian cities and towns accross the country and brings out the inherint good in people all over when challanges with something bigger than themlselves. A Must See
Reviewed on 28 September 2019 by Edith, Hamilton, Canada

Fabulous show!
Only one small reservation. It is a 10+ show in age terms. Some adult material is not appropriate for young children.
Reviewed on 28 September 2019 by Alexander, London, United Kingdom

A MUST SEE!
We luv the Newfies. A great interpretation of a great people.
Reviewed on 27 September 2019 by Thomas, Kansas City, United States Of America

A must see
Reviewed on 26 September 2019 by Lorraine, Sydney, Australia

Great show
We weren't sure of what we were going to see. The subject is a sad one. However the show and the way it tells the story is exceptional. Great entertainment. Wonderful blend of humour music and story. Well done. Wish it every success. Well worth a visit.
Reviewed on 18 September 2019 by Fiona, Maidenhead, United Kingdom

Whatever you do don't miss this show
I had read the reviews that said it was an excellent show but never imagined it would be this good!
Reviewed on 16 September 2019 by Suha, Cobham, United Kingdom

Energy, vitality and optimism
A fantastic show- every member of the cast was excellent, moving easily between different characters, with great acting, dancing and singing along the way. The different stories of the individuals concerned developed very clearly, with both humour and pathos. At the end of the show, I felt uplifted and energised. Just one small criticism- the musicians were great, but the balance between them and the cast was sometimes awry, so that I could not hear the words of each song.
Reviewed on 16 September 2019 by Christopher, Dyrham, United Kingdom

Excellent show, brilliant acting and singing.
Reviewed on 09 September 2019 by Miriam, St. Albans, United Kingdom

Fantastic
Loved this show. We are from Ottawa, Canada and it made us proud that the people of Gander gave people that were grounded such a warm reception. The actors were amazing. And so were the musicians. Loved, loved, loved the show.
Reviewed on 07 September 2019 by Barney, Ottawa, Canada

If you see nothing else this year...
Energetic and well-acted; having recently been in Gander and read "The Day the World Came to Town" really set the atmosphere and contributed greatly to my appreciation of the story.
Reviewed on 05 September 2019 by Carolyn, Wahroonga, Australia

High Energy
As Canadians we thoroughly enjoyed the entire production from the acting, singing, dancing to the story. It had comedy, emotion and was totally entertaining! Loved it !
Reviewed on 04 September 2019 by Andrew, Victoria, Canada

Must see
Reviewed on 04 September 2019 by James, Palo Alto, United States Of America

Great show - uplifting and moving
Reviewed on 04 September 2019 by Elizabeth, Perivale, United Kingdom

Completely amazing, original and fully of energy'
Reviewed on 31 August 2019 by Jon, Billericay, United Kingdom

Fabulous
Reviewed on 31 August 2019 by Tracy, Maldon, United Kingdom

Fast moving, moving, tears and laughter. Fabulous
Reviewed on 28 August 2019 by Linda, Middlesbrough, United Kingdom