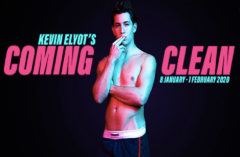 Now playing at the Trafalgar Studios 2 for one month only, Kevin Elyot's Coming Clean continues its winning streak in the West End.
Following a critically-acclaimed run at The Kings Head Theatre in 2019, the late Kevin Elyot's Coming Clean transfers to the West End for a strictly limited four-week season. Now playing at the Trafalgar Studios 2, this revival also sees the addition of a new cast member, Jonah Rzeskiewics, who will take on the role of Robert, joining returning players Lee Knight (as Tony), Elliot Hadley (as William/ Jurgen) and Stanton Plummer-Cambridge (as Greg).
Coming Clean was Elyot's debut play, its premiere having taken place at the Bush Theatre in 1982. Its candid exploration of a gay couple's relationship – its nuances and unfortunate collapse – has long been heralded for its forensic accuracy. While not as successful (historically speaking) as My Night In With Reg, staged 12 years later and perhaps Elyot's most famous piece, Coming Clean did earn the playwright a Samuel Beckett Award for Writers Showing Particular Promise in the Field of the Performing Arts.
Set in a flat in Kentish Town, Coming Clean unfolds against the backdrop of Thatcher's England. Now five years into their (technically open) relationship, we watch as Tony and Greg hurtle hand-in-hand through a complex emotional web. As a portrait of commitment, the production does well to capture the politics of fidelity within the gay community. Acting as a precursor to the AIDs epidemic too, it provides a haunting vision of the devastation wrought by the illness soon after its initial opening.
The Guardian's Dominic Cavendish has branded director Adam Spreadbury-Maher's production as "revelatory", with his sentiments echoed by fellow tabloids and online magazines. Now something of a modern classic, this pioneering play has enjoyed a positive reception through its recent forays both on and off the West End – a testament to its power, which has endured in spite of the passing of time. Its limited run, in combination with the restricted capacity of the venue's studio space, means that tickets are in high demand. Don't miss your chance to see this thrilling production! Book now, before its departure on the 1st of February.