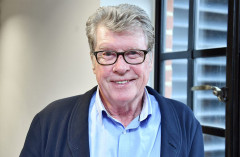 Producer Bill Kenwright is to be congratulated for taking that most dangerous of financial risks, launching a new musical in the West End. Recent attempts to do so, MADE IN DAGENHAM and BEND IT LIKE BECHAM failed to turn into long running hits.
Kenwright is hoping to change all that with a production of THE GO BETWEEN with music and lyrics by Richard Taylor and Book and lyrics by David Wood. It's based on the novel by L P Hartley and will be directed Roger Haines. They're all much respected theatre makers with long track records in the business.
The trump card however is the choice of leading man, none other the West End and Broadway legend, Michael Crawford.
Crawford is internationally renowned for originating the title role in The Phantom of the Opera and loved by millions for his role as the hapless Frank Spencer in the classic British sitcom, Some Mothers Do 'Ave 'Em. His hugely successful career spans four decades, and includes his unforgettable performance in the hit show Barnum at the London Palladium, the role of Count Fosco in Andrew Lloyd Webber's The Woman in White and the eponymous role in The Wizard of Oz at the London Palladium. He is a multi Olivier and Tony-award winning star whose acclaim encompasses theatre, television and film and he was appointed an OBE in 1988.
He'll play Leo Colston, a man described as no longer able to hide from the memories of his past.
The press release tells us that - "During the show memories of the gloriously hot summer of 1900 and of his days spent in Norfolk come flooding back. Spending the holidays with the family of his school friend Marcus in their luxurious country home, the young Leo finds himself acting as the go-between for the beautiful upper-class Marian and tenant-farmer Ted who are embroiled in a forbidden secret love affair. The innocent Leo gets caught up in the adult atmosphere of deceit and manipulation as he risks everything in this deeply moving coming of age story. The events of that summer and the devastating effects of love denied will shape his life forever"
THE GO-BETWEEN's composer/lyricist is Richard Taylor, who most recently composed Flowers For Mrs Harris, the world premiere of which is to be given at Sheffield Crucible Theatre. The production is directed by Roger Haines (The Girls, by Gary Barlow and Tim Firth) having been adapted by David Wood (Olivier Award-winning Goodnight Mister Tom), who is also the co-lyricist.
Further casting is to be announced.