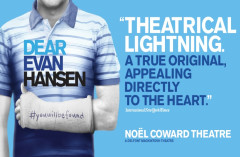 The show's Producer Stacey Mindich is excited to confirm the release of a hot new music video from the West End cast of Dear Evan Hansen. The video involves the full company along with the brilliant Sam Tutty as Evan himself, showcasing the musical's Act One anthem 'You Will Be Found'. The video was shot at the Noël Coward Theatre, home to the production, where the show is currently booking to 22nd October 2022.
Who's involved in Dear Evan Hansen?
Lifted from the Olivier Award-winning score written by Grammy, Tony and Academy Award winners Benj Pasek and Justin Paul, 'You Will Be Found' was awarded a place in BBC Radio 2's top 50 Greatest Songs from a Musical, as voted by the public. The track 'Waving Through a Window' also from Dear Evan Hansen, appeared in the list as well. Check out the new music video plus some great still photos below.
The Grammy Award-winning Original Broadway Cast Recording was produced by Atlantic Records, released in February 2017
It made a legendary debut on the Billboard 200, entering the chart at number 8, the highest charting debut position for an original cast album since 1961
It went on to win the 2018 Grammy Award for Best Musical Theater Album and was awarded gold status in 2019
The current Olivier award-winning cast of Dear Evan Hansen includes Sam Tutty who has returned to the lead role of Evan Hansen. It won him the 2020 Olivier Award for Best Actor in a Musical
Sam is joined by cast members Lucy Anderson (Zoe Murphy), Doug Colling (Connor Murphy), Iona Fraser (Alana Beck), Marcus Harman (who plays Evan Hansen at certain performances), Jack Loxton (Jared Kleinman), Rebecca McKinnis (Heidi Hansen), Lauren Ward (Cynthia Murphy) and Rupert Young (Larry Murphy)
Completing the Company are Tricia Adele-Turner, Haydn Cox, Ellis Kirk, Joanna Kirkland, Hannah Lindsey, Samantha Mbolekwa, Mark Peachey, Hannah Qureshi, James Winter and Mitchell Zhangazha
Buy Dear Evan Hansen Tickets
Buy low price Dear Evan Hansen tickets online via our site. Grab the best deals. Get the best seats using our Noel Coward Theatre seating plan. And enjoy great service from a London theatre ticket seller you can trust. We'll send your e-tickets via email, for you to show at the door on the day.
About the Noel Coward Theatre
The Noel Coward Theatre is, of course, named after Noel Coward, the English playwright, composer, director, actor and singer. Coward was known and loved for his cheek, wit, and flamboyance, and Time magazine praised him for his 'pose and poise'. In 2011 The Moscow-based theatre company Sovremennik gave the first London season by a major Russian company for over 20 years here. Past shows at the Noel Coward Theatre include The Full Monty, Death of a Salesman, Quiz, and All About Eve.