85-88 St Martin's Lane, London, WC2N 4AU GB
Quick Facts
Largest Ticket Inventory
in the West End
Real time
seat availability
Choose
your seats
Your booking is processed directly into the box office reservation system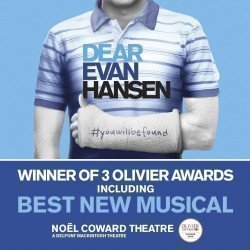 DEAR EVAN HANSEN
Tickets
4.8/5
-

based on

48

reviews
Booking until: Saturday, 23 July 2022
Running time: 2 hours 30 minutes
Tickets from £30.00
Book tickets
COVID secure venue
This venue will utilise social-distancing, increased health and safety measures, temperature checks and more to ensure your visit is safe and enjoyable.
Buy with confidence
Grab the best seats today, in the knowledge that all bookings can be exchanged.
About DEAR EVAN HANSEN
Important Information
Mask
We recommend that you wear a mask while inside this venue.
Proof of vaccine and/or test
You are required to show proof of a negative Covid-19 test or proof of vaccination in order to attend this performance.
Health check
When you arrive at this venue, you may be asked to fill out a health questionnaire or have your temperature taken.
Performance Times
Booking until: Saturday, 23 July 2022
Running time: 2 hours 30 minutes
DEAR EVAN HANSEN description
DEAR EVAN HANSEN – The Tony Award®-Winning Best Musical
DEAR EVAN HANSEN is an award-winning, multi-generational, uplifting, powerful and contemporary musical. And it is set to wow London audiences from November 2019 at the Noel Coward theatre.
A letter that was never meant to be seen, a lie that was never meant to be told, a life he never dreamed he could have. Evan Hansen is about to get the one thing he's always wanted: a chance to finally fit in.
From the award-winning songwriters behind The Greatest Showman, DEAR EVAN HANSEN is a deeply personal and profoundly contemporary new musical about life and the way we live it.
DEAR EVAN HANSEN has struck a remarkable chord with audiences and critics everywhere. The Washington Post calls it "one of the most remarkable shows in musical theatre history."
The winner of six Tony® awards including Best Musical, as well as the 2018 Grammy award for Best Musical Theatre Album, DEAR EVAN HANSEN is directed by four-time Tony Award nominee Michael Greif and features a book by Tony award winner Steven Levenson and a score by the Tony, Grammy and Academy Award-winning composers Benj Pasek & Justin Paul.
DEAR EVAN HANSEN has won the Drama League Award for Outstanding Musical Production and for the off-Broadway production, two Obie Awards, a Drama Desk Award, two Outer Critics Circle Awards and two Helen Hayes Awards.
The Grammy Award®-winning Original Broadway Cast Recording of DEAR EVAN HANSEN produced by Atlantic Records, was released in February 2017, making an extraordinary debut on the Billboard 200 and entering the chart at #8 – the highest charting debut position for an original cast album since 1961 – and went on to win the 2018 Grammy Award® for Best Musical Theatre Album.
A new deluxe version of the cast recording, including six bonus tracks and a pop cover from Katy Perry of Waving Through a Window is now available digitally.
This musical already has a glittering history. It first opened at Broadway's Music Box Theatre in late 2016, following a dazzling world premiere at the Arena Stage in Washington, D.C. During July 2015 and an Off-Broadway season at Second Stage Theatre in spring 2016. Nominated for nine Tony Awards at the 71st Tony Awards ceremony, it won six.
Expect a long line of excellent show tunes, including the brilliant Waving Through a Window, For Forever, Sincerely Me, Requiem, If I Could Tell Her, Disappear and You Will Be Found, this two-act wonder of a show will see you singing to yourself for weeks to come. It's unforgettable.
Who is it for?
The recommended age for DEAR EVAN HANSEN is 12 or more.
Next Performances for DEAR EVAN HANSEN at the Noel Coward Theatre
today
22nd Jan 2022
7:30pm
Monday
24th Jan 2022
7:30pm
Tuesday
25th Jan 2022
7:30pm
Wednesday
26th Jan 2022
7:30pm
Thursday
27th Jan 2022
7:30pm
Friday
28th Jan 2022
7:30pm
DEAR EVAN HANSEN reviews
4.8 out of 5
based on

48

reviews
What to expect:
Acting
Music
Costumes
Story
Lighting
Recommended for:
Anyone (65%)
Families (75%)
Teenagers (94%)
Couples (79%)
Theatregoers (88%)
Latest customer reviews

Such an inspiring insight into teenage dilemmas
I thought I might be too old to 'get' this show but it was so highly recommended I booked anyway and didn't regret it for a minute. Inspirational drama to music that gave an insight into the modern life of families and within them , families in this demanding society. All the characters were outstanding, musicians and the music completely held the story and almost, an education as to what to do or not do if you have teenagers in your life
Reviewed on 21 January 2022 by Susan, Carshalton, United Kingdom

Phenomenal
Bring tissues! I weeped from start to end! Absolutely flawless cast and a fantastic show!
Reviewed on 21 January 2022 by Callum, Ealing, United Kingdom

Genuine ! Oh
Reviewed on 02 January 2022 by Lateesha, Chelmsford, United Kingdom

So emocional!
Reviewed on 14 December 2021 by Rita, Lisboa, Portugal

Ah-May-Zing!!
Wonderful and thought provoking show! Brilliant cast
Reviewed on 14 December 2021 by Caitriona, Tipperary, Ireland

Bloody marvellous
Absolutely fantastic show. Alternate Evan Hansen, Marcus Harman was a natural Evan, we loved him. My daughter's first West End show, she wants to come again.
Reviewed on 11 December 2021 by Samantha, Bournemouth, United Kingdom

A must see!
Reviewed on 30 November 2021 by Sally, Pentyrch, United Kingdom

good show
Reviewed on 14 November 2021 by Daniela, Zürich, Switzerland

Must see show
Excellent show highly reccomend Brilliant little theatre great staff well organised
Reviewed on 31 October 2021 by Lewis, Sheerness, United Kingdom

Blown away
Didn't know anything about this musical before I read some of the program right before the show. I was blown away .. all I could say after the show on my FB update was... "eh, wow?!!!!" And my friends who had already been in to see it, just answered .. "yea, right!!". It really makes you think of how we use social media and how we relate to eachother. The acting was mindblowing and the execution was on point. I would recommend everyone and anyone to go see this. Thank you for a great evening and experience.
Reviewed on 15 March 2020 by Louise, Valby, Denmark

Lessons for all
The stage is set, the story unfolds, and you find yourself in the middle of one young man's desire to be included. You're taken on an emotional roller coaster of sympathy, empathy, identity, and reality.
Reviewed on 13 March 2020 by Ron, Apo, United Kingdom

Best show I've ever seen!
The actors did an amazing job, it was so emotional. I would definately watch it again if I lived in London.
Reviewed on 11 March 2020 by Carolin, Würzburg, Germany

A fabulous experience
We laughed, we cried, the music, singing and acting were all incredible and I can not recommend the production highly enough!
Reviewed on 07 March 2020 by Chantal, Farnborough, United Kingdom

Riveting entertainment
The show was wonderful. A mixture of laughter and sadness. The acting was superb, especially Evan Hanson, and the staging and lighting were brilliant.
Reviewed on 03 March 2020 by Corinne, White Notley, United Kingdom

Great theatre
Reviewed on 02 March 2020 by Jackie, Leicester, United Kingdom

Awesome
Loved it every minute
Reviewed on 26 February 2020 by Christian, London, United Kingdom

Fantastic, emotional, must see!
Reviewed on 24 February 2020 by Catherine, Glasgow, United Kingdom

Worth the travelling
The show was better than super!! We travelled from Derry, N.Ireland today to see it. My daughters 14 and 10 know the album inside out. Definitely a great experience!!
Reviewed on 24 February 2020 by Cathy, Derry City, United Kingdom

Very sad, but equally funny
Reviewed on 23 February 2020 by Joanne, Solihull, United Kingdom

Must see!
Reviewed on 23 February 2020 by Lilach, Tel Aviv, Israel

Powerful , dramatic , some amazing music
Only 1 thing, I needed a few seconds more before cast invited final applause, I was still taking the whole thing in
Reviewed on 22 February 2020 by Terry, Stratford Upon Avon, United Kingdom

Enjoyable
My Daughter thought it was the best show she has seen
Reviewed on 21 February 2020 by Rebecca, Bishop Auckland, United Kingdom

Words Fail (to accurately describe this stupendous show!)
After travelling 250 miles to see the musical I've been obsessed with for years, expectations were bound to be high. This show was everything I thought it could ever be and more. I could never put into words my delight when I heard the first chords of 'Anybody Have a Map?', (how amazingly talented the orchestra are!) or the feeling of hearing Sincerely Me, a song I know better than I know myself and butcher every time I shower, LIVE! I think I nearly broke my boyfriend's hand squeezing it and my grin reached my ears. Honestly, I still tear up if I think too hard about it. The acting couldn't have been better either. I truly believed Marcus Harman was Evan; wiping his sweaty hands constantly on his jeans, the perpetual awkwardness, what I've read in the book come alive on stage. The music, the choreography, the composition, ('Good For You' particularly, though all of the songs deserve an essay in their own right) made it absolutely magical. Dear Evan Hansen was worth every penny I spent. It's a mercy to my bank account that I don't live any closer, because I'd see it again and again and again. I urge anyone and everyone to see this show if you get the chance. Any doubts you may have will be shattered as the show starts, you don't have to be a fan prior to have your mind blown, and it will be a fond memory for a long, long time to come.
Reviewed on 20 February 2020 by Henry, St. Agnes, United Kingdom

My daughter loved this and I am sure she will go again!
Reviewed on 19 February 2020 by Kerry, Addlestone, United Kingdom

You will be found!
Wonderfully heart wrenching, relatable with an outstanding cast portrayal.
Reviewed on 12 February 2020 by Stacey, Swansea, United Kingdom

Teen angst musical
Reviewed on 11 February 2020 by Alexandra, Watford, United Kingdom

Powerful Show with Great Music
A fantastic story line which plucks at the heart strings. Really highlights certain modern day issues all put together in a relatable and meaningful story. Great music as well!
Reviewed on 11 February 2020 by Joshua, London, United Kingdom

self realisation and amazement
I bought my tickets very early on when it was first released, the tickets are very very high and steep, however it was amazing, there is huge credit to all of the actors in the show, I especially loved how Evan sang nervously it's something I have rarely heard and found it amazing. I want to see it again and again. Seats are a little restricted but there was a good amount of leg room plus the bar was very close and you needed to walk through the whole row to get to any seats which was annoying.
Reviewed on 09 February 2020 by Charlotte, Chatham, United Kingdom

Phenomenal! Absolutely incredible!
Reviewed on 08 February 2020 by Kitty, Stowmarket, United Kingdom

A must see
Reviewed on 06 February 2020 by Avraham, Ramat Hasharon, Israel

Been waiting 9 months to see this - it was worth it!!
Fab new musical. Wonderful songs and moving storyline. Small cast of only 8 but not a negative. Loved having the orchestra set up high above the stage so you could get a glimpse of them. Lovely small intimate theatre.
Reviewed on 29 January 2020 by Clare, London, United Kingdom

Fantastic cast
Reviewed on 28 January 2020 by An, Dubai, United Arab Emirates

Excellent - even in those lower priced seats and amazing experience.
Reviewed on 24 January 2020 by Johanna, Horley, United Kingdom

Strong all round, technical show
Really enjoyed everything about this show! Only downside was I saw an understudy who I wasn't a fan of but it was great!
Reviewed on 17 January 2020 by Liam, Exeter, United Kingdom

Gripping story, incredible performances!
This is a story that will touch anyone's heart, performed by a masterful cast. The acting and the singing were simply extraordinary. My eyes were glued to the action on the stage from beginning to end. Sam Tutty as Evan Hansen was flawless. His acting is sensitive and his singing voice soaring. The rest of the cast are stars in their own right.
Reviewed on 14 January 2020 by Marelu, Beaconsfield, United Kingdom

Wonderfully inspiational
Reviewed on 13 January 2020 by Vincent, Dinas Powys, United Kingdom