Quick Facts
Largest Ticket Inventory
in the West End
Real time
seat availability
Choose
your seats
Your booking is processed directly into the box office reservation system
This show is now closed.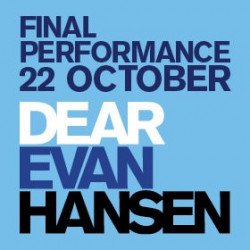 DEAR EVAN HANSEN
Tickets
4.8/5
-

based on

207

reviews

from

207

verified reviews
Tickets refunded if your event is cancelled
Real time seat availability
Largest ticket inventory in the West End
Secure online booking
This show is now closed.
Keep me informed
Let me know when tickets for DEAR EVAN HANSEN are on sale!
Information
Cheap Tickets
Reviews
News
About DEAR EVAN HANSEN Tickets
DEAR EVAN HANSEN description
DEAR EVAN HANSEN – The Tony Award®-Winning Best Musical
DEAR EVAN HANSEN is an award-winning, multi-generational, uplifting, powerful and contemporary musical. And it is set to wow London audiences from November 2019 at the Noel Coward theatre.
A letter that was never meant to be seen, a lie that was never meant to be told, a life he never dreamed he could have. Evan Hansen is about to get the one thing he's always wanted: a chance to finally fit in.
From the award-winning songwriters behind The Greatest Showman, DEAR EVAN HANSEN is a deeply personal and profoundly contemporary new musical about life and the way we live it.
DEAR EVAN HANSEN has struck a remarkable chord with audiences and critics everywhere. The Washington Post calls it "one of the most remarkable shows in musical theatre history."
The winner of six Tony® awards including Best Musical, as well as the 2018 Grammy award for Best Musical Theatre Album, DEAR EVAN HANSEN is directed by four-time Tony Award nominee Michael Greif and features a book by Tony award winner Steven Levenson and a score by the Tony, Grammy and Academy Award-winning composers Benj Pasek & Justin Paul.
DEAR EVAN HANSEN has won the Drama League Award for Outstanding Musical Production and for the off-Broadway production, two Obie Awards, a Drama Desk Award, two Outer Critics Circle Awards and two Helen Hayes Awards.
The Grammy Award®-winning Original Broadway Cast Recording of DEAR EVAN HANSEN produced by Atlantic Records, was released in February 2017, making an extraordinary debut on the Billboard 200 and entering the chart at #8 – the highest charting debut position for an original cast album since 1961 – and went on to win the 2018 Grammy Award® for Best Musical Theatre Album.
A new deluxe version of the cast recording, including six bonus tracks and a pop cover from Katy Perry of Waving Through a Window is now available digitally.
This musical already has a glittering history. It first opened at Broadway's Music Box Theatre in late 2016, following a dazzling world premiere at the Arena Stage in Washington, D.C. During July 2015 and an Off-Broadway season at Second Stage Theatre in spring 2016. Nominated for nine Tony Awards at the 71st Tony Awards ceremony, it won six.
Expect a long line of excellent show tunes, including the brilliant Waving Through a Window, For Forever, Sincerely Me, Requiem, If I Could Tell Her, Disappear and You Will Be Found, this two-act wonder of a show will see you singing to yourself for weeks to come. It's unforgettable.
Who is it for?
The recommended age for DEAR EVAN HANSEN is 12 or more.
DEAR EVAN HANSEN cheap tickets
We have a great selection of cheap DEAR EVAN HANSEN tickets. We can help you save up to 70% on DEAR EVAN HANSEN tickets! If you're looking for discount theatre tickets have a look below for our latest offers for DEAR EVAN HANSEN at the Noel Coward Theatre.
There are no special offers available at the moment but we still have great ticket prices for DEAR EVAN HANSEN at the Noel Coward Theatre.
DEAR EVAN HANSEN reviews
4.8 out of 5
based on

207

reviews
What to expect:
Acting
Music
Costumes
Story
Lighting
Recommended for:

Teenagers (93%)

Couples (83%)

Theatregoers (89%)
Latest customer reviews
Well played
Reviewed on 23 October 2022 by Anneloes, Leiden, Netherlands
Life changing
Totally brilliant ,powerful acting and music its so good
Reviewed on 22 October 2022 by Stephen, Crowthorne, United Kingdom
Hang in there
Reviewed on 22 October 2022 by Marta, Cobham, United Kingdom
BREATHTAKING!!!!!!
Watch it NOW!!!!!
Reviewed on 20 October 2022 by Rhys, Dawlish, United Kingdom
Perfect!
A Story about our time. Feelings almost everyone knows. Brillant actors. Wonderful Songs. Tears all over the audience.
Reviewed on 04 October 2022 by Christian, Castrop-rauxel, Germany
A bit mixed
I didn't dislike the show, but was a bit underwhelmed. A rather strange storyline, no memorable songs and a rather flat ending.
Reviewed on 02 October 2022 by David, Surbiton, United Kingdom
Brilliant
Loved the show. Relevant for social awkward teenaged and how they are so vulnerable to social media
Reviewed on 28 September 2022 by Linda, Kent, United Kingdom
Reviewed on 24 September 2022 by Riona, Co Dublin, Ireland
Eh
It didn't really wow me. It didn't help that my seat was far from the action.
Reviewed on 16 September 2022 by Joel, Downer, Australia
Excellent show.
This show will resonate with anyone who has had doubts in thier life and will show them they are not alone.
Reviewed on 15 September 2022 by Teresa, Blackburn, United Kingdom
Musical masterpiece
Reviewed on 14 September 2022 by Andrea, Poole, United Kingdom
Breathtaking!
This show.... gosh! It makes you laugh, cry and care with the characters. With the cast being so small you really have to be an incredible actor and singer and the cast i saw was absolutely flawless!
Reviewed on 10 September 2022 by Brogan, Swadlincote, United Kingdom
Emotional and thought provoking
Reviewed on 09 September 2022 by Lisa, Bethesda, United States Of America
Reviewed on 08 September 2022 by Christina, Singapore, Singapore
Phenomenal
One of the best musicals I have ever seen. A heart wrenching story with a not to typical resolution. It shows the harsh reality that in life you don't always get the perfect happy ending. It simultaneously shows how one small lie can spiral out of control while also raising the important issue of mental health awareness!
Reviewed on 25 August 2022 by Vanessa, Portmarnock, Ireland
thought prevoking
Don't miss this show it is truly brilliant
Reviewed on 24 August 2022 by Judth, Chelmsford, United Kingdom
Emotional
Amazing, everything I hoped it would be. Sam Tutty really tuned into the much misunderstood anxiety issues. This show will make you laugh and cry in equal measures. The whole cast were entertaining and sincere. Absolutely loved it. I would say ages 12 and above would appreciate this show, and it's content. A fair bit of swearing, but no worse than you'd hear in the street. Thought provoking show.
Reviewed on 23 August 2022 by Wendy, Clacton On Sea, United Kingdom
A wonderful experience
I took my 16year old grand daughter and we both thoroughly enjoyed it. Air con was set perfect. Our seats were good. The show was brilliant, the acting was excellent, the storyline was very relatable, the whole performance was great! We've already bought tickets for another family member to see it, and recommend it to anyone!
Reviewed on 21 August 2022 by Marie, Luton, United Kingdom
Go and see this show!
Sam was excellent in the title role, excellent cast and storyline. Go, you won't be disappointed!
Reviewed on 15 August 2022 by Melanie, West Wickham, United Kingdom
Extraordinary
Just extraordinary. Sam Tutty is so lovely and so brilliantly talented. The whole cast is perfect. Thus production is a must see
Reviewed on 13 August 2022 by Matthew, Bowmanville, Canada
Superb
Reviewed on 10 August 2022 by Sherron, Chingford, United Kingdom
Helps in unnderstanding behavior and often hidden emotions.
My son and I sat in the balcony, seats C10 and C11. The theater was full. The seats had good viewing of the stage but I also brought binoculars to see facial expressions which I recommend. The air conditioning was on but it was still too warm in the balcony. People near me we're fanning themselves during the show. The show is excellent and I enjoyed seeing it while visiting London.
Reviewed on 06 August 2022 by Milton, Lake Forest, United States Of America
Dear evan Hansen what a fantastic show...
Dear evan Hansen here's an amazing show and here's why, Story great, songs great, actors great, just a great all round performance. Just as good as the original cast.
Reviewed on 28 July 2022 by Gareth, Lisburn, United Kingdom
Just fabulous!
Dear Evan Hansen was absolutely amazing! I laughed, cried and smiled my way through it all the cast were amazing but Marcus who played Evan was just fabulous. I would recommend any see this before it closes it's really thought provoking. Just fabulous!
Reviewed on 23 July 2022 by Ali, Tyne And Wear, United Kingdom
A moving storyline with excellent music.
Reviewed on 23 July 2022 by Loretta, Bridgwater, United Kingdom
Emotional viewing
So many emotions, very well done. Talented actors.
Reviewed on 22 July 2022 by Emily, Ongar, United Kingdom
Dehydrated
I didn't realize how complicated and tangled the whole plot was. Thanks to the lyrics and acting, you get transformed into the setting of the story without big stage set change. My 17 years old son cried so much that he had puffy eyes after the show and had to be hydrated! Beautiful tears all around - everyone has their own stories- especially the 3 middle-aged gentlemen in front of me on the front row. Tears streaming down their cheeks and you just wanted to hug everyone around you. Everyone should watch this to appreciate that human beings have not changed much and the timeless theme of love and family. So glad I watched it with my teenage boy. Thank you!!!!!!
Reviewed on 21 July 2022 by Nana, Edinburgh, United Kingdom
Excellent
Wonderful acting and singing with emotion. Great story and true to life.
Reviewed on 20 July 2022 by Adrian, Pinner, United Kingdom
Pure delight.
Reviewed on 20 July 2022 by Sharon, East Grand Forks, United States Of America
Touches your heart and soul!
When learning in university about different types of experiences I always wondered what event is considered a transformative experience for me. Dear Evan Hansen definitely is because it influenced my life greatly. No matter the songs that make me cry, the actors that make you wanna go on stage to hug them, because they're playing their roles so realistically or the life music that makes the experience much more intense. Everything is just the way I wanted it to be! After the show the stars even took time for pictures, signatures and some small talk despite them probably being exhausted. This was my second time watching DEH my first time was in NYC both performances I'll cherish for life. If I could I would watch it again and again and again. We planned this trip to London just for DEH and it was more than worth it!
Reviewed on 18 July 2022 by Meike, Gera, Germany
Surprising good
Why so many awards? I listened to the music and wasn't very shure… so I had to see this show. And wow, it was great. Great acting, small setting, but touching and inviting! I want to see this show again!
Reviewed on 13 July 2022 by Kristien, Weerde, Belgium
Human nature
The young woman sitting next to me was very teary at interval. A first half performance that resonated with us all. We do matter and if necessary we can reach out. Evan's mum had a beautiful voice. Evan had a wonderful strength in his voice. The acting was great. The story line appeared to weaken and become a little confused at the end.
Reviewed on 13 July 2022 by Ann, West Ryde Nsw, Australia
A laughing, crying, gasping, cringing kind of extravaganza!
Instantly one of my favourite musicals. The raw emotion on the actors' faces felt so genuine that I was actually uncomfortable at times, as if I was intruding on so many private moments. Their voices were absolutely superb (no 'oh well, they'll do' voice in this cast) and they conveyed anxiety and grief so well, I just wanted to give them all hugs. Let's not ignore the humour, though. It's frequent and surprising, given the weighty topic, and - mixed in with the emotional turmoil - made the experience truly wonderful. If I had the time, I'd go and see it every week until it closes!
Reviewed on 13 July 2022 by Rebecca, Wellington, United Kingdom
Fantastic
Amazing show, great actors and amazing singing voices. Great view from seats and nice small theatre too! Overall fantastic day out
Reviewed on 07 July 2022 by Maxine, Pocklington, United Kingdom
Deep and powerful
A very powerful and moving show with excellent storyline. Would appeal to everyone as we are all affected by the issues outlined in the show. Great evening ?
Reviewed on 03 July 2022 by Andrea, Stafford, United Kingdom
A must see
Reviewed on 02 July 2022 by Andrew, Newcastle Upon Tyne, United Kingdom
Fntastic play
Fantstic acting and great story
Reviewed on 01 July 2022 by Kjersti, London, United Kingdom
Outstanding! A must see!
Amazing, singing, acting and the whole show was fabulous! The guy who played Evan was amazing! His acting was outstanding and he had us in tears throughout.
Reviewed on 01 July 2022 by Rachel, Stockton-on-tees, United Kingdom
Emotional, powerful, key topic
Good stage performance of this show, enjoyed the layout of the set and characters. Emotive songs.
Reviewed on 30 June 2022 by Jessica, Lancashire, United Kingdom
Appropriate
The lead, young actor was Brilliant !
Reviewed on 30 June 2022 by Cheryl, Maumee, United States Of America
Excellent show, go for it!
Beautiful theatre, friendly and helpful staff, a really entertaining production with a talented and energetic cast. Highly recommended.
Reviewed on 26 June 2022 by Tim, Hockley, United Kingdom
Fabulous
Reviewed on 26 June 2022 by David, Stockport, United Kingdom
emotional
Reviewed on 25 June 2022 by Maggie, Hertford, United Kingdom
Interesting and important story. Super acting. Yet it felt like a good play and not like a musical.
Reviewed on 25 June 2022 by Smadar, Tel-aviv, Israel
Emotional & very different to other shows. Loved it!
Reviewed on 24 June 2022 by Katharina Sophia, Hamburg, Germany
A Musical Masterpiece
I was familiar with the music from this show before attending last nights production but it still didn't prepare for how wonderful the actual stage show would be. This is a not to be missed show and I honestly could not recommend it any more highly. If you get the opportunity to go along then grab it with both hands!
Reviewed on 21 June 2022 by Jimmy, Knocklyon, Ireland
Thought provoking excellent show not to be missed
Reviewed on 20 June 2022 by Fiona, Virginia, Ireland
Amazing
Bought tickets for my wife for her birthday, didn't know what the story was about but it was amazing. Great production with good acting and music.
Reviewed on 18 June 2022 by Benjamin, Bourne, United Kingdom
Must see
Great show and thought provoking for all genres.
Reviewed on 18 June 2022 by Claire, Corby, United Kingdom
WOW!
Die Show war einfach unglaublich. Der Gesang und auch das Schauspiel war umwerfend . Bei jedem Lied hat man eine Gänsehaut bekommen !
Reviewed on 18 June 2022 by Merit, Kiel, Germany
Great songs and superb sunging
Reviewed on 16 June 2022 by Susan, Shrewsbury, United Kingdom
Clever, contemporary - superb.
Glad to see this before it closes this year, as heard a lot about it. Clever, contemporary and with a lead performance that will stay with me for a long time. The issues of mental health and social media interweave and resonate with many, I'm sure. I have had the melody of 'You Will Be Found' stuck in my head for days. Grab tickets while you can & don't forget to take a pack of tissues for the emotional ride.
Reviewed on 10 June 2022 by Karen, Sutton, United Kingdom
Everyone must see this show ones in a life time at least
It is such a hartbreaking story but also something we can relate to in the world we live in. Just to see things in the theater makes us capabele of talking feeding and moving easier around the difficult matters in our lives. Thanks to all for that.
Reviewed on 01 June 2022 by Lmg, Sint-oedenrode, Netherlands
Brilliant
Reviewed on 31 May 2022 by Gemma, Bishop Auckland, United Kingdom
Loved every second!
Totally mesmerised from start to finish. Loved the story, loved the acting, loved the songs.
Reviewed on 31 May 2022 by Rebecca, Okehampton, United Kingdom
Brilliant acting
Reviewed on 27 May 2022 by Catherine, Ongar, United Kingdom
Deeply moving
Reviewed on 25 May 2022 by Sarah, Cape Town, South Africa
Creative and wonderful score!
Reviewed on 22 May 2022 by Kelsey, Yelm, United States Of America
Amazing! A must see!
It is amazing! I love the music and the acting was also really really good!
Reviewed on 20 May 2022 by Lea-sophie, Augsburg, Germany
Excellent
Reviewed on 16 May 2022 by Christine, Toronto, Canada
Incredibly Powerful
Defiantly one of my new favourite shows, the acting and singing were amazing, it even made me cry! Sam Tutty who played Evan Hansen was incredible, honestly one of the most powerful acting skills I've ever seen!!! Even Hannah Qureshi who was understudying for Zoe Murphy was outstanding, lovely performance and powerful voice!!
Reviewed on 15 May 2022 by Andy, Near Yarm, United Kingdom
Definitely a MUST see show!!!
Dear Evan Hansen is a fantastically well produced show with great moments of comedy and some real tear jerking moments as the characters struggle to fit into the norms of todays world. The actor's brought every character to life and for the duration of the show brought you into their world of life's struggles. Do not miss this show if you get the opportunity to go see a show while in London
Reviewed on 15 May 2022 by Eoin, Thurles, Ireland
Fabulous Show
Despite having a few understudies in the main roles, this performance was fabulous. Great story, acting and music.
Reviewed on 14 May 2022 by Gary, Firies, Ireland
Wonderful show- poignant
If you have young children there is language but it is used with a purpose. Great show for parents and teenagers!
Reviewed on 13 May 2022 by Kim, Indianapolis, United States Of America
A must see musical
This show is very hard felt with a feel good ending. The actors especially the lead role of Evan are excellently played.
Reviewed on 13 May 2022 by Lindsey, Thrapston, United Kingdom
Emotional story brilliant
Reviewed on 11 May 2022 by Margaret, Billingham, United Kingdom
Excellent performances by all the characters and kept it light hearted at times even with such a complex issue. Timely and very uplifting, just a wonderful evening!!!
Reviewed on 07 May 2022 by Ronda, Calgary, Canada
Loved it, Loved it, Loved it
Reviewed on 07 May 2022 by Atlanta, Pontypridd, United Kingdom
Brilliant show
Fantastic show, casting, story, songs, production. We loved it. Relateable and heartfelt.
Reviewed on 05 May 2022 by Shelby, Ipswich, United Kingdom
Inspiring story
Story is emotional and inspiring and makes you think. We saw the understudy play Evan and he was super
Reviewed on 05 May 2022 by Nicola, Brentford, United Kingdom
Emotional
Reviewed on 04 May 2022 by Dawn, Broxbourne Hertfordshire, United Kingdom
Very entertaining
Reviewed on 03 May 2022 by Sandra, Maynooth, Ireland
Real life
You have to this one. Thats how you get to know , about the danger off internet
Reviewed on 02 May 2022 by Marinus, Breda, Netherlands
A must see
Reviewed on 27 April 2022 by Michela, Carpi, Italy
Must see!
I like the musical. Unusual lights and sound effects. Good story. Excellent acting.
Reviewed on 24 April 2022 by Alla, Ilford, United Kingdom
Amazing. Truly amazing.
This show is the best thing I have seen in a long time. I could watch it time and time again. I laughed and I cried. Such a talented cast and musicians. This is a must see show.
Reviewed on 19 April 2022 by Beverley, Castleford, United Kingdom
Not my cup of tea
Meh! A lot of hype for this show but it never really fired my imagination, everything as fine but not a classic by any stretch of the imagination
Reviewed on 18 April 2022 by Chris, West Horsley, United Kingdom
Powerful… amazing
Reviewed on 13 April 2022 by Lisa, Colne, United Kingdom
Fantastic music and great cast
Reviewed on 12 April 2022 by Laura, London, United Kingdom
Reviewed on 10 April 2022 by Riona, Monkstown, Ireland
Touching in many ways
Reviewed on 08 April 2022 by Roosa, Oulu, Finland
Fantastic
Actors performing well, music easy to listen too, story telling okay and relevant
Reviewed on 02 April 2022 by Rikke, Gentofte, Denmark
An absolute must see. This is our second time, loved it ❤️
Fantastic show, the cast are amazing, a moving story with wonderful songs, loved it
Reviewed on 01 April 2022 by Rachael, Lincoln, United Kingdom
Brilliant show
What a fantastic show. The storyline was brilliantly acted and Evan Hansen was phenomenal! He was spellbounding. He held the audience for the whole show. An absolute roaring success- must see show
Reviewed on 28 March 2022 by Jill, Morecambe, United Kingdom
Thought provoking with an extremely talented cast.
Reviewed on 24 March 2022 by Vanessa, Cardiff, United Kingdom
very well done
Reviewed on 24 March 2022 by Janne, Tampere, United Kingdom
Amazing heartfelt show and amazing lead actor
Reviewed on 21 March 2022 by Shaun, St Helens, United Kingdom
Mind blowing
We came from Ireland to see the show as we had read the books and seen the movie. The actors in the show were brilliant and exceeded our expectations. We would definitely come to see it again . Well done to all involved
Reviewed on 19 March 2022 by Leanne, Galway, Ireland
A second class show !
I was very disappointed, I didn't like the music, the songs, the way the actors were singing, too yelling... I waste my money !
Reviewed on 19 March 2022 by Francoise, Hamburg, Germany
Great tunes
Great tunes. You can hear all the words.
Reviewed on 19 March 2022 by Ravi, London, United Kingdom
Must see!
Reviewed on 16 March 2022 by Ellie Mae, Chelmsford, United Kingdom
A must see!
Amazing show, but 98% of the audience without wearing face coverings.
Reviewed on 13 March 2022 by Raul, Premia De Mar, Spain
Must see
Reviewed on 10 March 2022 by Haakon Buer, Oslo, Norway
AMAZING
Reviewed on 09 March 2022 by Naomi, Dublin, Ireland
We did not know the story and found it amazing
What an emotional and inspirational show
Reviewed on 07 March 2022 by Adam, Borehamwood, United Kingdom
Great show,!
Reviewed on 01 March 2022 by Michael, Utrecht, Netherlands
Dark subject but well executed
Not suitable for those not keen on accepting issues of autism and suicide but very well acted and light moments. Music & staging good.
Reviewed on 26 February 2022 by Juliet, Farnham, United Kingdom
100% worth every penny!
Reviewed on 25 February 2022 by Esme, Cardiff, United Kingdom
Must see show
A new musical for a new age
Reviewed on 24 February 2022 by Nick, Malmesbury, United Kingdom
Excellent!
Very good story. Brought to the surface the obstacles people with social & communication issues face, their behaviours, mannerisms and reasoning. Excellent acting of this by Sam Tutty. Very touching. Great voices of Sam and the rest of the cast.
Reviewed on 20 February 2022 by Teresa, Worth,crawley, United Kingdom