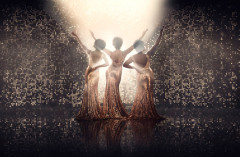 There's only six months to go until the BIG musical of 2016 opens at the Savoy Theatre. It's DREAM GIRLS of course and the producers have announced a new tidbit of information to keep us intrigued.
It's already been reported that Amber Riley will only play the lead role for seven performances a week. This isn't unusual when a part is exhausting to sing. The artist's vocal chords just can't take the gruelling schedule and if you go to a matinee or Monday night show in the West End and on Broadway you'll often see the cover, what used to be called the understudy, standing in for the star.
And this doesn't mean you'll get a substandard performance, in fact these standbys are often fresher, more talented and more anxious to prove themselves than the people who usually play the role, leading to exhilarating performances.
Most producers keep quiet about this practise fearing punters may ask for their money back if the star they're expecting doesn't appear but it has become commoner to make it a feature. When the musical CARMEN JONES was in town, two Carmens, alternating the role, were announced and there's been an alternative Christine and Phantom, clearly advertised on the front of PHANTOM OF THE OPERA venues as "appearing at some performances", for decades.
There's certainly been no coyness from the DREAM GIRLS producers about the fact that you won't see Riley perform on Wednesday nights. They've dedicated a whole press release to announcing that she'll be replaced mid week with either Ruth Brown or Karen Mav.
American actress and singer Amber Riley's credits include playing 'Mercedes Jones' in the Golden Globe Award-winning TV show GLEE in which she certainly demonstrated a powerful singing voice and a talent for performing emotional scenes that will come in very handy for DREAM GIRLS. American TV audiences also know her for playing 'Addaperle, the Good Witch of the North' in the NBC live performance of the musical, THE WIZ and she won DANCING WITH THE STARS IN 2013. No stranger to the stage she's also given highly acclaimed performances in Los Angeles and New York.
UK audiences might remember Ruth Brown from the semi-finals of BBC's THE VOICE, when she was mentored by Sir Tom Jones, leading to her first UK single 'P.O.P.' and her first album, LETTERS OF TRUTH which is about to be released.
Karen Mav is also best known for a UK talent show, in her case the 2015 series of ITV's THE X FACTOR. Highlights of her time on the show include highly regarded performances of Etta James's 'I'd Rather Go Blind' and the Whitney Houston version of the classic 'I Will Always Love You'.
Sonia Friedman, the DREAM GIRLS producer, is thrilled with all her leading ladies commenting –
"This is fantastic news for the production. Casting Amber Riley is of course thrilling as she is the most extraordinary talent to star in our show, but now to be able to announce that Ruth Brown and Karen Mav will be joining the show, to cover Amber and share performances on the night that Amber will not be on is just fantastic."
You'll be able to find out who's performing when from the show's official website, Dreamgirlswestend.com.
Whoever you see in the lead role, this powerful tale of triumph and betrayal in the 1970s music industry is sure to be a very memorable evening.