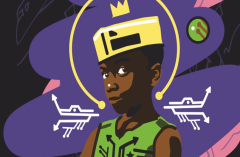 This month sees prolific playwright Inua Ellam's first play for children, The Little Prince, touch down at London's Stratford Circus, where it will play until February.
Inua Ellams is widely regarded as one of the UK's brightest names in theatre. An internationally acclaimed poet and playwright, Nigerian-born Ellams has fathered such productions as The Barbershop Chronicles, which opened at the National Theatre in 2017 and has subsequently toured the world, The Half-God of Rainfall which premiered at the Kiln Theatre (formerly the Tricycle Theatre) in 2018, and Three Sisters, an adaptation of Chekov's classic which sees its narrative relocated to Owurri, a city poised on the threshold of the Biafran Civil War. The production is currently running at The National until the 19th of February, to rave reviews.
More recently, Ellams' has turned his pen to the French novella, The Little Prince by Antoine de Saint-Exupéry, the plot of which he has embroidered with elements of afro-futurism. Ellams' reimagining sees its protagonist as a fighter pilot who has broken down in the Sahara desert, where they come to meet an extraordinary prince. This is the first time that the playwright has created a show for children, though, as with the original, the play retains a keen sense of existentialism. In keeping with his previous works - in particular ticketing initiatives regarding access - The Little Prince has been selected as part of a partnership with Newham Council and Stratford Circus Arts Centre, in which every Year 6 student in the local borough (some 5,000 youngsters) will get the opportunity to experience Ellams' production free of charge.
"I am delighted that my adaptation of The Little Prince is going to be part of this wonderful scheme. It is important to me that a new generation of theatre goers will be able to experience for free the joy of this wonderful story about the power of belief, the importance of small efforts, and the meaning of friendship." Says Ellams, of the initiative. "I hope everyone who sees it will be enthralled by it, in the same way the book has dazzled generations of children over the years."
The Little Prince will show at the Stratford Circus from the 17th of January-1st February, with further tour dates for The Barbershop Chronicles to be announced soon. If you haven't yet caught the latter on its extensive travels, be sure to book your ticket when it gets back on the road. Ellams is a singular artist; an urgent voice; a wordsmith. He has magic in his blood.