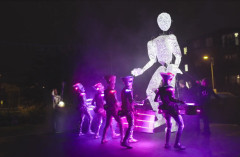 A staple of London's alternative theatre year, THE GREENWICH AND DOCKLANDS INTERNATIONAL FESTIVAL has been able to take advantage of their unusual and adaptable performance spaces by re configuring them to conform to government guidelines.
This is particularly welcoming news as 2020 is the festival's 25th anniversary.
We're assured "All events will have controlled entry and socially distanced audiences of between 50 and 250 people. Audiences will be asked to use hand sanitiser upon entry, exit and at all touch points."
Here's a selection of what you can expect to see according to their press release.
The festival will open on August 28 with IN MEMORIAM, an installation by Luke Jerram in response to the pandemic. Constructed from bed sheets, it is intended to be a temporary memorial and a tribute to NHS staff and key workers. Performances will also take place at the installation, with some staged exclusively for NHS staff.
Elsewhere, the festival will actively address racism and inequality. A strand of black-led work will include 846 LIVE, a direct response to the death of George Floyd featuring contributions from black and Asian writers to Roy Williams' provocation: EIGHT MINUTES AND FORTY-SIX SECONDS. These will be performed by actors and a live DJ and co-produced by Theatre Royal Stratford East and the Royal Docks team.
The line-up also includes BLACK VICTORIANS, a dance performance directed by Jeanefer Jean-Charles which explores 19th-century photographs of black men, women and children.
The wider programme will feature an outdoor dance programme, a site-specific production of Dennis Potter's BLUE REMEMBERED HILLS by Flemish theatre company De Roovers, and ON YOUR DOORSTEP, a collection of neighbourhood performances from artists including Told By an Idiot and Christopher Green.
Artistic director Bradley Hemmings said: "This year's festival takes place in unprecedented times. The recent hard months have shown in sharp relief our need for equality and community, whilst reminding us of the resilience that comes from looking after each other. As a free outdoor festival, GDIF has always tried to play an active role in local civic life, and as we start to reimagine the future, this 25th anniversary festival has been designed with artists, local partners and participants to offer an inclusive moment for reflection, whilst hopefully providing something we all desperately need – a time to celebrate and smile together again."
The festival runs from August 28 to September 12.