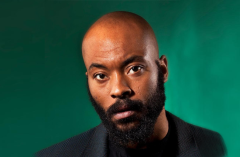 Get Up, Stand Up! And take a bow. Here, we celebrate Arinzé Kene, who is about to take on the role of Bob Marley in a new musical of epic proportions.
It seems Arinzé Kene can do no wrong. Glowing with critical acclaim and commercial success, the British actor and playwright is fast becoming a notable player on both the stage and screen. Recent TV credits include a pivotal role in the thriller Informer and Andrea Levy's The Long Song, both on BBC One. Others consist of Channel 4's I Am…, as well as a part in the Netflix Original Series, Crazyheads.
Kene's one-man play Misty (for which he was nominated for two Olivier Awards: Best Actor and Best New Play) exploded onto the West End in 2018 after a much-praised run at the Bush Theatre. Other key stage roles include a five-star turn in Death of a Salesman at the Young Vic Theatre, in addition to a memorable performance as soul legend Sam Cooke in One Night In Miami at the Donmar Warehouse. Kene also charmed audiences as Joe in Girl From The North Country – the hit musical with a score fashioned from the canon of Bob Dylan.
Kene's voice could thaw an iceberg: warm, luscious and hypnotic as it is. It's little wonder then, that he has recently been cast in what looks set to be the theatrical event of 2021: Get Up, Stand Up! The Bob Marley Story, a new musical by multi-award-winning team: the writer Lee Hall (Billy Elliot The Musical, Network) and director Dominic Cooke (Follies, Clybourne Park). As its title suggests, this production will tell the remarkable story of Bob Marley, and as Marley, Kene is tasked with the role of a lifetime. Opening at London's newly refurbished Lyric Theatre on the 6th of February next year, the production's premiere lands on what would have been the iconic artist's 76th birthday.
Featuring an astonishing blend of Marley's greatest hits (including 'No Woman No Cry', 'Exodus', '3 Little Birds' and of course, 'Get Up Stand Up'), the score will be performed live by a hugely talented cast – the finer details of which are yet to be announced. Get Up, Stand Up! has also been noted for its unprecedented access to Marley's catalogue. Known as the father of reggae and as a statesman in his native Jamaica, Marley is, without doubt, one of the entertainment industry's most significant figures to date. His legacy thrives still, and rightly so.
Of the project, Kene said: "I feel absolutely honoured to be able to take on this role. It is not only an honour to be able to spread Bob Marley's message further, but to get to be him for a little while is a lifelong dream come true. I grew up on his music and his mantra and he has been one of my role models since I was a child. I feel as if he's in my DNA. He's the man, I love him."
Get Up, Stand Up! The Bob Marley Story will run from the 6th February-5th October 2021, with tickets available to book from April this year.