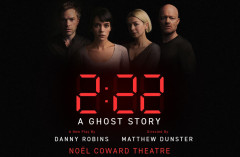 Having already broken box office records at the Noel Coward Theatre, Danny Robins and Runaway Entertainments' terrifying ghost story is about to transfer to the Gielgud Theatre. The casting has just been announced. Described as an exceptional edge-of-your-seat supernatural thriller, it's on stage at the Gielgud from 24th November to 12th February 2022 for a strictly limited 10 week run.
Who's involved in 2:22 -A Ghost Story?
Is Jenny's new home haunted? Her sceptical husband Sam doesn't believe a word of it. An argument develops one evening between the couple's first dinner guests, their old friend Lauren and her new partner Ben. And as the evening progresses they all begin to feel that something terrifying is getting steadily closer. Dare they stay awake until 2:22am to find out what it is?
Stephanie Beatriz will play the role of Lauren
James Buckley will play the role of Ben
Elliot Cowan will play the role of Sam
Giovanna Fletcher will play the role of Jenny
Written by award-winning writer Danny Robins
Directed by Matthew Dunster
Set design by Anna Fleischle
Costume design by Cindy Lin
Lighting design by Lucy Carter
Sound by Ian Dickinson for Autograph Sound
Casting by Jessica Ronane CDG
Illusions by Chris Fisher
Produced by Tristan Baker and Charlie Parsons for Runaway Entertainment, Isobel David and Kater Gordon
Buy 2:22 -A Ghost Story Tickets
Book your 2:22 -A Ghost Story tickets online with us and choose the best seats using our detailed Gielgud Theatre seating plan. We'll send handy E-tickets to your email address -simply present them at the door on the day of the performance.
About the Gielgud Theatre
The Gielgud Theatre is a beautiful three-level theatre with 986 seats, dating back to the West End's theatre-building golden age and completed in 1906. Reinstated and restored from 2007-2008, it's one of 40 venues featured in Donald Sinden's 2021 documentary, Great West End Theatres. Past shows at the Gielgud Theatre include The Curious Incident of the Dog in the Night-Time, Jez Butterworth's The Ferryman, Les Miserables -The All Star Staged Concert, and The Upstart Crow.