3 Fulton Road, Wembley, London, HA9 8TS GB
Quick Facts
Largest Ticket Inventory
in the West End
Real time
seat availability
Choose
your seats
Your booking is processed directly into the box office reservation system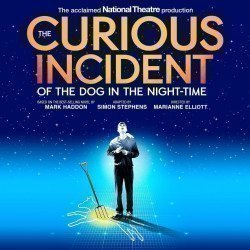 The Curious Incident of the Dog in the Night-Time
Tickets
4.7/5
-

based on

486

reviews
Opens: Saturday, 20 November 2021
Booking until: Sunday, 9 January 2022
Running time: 2 hours 30 minutes
Tickets from £24.00
Book tickets
About The Curious Incident of the Dog in the Night-Time
Age restrictions
Recommended Age: 11+. Under 5's and babies in arms will not be admitted.
Important Information
This production contains strobe lighting, smoke effects, high intensity video & light effects, and loud sound effects. Suitable for 11yrs+
There is some strong language in this production, as there is in the novel. This occurs at the very beginning of the show and infrequently at other points during the show.
Latecomers will be asked to wait whilst watching the latecomers' monitor until a scene called 'The Street' before being allowed into the auditorium. This is approximately 15 minutes into Act 1. Audience members arriving after this time will be required to wait until the interval.
Performance Times
Opens: Saturday, 20 November 2021
Booking until: Sunday, 9 January 2022
Running time: 2 hours 30 minutes
The Curious Incident of the Dog in the Night-Time description
About The Curious Incident of the Dog in the Night Time
Haddon's 2003 mystery novel won the Whitbread Book Awards for Best Novel and Book of the Year, the Commonwealth Writers' Prize for Best First Book and the coveted Guardian Children's Fiction Prize. But it's a tale that appeals equally to adults, especially those with children.
The Daily Mail, Daily Telegraph, Evening Standard, Guardian, Independent, The Times, Time Out, Londonist, Sunday Times and more have all given this superb production a big thumbs up, amongst other things calling it a marvel, a success from any angle and a triumph, capturing the depth and touching nature of the original text and adding theatrical sensibilities to great effect.
The director Marianne Elliott has also come in for plenty of well-deserved praise for directing with the same considerable creative flair and style as she brought to her co-director's role in the smash hit triumph of top puppeteer skills, War Horse. You can expect the same level of quality from The Curious Incident. In the words of The Times, if ever there was a perfect theatrical marriage of performance and effect, this is it.
The Curious Incident of the Dog in the Night Time – The story
It is exactly seven minutes after midnight. Christopher is fifteen years old. He is standing next to Wellington, a dead dog belonging to Mrs Shears, which has been speared to death with a sharp garden fork.
Unsurprisingly, Christopher comes under suspicion for the dastardly deal. And he's determined to solve the mystery. So he meticulously records every fact he uncovers in his first attempt at writing a real, grown up book.
Like many other kids, Christopher has an extraordinary brain. He's a maths genius but he finds ordinary human interactions and everyday life baffling. He can't bear to be touched and he avoids strangers at all costs. In fact he has never ventured further than the end of his road and his protective father forbids his amateur detective work. But Christopher carries on regardless with his quest to find out who killed Wellington, undertaking a challenging adventure that will change his world forever.
The Curious Incident of the Dog in the Night Time theatre tickets
Walk this way for the best seat and ticket availability in town! Satisfy your curiosity with a wide range of seat options, premium and full price tickets as well as discount The Curious Incident of the Dog in the Night Time tickets.
The role of Christopher Boone will be played by Johnny Gibbon Monday evenings, Thursday Matinees and Saturday matinees and by Luke Treadaway Tuesday - Saturday evenings.
The Curious Incident of the Dog in the Night-Time reviews
4.7 out of 5
based on

486

reviews
What to expect:
Acting
Music
Costumes
Story
Lighting
Recommended for:
Anyone (67%)
Families (71%)
Teenagers (87%)
Couples (87%)
Theatregoers (95%)
Latest customer reviews

you need to watch this
I used to work with young people diagnosed with autism in schools. The acting was good serious and funny at the same time Did not need so much swearing i would watch it again. drinks at bar expensive we asked for irish coffee which they did not have. Instead they served us whiskey with coffee instead. I ordered 2 this cost me £18.00 daylight robbery . Did not ask server price of drinks.
Reviewed on 11 May 2019 by Elizabeth, Luton, United Kingdom

Impressive!!
Reviewed on 30 April 2019 by Andriana, Thessalonikis, Greece

Colourful!
Reviewed on 25 April 2019 by Alessandra, London, United Kingdom

Great production and acting whilst v educational and entertaining
Innovative use of cast and stage technology combined with superb acting serve to explain and present the world and experience of an Autistic teenager in this entertaining and educational production which remains true to the novel.
Reviewed on 25 April 2019 by Christine, Clitheroe, United Kingdom

An amazing production with a powerful rollercoaster of emotions
Reviewed on 25 April 2019 by Nadine, Berlin, Germany

Insightful and creative
Really great show. Great use of all actors. Excellent acting. Really conveyed well what it is like to have Aspergers. Really good use of background and props.
Reviewed on 23 April 2019 by See Ying, London, United Kingdom

Brilliant play would 100% reccomend
Reviewed on 22 April 2019 by Adam, Leeds, United Kingdom

Amazing Experience
I have wanted to see this show for some years and the wait was worth it! The production was amazing from beginning to end. Very few shows have kept me so engaged throughout. It took you on the journey of a person with "aspergers" and how they related to the world around them, through words, sounds ,lighting and movement - all excellently done. If you do not like flashing lights, loud or slightly discordant music you should not go, but a must for everone else,
Reviewed on 22 April 2019 by Lesley, Loughton, United Kingdom

Brilliant
The play was brilliant! I am really glad I saw it before it ends. I thought the creativity was remarkable, and that all the emotions were properly conveyed to the audience. One could really feel was Christopher was going through in his own world. Overall, it was a moving, and beautiful story well played by the main actor.
Reviewed on 20 April 2019 by Emilie, London, United Kingdom

Fabulous show
Reviewed on 18 April 2019 by Nikki, Worcester Park, United Kingdom

Thought provoking.
A very thought provoking play tackling the subject of child autism. It was handled with humour as well as drama. Excellent.
Reviewed on 18 April 2019 by Shaun, Headley Down, Bordon. Hants, United Kingdom

Knockout production
A compelling story of a boy with Asperger's and the journey he goes on after discovering a murdered dog on the lawn of one of his neighbours. The staging is quite superb and brings the novel on which it is based to life in a brilliant fashion, The lead actor playing Christopher was extraordinary. Highly recommended for an entertaining night out that delivers an emotional punch.
Reviewed on 17 April 2019 by Trevor, Newbury, United Kingdom

So enjoyed it, The young guy made the show such talent, so fit and athletic amazing
Reviewed on 13 April 2019 by Maureen, London, United Kingdom

Absolutely amazing production.
Reviewed on 13 April 2019 by Rasanga, Harlow, United Kingdom

Great production of a great book
Reviewed on 12 April 2019 by Charlotte, Saffron Walden, United Kingdom

Very moving, a great adaptation of the book
Reviewed on 10 April 2019 by Neil, Hove, United Kingdom

Fantastic Show
I took my teenage daughter to see this show and we both loved it. Casting was great, acting was superb and lighting was amazing. Great use of cast members as props. Would highly recommend!!!
Reviewed on 09 April 2019 by Clare, Borehamwood, United Kingdom

Such a Lovely Show!
Reviewed on 06 April 2019 by Katie, Sioux Falls, United States Of America

Creative, contemporary; worth 5 stars reviews.
Reviewed on 31 March 2019 by Sandra, Weymouth, United Kingdom

What a show!
I loved the book when J read it, a few years ago, so when J had the chance to buy the theatre tickets for my daughter and myself I just got them, everyone had told us what a great play this was. And the play was great and much more! Witty, funny, dmptuonal, relatable (my son is autistic and very similar to Christopher:) ), I would see it again and again, truly wonderful cast and effects, a gem!
Reviewed on 31 March 2019 by Ruth, Leighton Buzzard, United Kingdom

Exciting, emotional and eye opening!
A fantastic show in which you learn so much about what it is like to be autistic. It is an eye opening, entertaining and a must see- particularly for those who work with children!
Reviewed on 30 March 2019 by Kate, London, United Kingdom

Impresive and moving
Reviewed on 29 March 2019 by Miguel, London, United Kingdom

Powerful acting from main character.
Reviewed on 22 March 2019 by Steve, Sutton, United Kingdom

Amazing
Wonderful play. Well acted with a story to tell.
Reviewed on 19 March 2019 by Richard, Saltcoats, United Kingdom

Well acted and very enjoyable
Reviewed on 17 March 2019 by Steve, Gloucester, United Kingdom

very creative, a must see
very surprirsed, a lot better than I thought it would be
Reviewed on 17 March 2019 by Jason, Sevenoaks, United Kingdom

Well executed.
Reviewed on 16 March 2019 by Helen, London, United Kingdom

a creative and must see
Reviewed on 13 March 2019 by Amara, London, United Kingdom

Creative minds think alike
Reviewed on 11 March 2019 by David, Boston, United States Of America

Entertaining, great effects and different
The show was very well acted and the whole idea of how to make it funny and entertaining was well thought with great lighting effects. Will recommend
Reviewed on 09 March 2019 by Stephenie, South Croydon, United Kingdom

Amazingly different
Reviewed on 08 March 2019 by Sidney, Purley, United Kingdom

Interesting
We enjoyed the play, we found the direction amazing, the acting was really good as well, thought we felt that the play was a bit long and we started getting a bit bored by the second section
Reviewed on 24 February 2019 by Christina, London, United Kingdom

Excellent!
Show was excellent!!
Reviewed on 21 February 2019 by Reece, Sheffield, United Kingdom

Great story, told well.
Appeared low budget, but great story which my whole family enjoyed. Well delivered.
Reviewed on 21 February 2019 by Fiona, Newtownabbey, United Kingdom

Just brilliant, so energetic and enthusiastic.
Reviewed on 19 February 2019 by Sue, Southminster, United Kingdom

Amazing story line
Beautiful start people who play this show.
Reviewed on 19 February 2019 by Priyanka, Salisbury, United Kingdom

Intelligent, craeative and very well thought and arranged
Fantastic show. It rally gives the audit an understanding of the what a boy with Asperger disease goes through. The syncronization between the act and the lights and the stage is spot on. It comes down to an incredible performance. Must see
Reviewed on 16 February 2019 by John, Isleworth, United Kingdom

Amazon autism
Was brilliant. Acting was astonishing. An excellent production
Reviewed on 11 February 2019 by Geraldine, Plumstead Common, United Kingdom

Eye opening and brilliantly done!
Reviewed on 11 February 2019 by Werda, Ealing, United Kingdom

A Great Night at the Theatre
Overall an excellent night and great performance from all involved with the show. Really great production, reasonable ticket prices and availability when I booked them.
Reviewed on 10 February 2019 by Oliver, Holmes Chapel, United Kingdom

A super show with a good message
This was a powerful show. Well acted and it delivered a clear message and explanation about how it is overwhelming it is to be on the autistic spectrum.
Reviewed on 09 February 2019 by Barbara, Redruth, United Kingdom

Pure genius. Wow!
Incredibly clever production and so slick from start to finish. Can't wait to see it again. Amazing set and concepts!!
Reviewed on 06 February 2019 by Alison, Dundrum, Ireland

Beautiful !!
Reviewed on 27 January 2019 by Charlotte, Brussels, Belgium

Spot on!
Well adapted from the book to the stage. Great acting, great story.
Reviewed on 23 January 2019 by Kristen, Tiburon, United States Of America

Absolutely astonishing show. Nothing else light it. Recommend to anyone.
Best show I have ever seen and I have seen many, many shows.
Reviewed on 22 January 2019 by Margo, San Anselmo, United States Of America

Brilliant
Reviewed on 21 January 2019 by Jane, Littlehampton, United Kingdom

Very interesting & well acted show!
Not a glamour or glitzy show by any stretch of the imagination but a well acted & thought provoking play which keeps you involved with the character's all the way to the end.
Reviewed on 20 January 2019 by Roy, Sidmouth, United Kingdom

Numbers
Reviewed on 16 January 2019 by Athanasios, London, United Kingdom

Creative and highly entertaining
A really excellent performance , so creatively done.
Reviewed on 14 January 2019 by Brenda, Hartley Wintney, United Kingdom

Avoid matinees
There was nothing wrong with the performance or the seat. However the theatre allowed large school groups to whom they sold noisily packaged confectionery. The general level of disturbance was so distracting that I left at the interval. Very disappointing.
Reviewed on 10 January 2019 by Andrew, Belvedere, United Kingdom

Had some swearing in so adults only The life into autesum
The show was very visual how an autistic person could preserve things in there world
Reviewed on 08 January 2019 by Tracy, Horley, United Kingdom

Funny while sad
Very moving while being both funny, serious at times and showing the complexity of the human condition.
Reviewed on 07 January 2019 by Gayle, Chicago, United States Of America

Engaging right from the first line!
Reviewed on 06 January 2019 by Laura-ann, Coquitlam, Canada

Wonderful acting and use of lighting
We had read the book and my 12 year old son is studying the play in his English curriculum. We really enjoyed it. The lead actor who played Christopher brought this story to life and made a sometimes overtense scene still engaging.
Reviewed on 06 January 2019 by Louise, South Croydon, United Kingdom

Excellent
Reviewed on 06 January 2019 by Dave, Cambridge, New Zealand

Fantastic
Reviewed on 06 January 2019 by Gemma, Croydon, United Kingdom

Well done show- struck nerves, laughter and tears.
Reviewed on 03 January 2019 by William, Arvada, United States Of America

A brilliant & thought prevokingly brave production - a triumph of modern literature on stage!
I hadn't any idea over what to expect from this production, after all I am a general theatre goer with a simple attitude to taking my seat, if I can take a comfortable seat, follow a story, laugh a bit and cry a bit then that is my expectations of a performance fulfilled. This production did exactly that and more! Thought provoking at every level, the decision to perform the story successfully for so long on a Westend Stage is a triumph for humanity. There is no glitzy, razzamatazz, no music, no dancing just an honest and brave story of a modern family coping in society. Brilliant performances from the cast mean your attention is fully engaged. I always say you know when you see a quality script come to life when technical angles are driven invisibly. The whole stage unfolds using a technical mastery which I can totally applaud, with lighting and sound in my view creating the depth to the writing in such a way you only become more immersed in the story. A directive masterpiece! My only reservation to audiences would be that the language scripted is in an adult form and may make audience goers with younger children feel uneasy, but that aside a modern story should have an honest presentation and it definitely delivers that!
Reviewed on 01 January 2019 by Piotr, Peterborough, United Kingdom

Captivating performance
Reviewed on 28 December 2018 by Ian, Hampton Hill, United Kingdom

A solid, if quirky, drama.
Original and thought provoking.
Reviewed on 25 December 2018 by Susan, West Vancouver, Canada

I don't usually enjoy the theatre but this was made wonderfully
Reviewed on 23 December 2018 by Safa, Surrey, United Kingdom

It's Amazing!
Reviewed on 21 December 2018 by Jennifer, Leipzig, Germany

A truly inside view of an autistic brain/emotions
Highly experiential, felt the pain and fears of not only the child but also the parents and their earnest struggle to bridge the gap in understanding.
Reviewed on 14 December 2018 by Jami, Vancouver, Canada

Ingenious portrayal of asperges as well as sensational technical performance!
Genius lighting design! Brilliant acting! Sensational narrative! A must see for all, moderately family friendly (baring some explitives and some emotional scenes). Just a genuinly brilliant show!
Reviewed on 09 December 2018 by Benedict, Swanscombe, United Kingdom

Creative
Good show , creative and interesting story.
Reviewed on 07 December 2018 by Arfanara, Chelmsford, United Kingdom

An experience
Great play. Something different
Reviewed on 06 December 2018 by Capucine, Twickenham, United Kingdom

acting and lighting were awesome!
Reviewed on 01 December 2018 by Solmi, Seoul, Korea (republic Of)

Engaging, entertaining, and masterfully executed
Great story and flawless performance. While smiling at the idiosyncracies of cognitive challenges, we get a really honest and accurate portrait of what it takes to make a family work under any circumstance. Highly recommended.
Reviewed on 04 June 2017 by Fabrizio, Upper Ferntree Gully, Australia

colourful script
A brilliant frank use of life at the extreme and how colourful language adds value to the play. Does is f***.. Yes it bl**dybdoes!
Reviewed on 02 June 2017 by Neil, Sidmouth, United Kingdom

So great to see the novel come alive
A great show for all ages, and an absolute must for teachers to understand autism. Great production - acting and technology were particularly impressive.
Reviewed on 20 May 2017 by Robyn, Urunga, Australia

Intense, awakening, brilliant!
Reviewed on 05 May 2017 by Ray, Crowborough, United Kingdom

thought-provoking and must-see play
Reviewed on 17 April 2017 by Karen, Aberdeen, United Kingdom

Clever and sobering, highly recommend it!
It wasnt what we expected (funny) at all but we enjoyed it very much. It was very realistic, heavy and brilliant. It opens your eyes and heart to Christopher's condition. The staging was amaZing! Great theatre and staff too:)
Reviewed on 12 April 2017 by Lili, Malibu, United States

Everyone seemed very impressed but I had some reservations myself - I felt rather manipulated (cute puppy - perlease!) and sometimes uncomfortable with the humour which largely depended on the main role's autism,. It was a little 'stagey' and the story was unconvincing. Great acting by the star of the show, but not entirely sold on the show overall.
Reviewed on 05 April 2017 by Elaine, Littleborough, United Kingdom

Effective
I enjoyed the show enormously. It was actually hot in the theater so I must confess I fell asleep in the first half. However I was with the actors every second of the second act. Having just negotiated the tube by myself for the first time, I can certainly identify with the main character.
Reviewed on 19 March 2017 by Joyce, St. Augustine, United States

Original & Well Acted
Reviewed on 02 March 2017 by Martin, Somerford Keynes, United Kingdom

Catch this while you can
Amazing show even if you haven't read the book it's one of the best shows
Reviewed on 25 February 2017 by Suzanne, Essington, United Kingdom

Serious topic presented with humour
Whilst it was a production through teamwork, the talented Christopher made the show entertaining.
Reviewed on 19 February 2017 by David, Aylesbury, United Kingdom

A must see
Reviewed on 02 February 2017 by Theodore, Nicosia, Cyprus

Interesting
Reviewed on 30 January 2017 by Peter, Trinity, United Kingdom

Smart, beautifully crafted production
Reviewed on 14 January 2017 by Ryan, Barking, United Kingdom

Different
I loved the show . Go for the lower stalls seats rather than the grand circle
Reviewed on 07 January 2017 by Alan, Chalfont St Giles, United Kingdom

Energy packed performance
Second time seeing this show. Even better as I was sitting close to the front and could appreciate the detail. Delighted by unexpected Q and A session after the performance
Reviewed on 05 January 2017 by Ginette, Rameldange, Luxembourg

Creative perspective - hits all emotions!
Reviewed on 04 January 2017 by Christopher, Virginia Beach, United States

Imaginative and innovative production of a great book!
Thoroughly enjoyed and would enthusiastically see again. The actors were superb and the production was unlike any other. A true all round accomplishment for the stage.
Reviewed on 03 January 2017 by Sarah, Bath, United Kingdom

Amazing!
Really astounding show overall. Really enjoyed it.
Reviewed on 29 December 2016 by Hannah, Westminster, United States

New and fascinating perspective on Autistic
Reviewed on 27 December 2016 by Nick, Los Angeles, United Kingdom

Hard to hear up in the grand circle
The show was very interesting, but the first half was a bit slow. The actors should have mics as it is hard to hear up in the upper circle, especially when the person sitting next to you coughs the whole way through it. The boy who plays the main role was excellent.
Reviewed on 23 December 2016 by Penny, London, United Kingdom

Really well done.
It was a really good show, and really well done with few props. I was impressed by how they managed to communicate it through the mind of an autistic person, in a way that was really easy to understand.
Reviewed on 20 December 2016 by Marina, Jonkoping, Sweden

Very creative and interesting
Reviewed on 18 December 2016 by Aymeric, Paris, France

Amazing actors, incredible set, compelling story
Reviewed on 14 December 2016 by Kian Kiat, Singapore, Singapore

Amazing acting and story telling with superb visual effects!
Reviewed on 20 November 2016 by David, Eastleigh, United Kingdom

Real Life Eye Opener/Reminder
Well acted and superbly portrayed view of a world we often tend to overlook. Incredible and original staging and a brilliantly well conveyed message. Highly recommended.
Reviewed on 13 November 2016 by Paulo, London, United Kingdom

I felt the very intense and very relevant story line was over-played by extravagant staging in trying to make it a west end hit. Unfortunately also, one of the leads, the teacher, had a night off with very poor diction.
Reviewed on 13 November 2016 by Michael, Marlborough, United Kingdom

Enlightning
An excellent production featuring a simple but complex set. The actors really got the message across of how people with autistic tendancies feel in various situations.
Reviewed on 27 October 2016 by David, Cleethorpes, United Kingdom

A Must See Show
A very good show, comical in parts but also with a degree of pathos throughout.
Reviewed on 26 October 2016 by David, Dundee, United Kingdom

Intruiging
Engaging and a creative set.
Reviewed on 24 October 2016 by Nicholas, Scotter, United Kingdom

Modern well staged play
Reviewed on 22 October 2016 by Yafit, Tel Aviv, Israel

Asthetically overwhelming
Reviewed on 21 October 2016 by Annabel, London, United Kingdom

Compulsory for all!
Great theatre with super performances form all- especially lead role. Compulsory for everyone to understand the challenges faced by people living with Autism / Aspergers and their families.
Reviewed on 20 October 2016 by Brian, Glasgow, United Kingdom