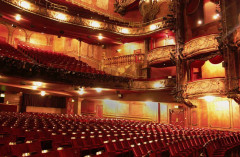 The UK theatre Industry desperately needs government clarity on when they'll relax social distancing rules for venues, and a support package for all the artists who currently have no way of making a living.
Instead the Culture Secretary Oliver Dowden offers more shapeless good intentions and demonstrates how little grasp he has of today's harsh realities.
In a recent article for The Mail on Sunday Dowden describes an initiative known as "Operation Sleeping Beauty" and promises "mass indoor events are now in my sights".
He further asserts that "we need to start filling seats in much larger numbers – not just for the audiences, not just for the venues and livelihoods who depend on them, but for the entire urban economy, too".
He reasons that "Testing is the short-term key until we find a working vaccine. We're making exciting advances in quick turnaround testing, where on-the-day coronavirus tests could give people who test negative a pass to visit the theatre that evening".
Which would be very exciting if he'd hurry up and announce when all that may be possible. Because any theatre production involves considerable pre-planning and it can't just materialize fully formed the day after a government go-ahead.
For instance many major Christmas shows have already been cancelled. If pantomimes are to be reprieved this year we need to know a date from when we can start preparing them, right now, or there won't be time to open before the December holidays, making the operation pointless.
Dowden doesn't seem to have noticed this and tells us he "aims to bring back some of the magic of theatre for families this Christmas".
Meanwhile The Sunday Times seems confident enough of the facts to report that "theatres and sports stadiums will be allowed to open without social distancing within weeks."
This information comes, we're reassured from "unnamed government sources" who also claim this turn around may be announced sooner than November 1st, the date when we were told to expect it. Let's hope so.
The report also states that a similar scheme to "eat out to help out" is being considered. This offered restaurant discounts to entice diners back. Perhaps it could also be employed to get people booking tickets for live performance.
But the trouble is if this doesn't happen soon so many creatives and artists will have left the profession that there won't be any one left to make or appear in these discounted productions.
The National Theatre, the RSC and West End producers are already making swathes of staff redundant.