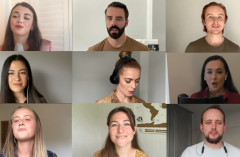 Welsh West End performer Steffan Rhys Hughes has reassembled his group of fellow performers from Wales for a follow up their recent version of Rent's "SEASON OF LOVE", which you can watch here:
It's all in aid of Acting for Others the organisation whose mission is to provide "financial and emotional support to all theatre workers in times of need through the 14 member charities."
They've also pulled off quite a coup this morning with the announcement that Phoebe Waller-Bridge has been appointed Vice President of the theatrical charity.
Waller-Bridge, the lead writer of TV's critically acclaimed, multi award-winning KILLING EVE and writer and star of FLEABAG on stage and screen says –
"Acting for Others has been the silver lining around the cloud that has crept over our theatre industry. I have witnessed first-hand the dedication and compassion this charity has for the people who work so hard to keep this country's culture alive. I'm honoured to be a Vice President of Acting for Others and I promise to continue working with them to support our industry with the determination and the dignity that they afford each and every person they support."
Anyway back to our Welsh stars. They've done a zoom performance of "This Is Me" from the movie THE GREATEST SHOWMAN (Soon to be a much anticipated stage musical).
The singers are Mared Williams, Sophie Evans, Luke McCall, Siwan Henderson, Jade Davies, Tom Hier, Rhidian Marc, Glain Rhys and Samantha Thomas.
And this uplifting song has never sounded better.
Don't forget to donate here.
Now turn up the volume and enjoy blasting this out.