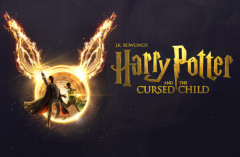 Harry Potter isn't just a superstar in the UK. The magic has spread, and it has gone global. What is it about these stories that inspires and delights humanity so much? Maybe it's because magic never dies. Now here's another bit of magic for you... this summer the international phenomenon Harry Potter and the Cursed Child celebrates the start of its seventh year. And there are seven productions running worldwide in London, New York, Melbourne, San Francisco, Hamburg, Toronto, and Tokyo.
Who's involved in Harry Potter and the Cursed Child?
This year's anniversary marks an impressive milestone for the show. All seven productions are open, spreading the joy across six countries and four continents. From Saturday 25th June 2022, Harry Potter and the Cursed Child will be performed on stage, somewhere on the planet, 24/7. That's 272 cast members and a mighty 310 spells making magic happen, all live on stage, all in one day.
Harry Potter and the Cursed Child is the first Harry Potter story to be presented on stage
It has sold more than 4.5 million tickets worldwide
It has won 60 major awards including nine Laurence Olivier Awards including Best New Play and six Tony Awards including Best New Play
Based on an original new story by J.K. Rowling, Jack Thorne and John Tiffany, the play is by Jack Thorne
The show is directed by John Tiffany
Harry Potter and the Cursed Child features movement by Steven Hoggett, set by Christine Jones, costumes by Katrina Lindsay, music and arrangements by Imogen Heap, lighting by Neil Austin, sound by Gareth Fry, illusions and magic by Jamie Harrison, music supervision and arrangements by Martin Lowe
The fun is produced by Sonia Friedman Productions, Colin Callender and Harry Potter Theatrical Productions
Earlier this year the show's run at London's Palace Theatre was extended to 26th February 2023
Buy Harry Potter and the Cursed Child Tickets
Buy cheap Harry Potter and the Cursed Child tickets online via our site for fantastic service you can trust. Choose the best seats using our popular Palace Theatre seating plan. Then simply show your etickets at the door on the day to get into the venue.
About the Palace Theatre
The Palace Theatre opened in 1891 as the Royal English Opera House, but soon reverted to variety shows. It spent time as a cinema and at one point even featured dancing girls. Now it's known and loved for staging exceptional musicals. Past shows at the Palace Theatre include The Sound of Music, Les Miserables and Priscilla Queen of the Desert.