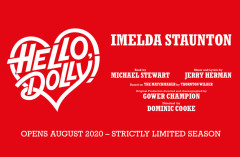 It's been announced that UK acting royalty Imelda Staunton will play the title role of Dolly Levi in a NEW production of HELLO DOLLY for the West End.
It'll be directed by Dominic Cooke who worked with her with great success in the recent National Theatre production of FOLLIES, and it'll be produced by Michael Harrison and David Ian who brought her to the West End as Mamma Rose in GYPSY, a triumphant performance that cemented her reputation as the UK's top musical theatre leading lady.
Staunton, who's won several shelf fulls of awards for her London stage work and who the queen has awarded both an OBE and a CBE, says –
"Well, I'm delighted and daunted in equal measure to be doing a new production of Hello, Dolly! in London next year. I am so excited to be working again with Dominic Cooke, Michael Harrison and David Ian, and we all can't wait to bring Hello, Dolly! - which is a truly joyous show - back to the West End after all these years"
No doubt she'll be fantastic, although I'm not sure the Jewish schtick embedded in the role is anything we've seen her do before or will be entirely within her comfort zone. However this didn't stop Sheridan Smith triumphing as another archetypal Jewish character, Fanny Brice, in FUNNY GIRL a few years ago.
But the real story behind the headlines is that the Staunton revival means the transfer of the recent Broadway production of HELLO DOLLY starring Bette Midler, which we were promised not so long ago, must be definitely cancelled. And there's no chance of her New York replacement, Bernadette Peters, coming over with it either.
The people who control the stage rights to classic musicals like DOLLY guard them with a vice like grip ensuring productions bring them the maximum profit. There is absolutely no way they'd have allowed another production to run in the West End if there was even a sniff of Middler crossing the pond with it. The final nail in the coffin for fans hoping to see her as Dolly is the fact that this London production is being advertised as "new" which means Broadway producers must have entirely given up on bringing their staging, in which she starred, to London with any US star in the lead role.
I'm quite pleased it'll be a new production from Cooke. I loved watching Middler and Peters in NYC but the set and costumes were a little too cartoon and gaudy for my tastes.
It's a shame you won't get to see either of these American divas in our version but I'm sure Staunton will more than compensate.
But why were Bette Midler's plans abandoned?
You wouldn't have known it from seeing her electric New York performance but she's of quite a senior age. Let's hope she's still well and isn't considering retiring completely.
Further casting for the London production will be announced at a later date.