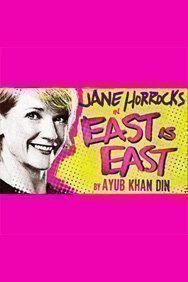 It has been announced that Jane Horrocks will star in Ayub Khan Din's East is East at the Trafalgar Studios as part of as part of Jamie Lloyd's second Trafalgar Transformed season, opening 4 October 2014 until 3 January 2015.
Young emerging director Sam Yates will direct the production and the plays writer Ayub Khan Din will take the other lead role of chip-shop owner George.
East Is East premiered back in 1997 at the Royal Court Theatre and was then made into an award-winning 1999 film directed by Damien O'Donnell and starting Om Puri and Linda Bassett.
Set in Salford, Manchester, East is East tells the comic tale of a mixed-ethnicity British household headed by Pakistani father George and English mother Ella. The clashes between the two cultures leads to an explosive family conflict full of laughs and drama.
Jane Horrocks is best known for her television role in Absolutely Fabulous and the recent film Sunshine on Leith. She last appeared on stage in Annie Get Your Gun at the Young Vic. Her other stage credits include The Good Soul of Szechuan at the Young Vic, Aunt Dan and Lemon at The Royal Court, Cabaret at the Donmar Warehouse and Absurd Person Singular in the West End.
The announcement prompted Jamie Lloyd to say, 'I am overjoyed to welcome the incredibly talented Jane Horrocks... and I am excited that Ayub himself has agreed to play George. This will add even more weight and authenticity to this major revival of his semi-autobiographical play."
East is East runs at Trafalgar Studio One from 4 October 2014 until 3 January 2015. If the last season is anything to go by, tickets will sell-out fast, so get booking!