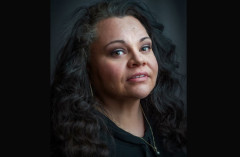 Keala Settle starred in the smash hit film, The Greatest Showman. Now she's joining the cast of & Juliet, the award winning musical that has just extended its booking to Saturday 24th September 2022. She joins the Olivier Award winning Miriam-Teak Lee and Cassidy Janson in the Shakeapeare-inspired tale with a twist, playing the role of Nurse. This fab production has already won 3 Oliviers and 6 WhatsOnStage awards, so don't miss it.
Who's involved in & Juliet?
Keala joins the production from Tuesday 29th March 2022 through to Saturday 18th June 2022. Perhaps best known for her legendary rendition of 'This Is Me' in The Greatest Showman, which shot her to international fame, you can catch her on the BBC's daytime show, Loose Women, on 19th January. Then, on 29th January, she'll appear on TV, in BBC 1's Big Night of Musicals. So who's involved in & Juliet?
Olivier Award winning Miriam-Teak Lee leads the cast as Juliet
Cassidy Janson, who also won an Olivier Award for Best Supporting Actress for her portrayal of Anne Hathaway, plays Ann
Oliver Tompsett plays William Shakespeare himself
Tim Mahendran plays Francois
Alex Thomas-Smith plays May
David Bedella continues his Olivier Award-winning performance as Lance until Saturday 26th March, and Jordan Luke Gage plays Romeo until 26th March. Their replacements will be announced at a later date
The ensemble includes Roshani Abbey, Jocasta Almgill, Josh Baker, Ivan De Freitas, Rhian Duncan, Kieran Lai, Nathan Lorainey-Dineen, Jaye Marshall, Grace Mouat, Antoine Murray-Straughan, Billy Nevers, Kerri Norville, Christopher Parkinson, Kirstie Skivington, Alex Tranter, Sophie Usher and Rhys Wilkinson
Includes dozens of pop anthems by Max Martin
Directed by Luke Sheppard
Story by David West Read
Choreography by Jennifer Weber
Set design by Soutra Gilmour
Presented by Max Martin and Tim Headington
Produced by Martin Dodd, Tim Headington, Max Martin, Jenny Petersson and Theresa Steele Page
Buy & Juliet Tickets
Book your & Juliet tickets online with us and choose the best seats with our Shaftesbury Theatre seating plan. We'll send handy E-tickets to your email address for you to show on the door on the day of the performance.
About the Shaftesbury Theatre
The Shaftesbury Theatre is the final theatre to be built on the avenue of the same name, during a time when theatres were being erected all over the West End. It was completed in 1911. During the First World War it billed itself as 'The Laughter House where you can forget the War'. Past shows at the Shaftesbury Theatre include The Pajama Game, The Illusionists – Witness the Impossible, Motown: The Musical, and Be More Chill.