Quick Facts
Largest Ticket Inventory
in the West End
Real time
seat availability
Choose
your seats
Your booking is processed directly into the box office reservation system
This show is now closed.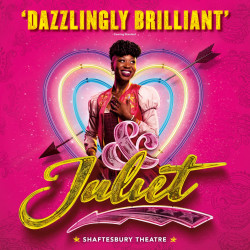 & Juliet
Tickets
4.8/5
-

based on

310

reviews

from

310

verified reviews
Tickets refunded if your event is cancelled
Real time seat availability
Largest ticket inventory in the West End
Secure online booking
This show is now closed.
Keep me informed
Let me know when tickets for & Juliet are on sale!
Information
Cheap Tickets
Reviews
News
About & Juliet Tickets
& Juliet description
& Juliet – What if The Bard's Juliet didn't die after all?
Juliet Capulet is the famous female star of William Shakespeare's romantic play Romeo and Juliet, the cherished only daughter of the wealthy House of Capulet. When she falls head over heels in love with Romeo Montague love blossoms, closely followed by tragedy. In a story that's older than Shakespeare, the city's latest new Jukebox Musical teases us with hints of The Bard's Romeo and Juliet blended with Leonard Bernstein's marvellous West Side Story.
Apparently Miriam-Teak Lee from the original London cast of Hamilton will star as Juliet herself, and the show premieres at the Manchester Opera House in autumn 2019. Then it's set to transfer to the Shaftesbury Theatre, another whopper of a venue, from early November 2019. Both venues are larger than average, something that has the whole of theatreland gossiping. Two enormous venues booked for a brand new production? It's an unusually confident move for a brand new musical, and it suggests something special is going on.
So... right now we have an unknown musical about a subject that has been covered at least twice before. The composer is a mystery. So what's the big secret? We'd love to tell you but, like everyone else, we have no idea what's going on... yet!
What's the story? It looks like the show explores what might have happened if Juliet didn't die at the end of Shakespeare's famous play. The plot follows her when she travels to Paris, accompanied by her besties as they all do their best to recover from the death of Romeo, her soul mate. But is it Paris, as in the city, or does Juliet flee to Romeo's love rival, Count Paris? It's another mystery we're keen to solve.
Rumour has it the play is packed with show tunes written by Max Martin, the man who has penned a string of well-known chart hits including Baby One More Time, Love Me Like You Do, and I Can't Feel My Face. He has written massive hits for people like Taylor Swift, Westlife, Britney Spears and more, so there are no worries there, and the songs are all freshly orchestrated by Bill Sherman.
A strong creative team sits behind the mystery, including Luke Sheppard who directs, David West Read who wrote the story, fab choreography by Jennifer Weber, lighting by Howard Hudson, sound design by Gareth Owen, costume design by Paloma Young and last but far from least, set design by Soutra Gilmour.
It might be a mystery right now. But it comes with excellent credentials. Come back soon to see if there's any more insight to be had.
Who is this show for?
We don't have the details yet but imagine this new Jukebox musical will probably best suit teens and upwards.
& Juliet cheap tickets
We have a great selection of cheap & Juliet tickets. We can help you save up to 70% on & Juliet tickets! If you're looking for discount theatre tickets have a look below for our latest offers for & Juliet at the Shaftesbury Theatre.
There are no special offers available at the moment but we still have great ticket prices for & Juliet at the Shaftesbury Theatre.
& Juliet reviews
4.8 out of 5
based on

310

reviews
What to expect:
Acting
Music
Costumes
Story
Lighting
Recommended for:

Families (85%)

Teenagers (94%)

Couples (89%)

Theatregoers (88%)
Latest customer reviews
Vibrant, amazing acting and story line twist
Reviewed on 23 March 2023 by Gita, Ilford, United Kingdom
Extremely creative and well done
One of the best shows I have seen. Everyone is the ensemble was extremely talented and they worked wonderful together. Story line was excellent and the integration of the music was great
Reviewed on 04 March 2023 by Brian, Newburyport, United States Of America
Fantastic uplifting show that will delight everyone
Wow, how amazing. What an incredible show that had us captivated throughout. Great songs, great cast, great staging...just great
Reviewed on 04 March 2023 by Carl, Caddington, United Kingdom
Must see
Reviewed on 17 February 2023 by Judy, Zürich, Switzerland
In Love With Shakespeare
This is pure magic, pure fun, a great message of empowerment and truly how a jukebox musical should be done. It's funny and moving and silly and something everyone can enjoy. So energetic and electric from start to finish. Powerhouse vocals and performances. Take notes other jukeboxes! This is how town integrate songs into a show.
Reviewed on 16 February 2023 by Glenn, Los Angeles, United States Of America
. energetic
A really energetic show, but the story could have been a stronger. The shows staging was really good and it was great energy. Was a little bit like a Pantomime which isn't my style.
Reviewed on 15 February 2023 by Michelle, Epsom, United Kingdom
Amazing
Reviewed on 03 February 2023 by Natasha, London, United Kingdom
Unexpected pleasure
Not knowing what the show was about I was extremely surprised with how much I enjoyed it . I was a bit confused at the beginning with the actors on stage "fixing props" but once the lights went out and show was under way it was amazing. Loved the dancing choice of music everything really
Reviewed on 03 February 2023 by Sarah, East Kilbride, United Kingdom
Reviewed on 01 February 2023 by Niki, Παπάγου, Greece
Amazing show
The show was one of the best we have seen, from start to finish it had us captivated.
Reviewed on 30 January 2023 by David, Worcester, United Kingdom
Loved it - tunes, humour and a great story
Reviewed on 23 January 2023 by Stuart, Oxford, United Kingdom
A must see
Reviewed on 23 January 2023 by Denice, Croydon, United Kingdom
Loved it!
Can't believe this show is closing. Such a feel good show and the cast are amazing!
Reviewed on 14 January 2023 by Sarah, Wickford, United Kingdom
Reviewed on 07 January 2023 by Anna, Espoo, Finland
Entusiasmante, coinvolgente, divertente
Reviewed on 04 January 2023 by Fabio, Udine, Italy
Great story line, definitely worth watching
Funny, great music, entertaining and lots of twists in the story line
Reviewed on 30 December 2022 by Joe, Derby, United Kingdom
Good music
Reviewed on 30 December 2022 by Cherryl, Neath, United Kingdom
Lives up to the 5 star reviews
Excellent from beginning to end! Fun to hear some pop classics in a new setting. Very clever idea to revisit Shakespeare's work through his wife's eyes. Amazing performances: acting, singing and dancing all mind-blowing. Creative sets,fun & modern twist on tudor costumes, fast-paced show. We loved it! Would recommend to 12-99 year olds.
Reviewed on 29 December 2022 by Charlotte, Münster, Germany
Great evening out!
Up there with the best musicals we've seen. Atmosphere was excellent, performances, music everything was on point
Reviewed on 22 December 2022 by Ros, Petts Wood, Orpington, Kent, United Kingdom
genial !
Reviewed on 22 December 2022 by Anne Cecile, Saint Cyr Sur Mer, France
WOW
Reviewed on 17 December 2022 by Daniela, Meitar, United Kingdom
Mildly amusing
The show overall was average at best unfortunately from a musical point of view. I don't know why there were so many random dancers as could have done without them. Clothes supposed to be olden times but cameras and headphones were used as props. Storyline was the best part. Person in front of me and to the right of me kept using their phones despite being waved at by the man with the torch which was distracting. People to the left of me talked a lot and coughed a lot so off putting. Romeo had to be replaced part way through for some reason - both were great singers as was Juliet and William Shakespeare. Left feeling underwhelmed.
Reviewed on 16 December 2022 by Tracey, Slough, United Kingdom
Blown Away!
If you want to see a colourful, entertaining, funny & charismatic show - this is for you! It was Amazing from start to finish & the entire cast are just so talented - we were blown away by the performance. I would definitely see it again! We were sat in the centre of the Grand Circle & our view was perfect. Definitely a Must See!
Reviewed on 14 December 2022 by Michelle, Minster On Sea, United Kingdom
Full of fun
The show was full of fun and laughter and a good story line and songs
Reviewed on 03 December 2022 by Allyson, Wakefield, United Kingdom
ROCKING! INSPIRING! THOUGHT PROVOKING!
"& Juliet" is a unique take on a well-known tragedy. Not only does it touch on various social challenges with humor and compassion,but it brilliantly EMPOWERS Juliet and her friends about the right to make choices for oneself! A MUST SEE SHOW!
Reviewed on 30 November 2022 by Darin, Reston, United States Of America
Great show
Loved the show
Reviewed on 29 November 2022 by Sharone, Israel, Israel
Vibrant & lively, with exceptional singing and dancing
From the beginning to the end this show was excellent. Great singing and dancing, amusing and engaging!
Reviewed on 29 November 2022 by Jane, Lowestoft, United Kingdom
Great show
Great show and lifted our spirits in these difficult times
Reviewed on 22 November 2022 by Ralph, Morpeth, United Kingdom
Brilliant show
The show was absolutely brilliant the dancing singing Was amazing I loved it wasn't sure what to expect But the story line fab and to say there wasn't many cast on the show brilliant
Reviewed on 17 November 2022 by Elaine, Nottingham, United Kingdom
Excellent show
Reviewed on 12 November 2022 by Jacky, Tilbury, United Kingdom
Amazing show - highly recommend!
The show was absolutely amazing, I am a musical lover and was honestly not expecting much from the show other than spending a good night. It was so much more than that: amazing singing, fun story, great music and costumes. I rate it 5 stars !
Reviewed on 11 November 2022 by Valentine, Paris, France
Great night out
Really loved the story, so many different parts. The singing was amazing, I loved the dancing and choreography. There was so much energy on the stage, and it was well felt by the audience. Every performer on stage played their characters so well, but made it into an intimate feeling performance, with rolls of the eyes, side looks at the audience and general interactions. I really enjoyed myself. Well done to everyone involved. My advice just go with the flow, tap you feet, clap to the beat, and dance if you feel like it. However there are a few swear words in it,(just in case you dislike that kind of thing). I personally can not recommend the show enough. Great day out.
Reviewed on 11 November 2022 by Stacee, London, United Kingdom
Colourful and Talented
Great and talented cast of actors. They had us on our feet in the end. Engaged from start to end with so many twists and fun plots.
Reviewed on 08 November 2022 by Chioma, London, United Kingdom
Very entertaining ,colourful and great fun
Reviewed on 06 November 2022 by Mary, Surrey, United Kingdom
Amazing, watch it if you can.
Reviewed on 03 November 2022 by Vanessa, Kettering, United Kingdom
Energetic feel good show
Great entertainment, not a dull moment. Everyone singing their heart out.
Reviewed on 31 October 2022 by Irene, Wendover, United Kingdom
It has it all
We enjoyed it from start till the end
Reviewed on 29 October 2022 by Daniel, Groede, Netherlands
Must see
Reviewed on 26 October 2022 by Kelly, Oakville, Canada
Fantastic!!!
Reviewed on 25 October 2022 by Radu, Thonex, Switzerland
Entertaining
Very good view from my seat. It was Hot, but comfortable.
Reviewed on 20 October 2022 by Cherriel, London, United Kingdom
Very entertaining!
Reviewed on 14 October 2022 by Catherine, St Mary's Bay, United Kingdom
A must see….
I have seen many shows and I would put this as one of the best shows I have seen! I went with my husband and he felt exactly the same!! Defo has the feel good factor!!! And the singing voices are immense!!
Reviewed on 14 October 2022 by Sarah, Broxbourne, United Kingdom
For a fun night out
Nice revisit of Romeo & Julie, full of surprises. Great acting & music, lots of energy on stage.
Reviewed on 08 October 2022 by Celine, Clichy, France
Fabtastic
Reviewed on 07 October 2022 by Philip, London, United Kingdom
LOVED this show (and I am not a lover of musicals!)
From the actors/singers and set to the orchestra and direction, the whole production was fantastic. I laughed, cried, shouted, sang and could have watched the whole thing over again the next evening. Poignant, funny, topical. The choice of songs were brilliant and the singing superb.
Reviewed on 05 October 2022 by Sinead, Llandysul, United Kingdom
Exceptional
Great story an great actors. One of the best shows I ve ever seen
Reviewed on 03 October 2022 by Federico, Rincon De Milberg, Argentina
Laugh out loud with great soundtrack!!
What a wonderful, witty, singalong show. Highly recommend for all ages.
Reviewed on 01 October 2022 by Paula, Hertford, United Kingdom
Perfect show
We went to &juliet on a Thursday nidht! The show is spectacular with wellknowed music! As French people we almost understood everything and we kept the smile and eyes wide openned during all the show! The artists were very talented ????
Reviewed on 23 September 2022 by David, Labenne, United Kingdom
Interesting Twist to a Familiar Story
This was a clever retelling and expansion of the Romeo and Juliet story, with creative input from Shakespeare's wife, Anne Hathaway. It included fun adaptations of some familiar pop songs. However, the music was frequently too loud for these 70-year-old ears, and the lighting, although skillful and varied, was uncomfortable when directed at the audience. In the end, the story of women's empowerment was one of the play's strongest points.
Reviewed on 20 September 2022 by Frederick, Charlottesville, United States Of America
Creative
Really worth a watch, well written and performed. Excellent.
Reviewed on 17 September 2022 by Wendy, Rawmarsh Rotherham, United Kingdom
The best one, watched it more than once!
Reviewed on 09 September 2022 by Tomer, Ramat Gan, Israel
Uplifting
Reviewed on 04 September 2022 by Kenny, Braintree, United Kingdom
Chick Flick Hilarious Musical
Loved it, loved it, loved it. So funny, great music and a great atmosphere
Reviewed on 03 September 2022 by Yvonne, Dover, United Kingdom
Wonderful show! You won't be disappointed!
Brilliant show, loved every minute. Great story, brilliant music, fantastic cast and orchestra. Will definitely be back!
Reviewed on 02 September 2022 by Amanda, Windsor, United Kingdom
A must watch!
Reviewed on 30 August 2022 by Paul, Leeds, United Kingdom
Such a good upbeat, feel good show with brill music
Reviewed on 27 August 2022 by Annette, St Albans, United Kingdom
Amazing, fun- must watch!
Reviewed on 24 August 2022 by Erez David, Rishon Lezion, Israel
Funny and feel good
We loved it! All the music you could sing a long to, lots of funny lines and moments in the show. Loved it
Reviewed on 23 August 2022 by Carol, Dereham, United Kingdom
Most uplifting musical
What an uplifting, empowering musical. Went with my daughter and granddaughter and we all absolutely loved it. The singing and acting was fantastic and the interaction with the audience was also good. Will definitely go and see it again.
Reviewed on 20 August 2022 by Cathryn, Watford, United Kingdom
Fantastic!!
Me and my teen had a fab time at this vibrant, uplifting show.
Reviewed on 09 August 2022 by Claire, Kent, United Kingdom
Creative and feel good!
I loved the show. The costumes are beautiful and every single song is iconic. I really recommend everyone to see the show!
Reviewed on 09 August 2022 by Clemence, London, United Kingdom
Amazing, modern, life changing !
Reviewed on 23 July 2022 by Benjamin, Paris, France
Modern twist on a well worn story
Great show. Maybe a little too modern and noisy for OAP type theatre goers.
Reviewed on 21 July 2022 by Lee, Petts Wood, Orpington, United Kingdom
Foor teenagers
Reviewed on 19 July 2022 by Päivi, Helsinki, United Kingdom
fantastic night of fun
A great production with lots of fun characters, set, costumes and music that will get you up dancing.
Reviewed on 17 July 2022 by Claire, Swansea, United Kingdom
New and surprising end to Romeo and Juliet
Reviewed on 15 July 2022 by Yuval, Haifa, Israel
Amazing
Reviewed on 13 July 2022 by Ohad, Pardesia, Israel
Sensational
The best Show I have ever been too. Soooo much energy. Music was fantastic with and incredibly talented cast. Would not hesitate to go back to it again. Absolutely loved it.
Reviewed on 12 July 2022 by Deirdre, Co Meath, Ireland
Genial, divertido, con mensaje!
Reviewed on 11 July 2022 by Tamara, Santa Brígida, Spain
was hard to understand if you aren't native speakers
Reviewed on 09 July 2022 by Meital, Mishmar Haemek, Israel
Some modern and historical camp
This must have been one of the campest musicals I have seen. From the way they open to the way they make you cry and then snap your fingers. I loved it!
Reviewed on 08 July 2022 by Giel, Sint-joost-ten-node, Belgium
Second time seeing the show and would return again and again. Fantastic.
Reviewed on 08 July 2022 by Rachel, London, United Kingdom
Brilliant
Royal balcony centre seats were really good view of stage. Everything about the show itself was excellent. Would go again
Reviewed on 24 June 2022 by Penelope, Bognor Regis, United Kingdom
Witty and fun
I absolutely loved the show , funny clever and very powerful.
Reviewed on 23 June 2022 by Lesley, Bedford, United Kingdom
Fantastisch
Mooie show met een goed verhaal.
Reviewed on 17 June 2022 by Herman, Sellingen, Netherlands
Feel musical
Message is as shallow as the pond in st James park, but When you need an impeccable feel good show with great music and performace this is it.
Reviewed on 16 June 2022 by Hans, Handen, Sweden
Excellent performances but poor storylines
This wasn't quite what I expected. A lot of outdated pop tunes, sung REALLY well with brilliant dancing but with zero thought put into the storyline. Could have been a really good feminist lesson but fell short.
Reviewed on 06 June 2022 by Kiren, London, United Kingdom
Cheesy pop songs, very energetic, one for the ladies
Overall a good performance ? the songs blend well although a little cheesy. Not really a man's show, certainly the ladies love it. Personally I felt the lead role of juliet was badly cast as the lady who plays her is very talented and gave an amazing performance, I felt she was to manly and not lady like at all in both looks and personality and tbh the character May was more feminine. Having juliet with a flat top hair cut looking like grace Jones as bond badie meant I really couldn't by into the story line. Maybe if juliet started with a long wig and wavy dress then transforms it will make sense. I guess want it that way!
Reviewed on 29 May 2022 by Paul, Uxbridge, United Kingdom
Simply delightful and wonderful
Strongly recommend this show for anyone and specially those who love musicals. Music, costumes, lighting and acting were all stunning. A must go show.
Reviewed on 29 May 2022 by Víctor, Cangas Do Morrazo, Spain
Must see!!
super awesome musical!! highly highly recommended to anyone! a must watch!
Reviewed on 28 May 2022 by Weixin Elvina, 03-1042, Singapore
Fantastic !
Brilliant show. We loved the storyline , all the performers were just brilliant, what a talented cast.
Reviewed on 24 May 2022 by Elaine, Huntingdon, United Kingdom
A Great Musical
It was an excellent idea to rewrite a classic play of William Shakespeare. The story was easy to watch with a lot of funny surprises. Music and dancing were very professionally performed. All the leading singers were world class. We really loved it.
Reviewed on 08 May 2022 by Pertti, Hyvinkää, Finland
Must see
Reviewed on 07 May 2022 by Per, Stockholm, Sweden
WASTE OF TIME
Unfortunately "the who would you recommend the show for" doesn't have the "NOBODY" option, as NOBODY should ever see it. Acting was okay. But the mix of horrible, meaningless anthems of Swedo-American pop was impossible to handle. I regret not leaving at the interval.
Reviewed on 01 May 2022 by Tomas, Vilnius, Lithuania
amazing and so funny!
Reviewed on 30 April 2022 by Eden, Gibraltar, Gibraltar
Perfect!!
Reviewed on 26 April 2022 by Inbal, Kfar Saba, Israel
Just see brilliant
Reviewed on 23 April 2022 by Tracey, London, United Kingdom
Modern
Super positive, funny, modern in a positive way. All music is very well known songs from Britney Spears etc
Reviewed on 23 April 2022 by Elina, Helsinki, Finland
Don't miss it
Reviewed on 20 April 2022 by Sunita, London, United Kingdom
Oh yeah good
Good. I was not expecting it to be as good as it was. Very impressed.
Reviewed on 16 April 2022 by Jamie, Leigh-on-sea, United Kingdom
Amazing show!!
Reviewed on 11 April 2022 by Yuval, Tel Aviv, Israel
Creative and funny puts a smile on your face
Reviewed on 08 April 2022 by Mark, Stratford, United Kingdom
A great night out
Reviewed on 30 March 2022 by Kevin, London, United Kingdom
Energetic. Funny. Great vocals.
Great vibe and energy. Vibrant, a bit naive, but in a good and crazy way.
Reviewed on 28 March 2022 by Piret, Tallinn, Estonia
Uplifting show
Reviewed on 25 March 2022 by Alison, Herts, United Kingdom
Bright and colorful
Reviewed on 19 March 2022 by Amina, Abuja, Nigeria
AMAZING!
Reviewed on 19 March 2022 by Mirella, Lelystad, Netherlands
The fall of the post-modernism
Reviewed on 15 March 2022 by Yuval, Nes Harim, Israel
LITERALLY THE MOST HYPE!!
Reviewed on 14 March 2022 by Audrey, Singapore, Singapore
Amazing best show
Amazing, fun Great night out
Reviewed on 09 March 2022 by Magdalena, London, United Kingdom