210 Shaftesbury Avenue, London, WC2H 8DP GB
Quick Facts
Largest Ticket Inventory
in the West End
Real time
seat availability
Choose
your seats
Your booking is processed directly into the box office reservation system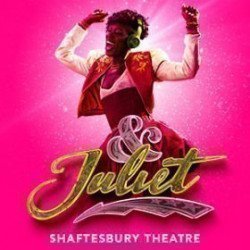 & Juliet
Tickets
4.8/5
-

based on

65

reviews
Booking until: Saturday, 3 October 2020
Running time: 2 hours 30 minutes
Tickets from £24.25
Book tickets
Information
Cheap Tickets
Reviews
News
About & Juliet
Performance Times
Booking until: Saturday, 3 October 2020
Running time: 2 hours 30 minutes
& Juliet description
& Juliet – What if The Bard's Juliet didn't die after all?
Juliet Capulet is the famous female star of William Shakespeare's romantic play Romeo and Juliet, the cherished only daughter of the wealthy House of Capulet. When she falls head over heels in love with Romeo Montague love blossoms, closely followed by tragedy. In a story that's older than Shakespeare, the city's latest new Jukebox Musical teases us with hints of The Bard's Romeo and Juliet blended with Leonard Bernstein's marvellous West Side Story.
Apparently Miriam-Teak Lee from the original London cast of Hamilton will star as Juliet herself, and the show premieres at the Manchester Opera House in autumn 2019. Then it's set to transfer to the Shaftesbury Theatre, another whopper of a venue, from early November 2019. Both venues are larger than average, something that has the whole of theatreland gossiping. Two enormous venues booked for a brand new production? It's an unusually confident move for a brand new musical, and it suggests something special is going on.
So... right now we have an unknown musical about a subject that has been covered at least twice before. The composer is a mystery. So what's the big secret? We'd love to tell you but, like everyone else, we have no idea what's going on... yet!
What's the story? It looks like the show explores what might have happened if Juliet didn't die at the end of Shakespeare's famous play. The plot follows her when she travels to Paris, accompanied by her besties as they all do their best to recover from the death of Romeo, her soul mate. But is it Paris, as in the city, or does Juliet flee to Romeo's love rival, Count Paris? It's another mystery we're keen to solve.
Rumour has it the play is packed with show tunes written by Max Martin, the man who has penned a string of well-known chart hits including Baby One More Time, Love Me Like You Do, and I Can't Feel My Face. He has written massive hits for people like Taylor Swift, Westlife, Britney Spears and more, so there are no worries there, and the songs are all freshly orchestrated by Bill Sherman.
A strong creative team sits behind the mystery, including Luke Sheppard who directs, David West Read who wrote the story, fab choreography by Jennifer Weber, lighting by Howard Hudson, sound design by Gareth Owen, costume design by Paloma Young and last but far from least, set design by Soutra Gilmour.
It might be a mystery right now. But it comes with excellent credentials. Come back soon to see if there's any more insight to be had.
Who is this show for?
We don't have the details yet but imagine this new Jukebox musical will probably best suit teens and upwards.
Next Performances for & Juliet at the Shaftesbury Theatre
today
18th Jan 2020
7:30pm
Monday
20th Jan 2020
7:30pm
Tuesday
21st Jan 2020
7:30pm
Wednesday
22nd Jan 2020
7:30pm
Thursday
23rd Jan 2020
2:30pm
Thursday
23rd Jan 2020
7:30pm
& Juliet cheap tickets
We have a great selection of cheap & Juliet tickets. We can help you save up to 70% on & Juliet tickets! If you're looking for discount theatre tickets have a look below for our latest offers for & Juliet at the Shaftesbury Theatre.
No Booking Fee
valid Mon-Fri until 13 Feb 2020. Excludes: 23 Dec-4 Jan 2020
& Juliet reviews
4.8 out of 5
based on

65

reviews
What to expect:
Acting
Music
Costumes
Story
Lighting
Recommended for:
Anyone (83%)
Families (86%)
Teenagers (92%)
Couples (92%)
Theatregoers (95%)
Latest customer reviews

Amazing!!!
So captivating, mesmerising and just down right entertaining. From start to finish, it was fantastic.
Reviewed on 10 January 2020 by Joanne, Cobh, Ireland

A modern take
Easy to watch, some great parts but lacked something
Reviewed on 10 January 2020 by Marilyn, London, United Kingdom

& blown away!
At last! Dad jokes and puns are given the respect they deserve! Seriously, we loved the show.
Reviewed on 04 January 2020 by Christoffel, Port Elizabeth, South Africa

Amazing.... would even go again
Reviewed on 04 January 2020 by Preena, Wandsworth, United Kingdom

Best Show I have seen!!
ALl I can say it that every part of this show was brilliant. It is a must see in London. I hope It will make its way to Sydney one day.
Reviewed on 01 January 2020 by Nathan, Petersham, Australia

Super funny
Reviewed on 01 January 2020 by Francesca, London, United Kingdom

A feel-good show!
Reviewed on 31 December 2019 by Jose, Peterborough, United Kingdom

One of the best
Reviewed on 29 December 2019 by Andrew, Welwyn Garden City, United Kingdom

Simply the best show I've watched so far
This is simply one of the best west end shows I ever watched these years. The whole acting and singing were superb. The story is very entertaining and cleverly written. Loved very single minute of it! Highly recommended to everyone.
Reviewed on 29 December 2019 by Chee Binn, Belfast, United Kingdom

Lively, fun, colourful and exciting!
Loved this show from start to finish. The cast were fabulous; the energy, throughout, was second to none. The costumes, set, music - in fact everything, was amazing!
Reviewed on 28 December 2019 by Alexandra, Plymouth, United Kingdom

Worth seeing
Being Max Martin fans we enjoyed the show and the new production of the well known titles
Reviewed on 24 December 2019 by Nathalie, Cagnes Sur Mer, France

Fun and creative!
Fun and playful storyline. Creative use of pop music. Funny and witty. There are some cringe worthy moments but good for a laugh! Would make a good show for a girls night out.
Reviewed on 20 December 2019 by Mo, Las Vegas, United States Of America

Subverts the old story, rings in the new
Florid and fancy, with really eye-popping feats of stagecraft, and lots of humour throughout. I warmed to the characters - Ann Hathaway and the Nurse in particular. However the story doesn't make much sense, so don't try and work it out - &Juliet knows it's totally silly. At the end, the band who'd been hidden from view, came to take a deserved bow.
Reviewed on 19 December 2019 by Suzy, London, United Kingdom

Excellent show
Was a really good show, really cleverly written and great modern alternative to Romeo and Juliet. Music was great and it was lol at times. Great for all including teens.
Reviewed on 18 December 2019 by Fiona, Crayford, United Kingdom

One of the best at Westend
We all really liked it... we didn't expect that much were surprised with a high End musical with lots of humour, fun and Nice interpretations of music and a great stage
Reviewed on 16 December 2019 by Robert, Mannheim, Germany

Sad commentary on what young boys will have to aspire to.
In the Me Too world today young boys have no true role models. Within the next two generations- the population will be either gay or trans because liberals won't allow straight marriages
Reviewed on 09 December 2019 by Thomas, Northbrook, Il , Usa, United States Of America

An emotional, fun, rollercoaster sing along , a must see production
Absolutely enjoyed every aspect of this show . Suits all ages . Very powerful singing . Engaging with the audience was amazing. Our seats were the best . Would definitely and will be going back again . Still on a high . Highly recommended 👍
Reviewed on 08 December 2019 by Denise, Bristol, United Kingdom

Witty—won't insult your intelligence
I had not heard of this play, but couldn't tickets for some of the proven favorites. Fate was in my favor. I found &Juliet to be witty and funny. Clever premise for theatre. Great acting. It moved right along and kept my interest. Nice blending of past and present. Juliet finally grows up (as does Romeo). Thank you Anne Hathaway Shakespeare! I'd see it again
Reviewed on 08 December 2019 by Deborah, Phoenix, United States Of America

Entertaining and funny with a twist!
Reviewed on 06 December 2019 by Benjamin, Worlingham, United Kingdom

Must see
Definitely one of the better shows on West End at the moment. All the actors were great, and the decor and costumes were amazing. I just couldn't stop looking at every little details, they put so much work into this! The only thing is that the music was a bit too loud, but I think it got better the second half.
Reviewed on 05 December 2019 by Daphne, London, United Kingdom

very entertaining, must see..!!
Reviewed on 02 December 2019 by Imran, Doha, Qatar

Energetic and fun
Reviewed on 30 November 2019 by Bridget, Dawlish, United Kingdom

Great fun night out
Reviewed on 29 November 2019 by Thomas, London, United Kingdom

amazing!
Reviewed on 28 November 2019 by Beate, München, Germany

So much fun!
Reviewed on 24 November 2019 by Svea, Kelsterbach, Germany

Amazing production; a joy to watch
Reviewed on 23 November 2019 by Lisa, Basingstoke, United Kingdom

Fun and clever
I felt like I was re-living my junior high and high school days with the amazing music and vocals—but was simultaneously impressed with how our favorite pop songs of the early 2000s were seamlessly worked into the storyline in a non-forced way. Making Britney's "I'm not a Girl" into a song about the struggles of a young gay man finding his place in the world was impressive
Reviewed on 23 November 2019 by Erin, Wooster, United States Of America

Energy
Best I've seen in years! Great energy, voices, acting,story😁😘👍
Reviewed on 23 November 2019 by Anders, Stockholm, Sweden

Best musical ever!
Great music, excellent story and lots of laughs!!
Reviewed on 20 November 2019 by Cherie, Baldock, United Kingdom

A great feel good musical. So much fun!
Reviewed on 16 November 2019 by Valeria, Aigrefeuille, France

The best show I've seen for years!
&Juliet has everything you could wish for in a musical - humour, fabulous acting, singing, songs, dancing, storyline, set, lighting and costumes. I'd happily go back tomorrow and see it all again!
Reviewed on 16 November 2019 by Sarah, Wokingham, United Kingdom

Everyone should see it !
All is said. Do not hesitate one second you will love it. One of the best musicals I have seen so far. I did not know what to expect but the result of the vision of the famous play is far beyond all you can expect actually. The actors and singers are just brilliant. Go and see & Juliet got it will definitely be one great of the great moments of your life
Reviewed on 12 November 2019 by Christophe, Paris, France

Modern love story
Fantastic rewrite of Romeo and Juliet. Very topical for the times we are in and also inspiring messages for everyone! We loved it. Music was fantastic, cast amazing and Juliet - wow!! She left us speechless - such a superstar presence!!
Reviewed on 09 November 2019 by Rebecca, Perth, Australia

Amazing!!!
The show was amazing, from start to finish!! The story, the acting, costumes and singing were fantastic!! Would highly recommend this show, didn't want it to end!!
Reviewed on 02 November 2019 by Andrew, 8hn, United Kingdom