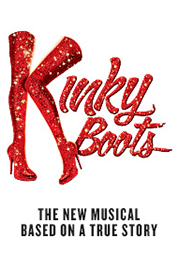 There were reports a few months back that the multi Tony Award-winning new musical Kinky Boots would be making the long journey over the Atlantic to London's West End.
The latest news is that the planned transfer of the show with music by Cyndi Lauper is delayed, but still going ahead. The hold-up seems to be down to finding a West End venue to house the production, as every theatre is currently hosting all manner of musical, plays, dance and opera. The producers of the hit Broadway musical will be banking on a production closing in London's theatreland, paving the way for Kinky Boots, bringing the British made story back home.
Adapted to the stage from the ever-popular 2005 British film of the same name by Geoff Deane and Tim Firth, Kinky Boots tells the story of a struggling shoe factory in Northampton. The factory's owner employs the unlikely help of a female impersonator called Lola to bring the shoe factory back from the brink.
When the musical opened on Broadway last year, it scooped six Tony Awards, including the highly coveted, Best Musical Award. Adapted by Harvey Fierstein and with music by the legendary Cyndi Lauper, Kinky Boots is directed by Jerry Mitchell, the man behind Legally Blond the musical and the current West End smash-hit, Dirty Rotten Scoundrels, at present delighting audience at the Savoy Theatre.
The potential West End theatres that might house the production have been speculated to be, the Dominion theatre, the Playhouse theatre, and Wyndham's theatre. However, the West End is notoriously unpredictable and a show could announce a surprise closure with no warning, and free up space for the arrival of this American import.
Keep your eyes peeled for more news on the arrival of Kinky Boots in the West End in the not too distant future.